When 10-year-old Julia's mom first met the girl's new puppy, she noticed something right away.
Julia was born deaf, and when her mother Chrissy first held her, she said the baby smelled her neck because she couldn't hear.
"And when I first held Walter, he did almost the same exact thing. I remember just looking at him, and I knew that he was meant to be ours."
Walter has also been deaf since birth, and a sweet Facebook video shared by the Pasadena, Calif. Humane Society and SPCA shows the bond between the two.
The puppy waits for her to finish her homework so they can play, Chrissy says in the video.
"I never let her feel any different because of her hearing loss and it's amazing how she is doing the same with Walter," she told NBC's Today in an email.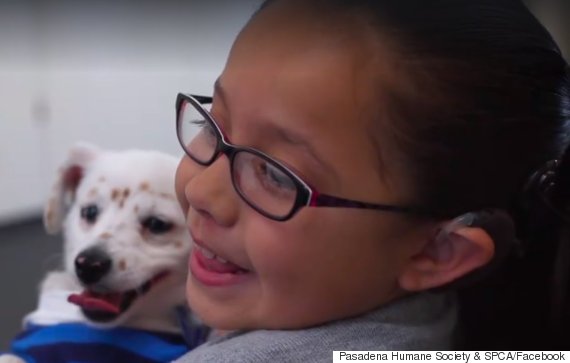 Julia is even teaching him sign language. He's learning the signs for words like food, water and sit, and Jamie Holeman from the Pasadena Humane Society and SPCA told CBS News that he appears to be picking it up.
She told the outlet that Walter was the last one in his litter to be adopted, even though he was adorable and outgoing.
"He was initially overlooked by people who were not looking for a dog that couldn't hear," she said.
But now it seems he's found his forever home with a girl who understands him.
"Walter is my best friend," says Julia in the video.
You can see more of the two in the video above.
Also on HuffPost
11 Sounds Deaf People Would Love To Hear