CALGARY — Details emerged Friday about the criminal record dating back nearly 20 years of a man charged in the deaths of a Calgary woman and her five-year-old daughter.
Court records show Edward Delten Downey was convicted in 2008 of trafficking cocaine and possession of an unauthorized firearm. He was sentenced to four years.
Downey, who also went by the last name Simmonds, also served time for aiding in prostitution in 1998.
Edward Downey will now see a justice of the peace and be charged with 2 counts of 1st degree murder #yyc pic.twitter.com/XGRe1ojBa7

— Nancy Hixt (@NancyHixt) July 15, 2016
He also faced several charges over the years related to stolen property, drugs, weapons and prostitution, but they were withdrawn.
Police charged Downey, 46, late Thursday with first-degree murder in the slayings of Sara Baillie, who was 34, and her daughter Taliyah Marsman.
Baillie was found in their Calgary home on Monday and an Amber Alert was issued when Taliyah could not be found. The child's body was discovered on a rural property east of the city on Thursday.
Police said earlier that Downey knew the victims' family. Court documents filed when he was charged say he is not allowed to contact Taliyah's father, Colin Marsman.
Downey's next court appearance is scheduled for Wednesday.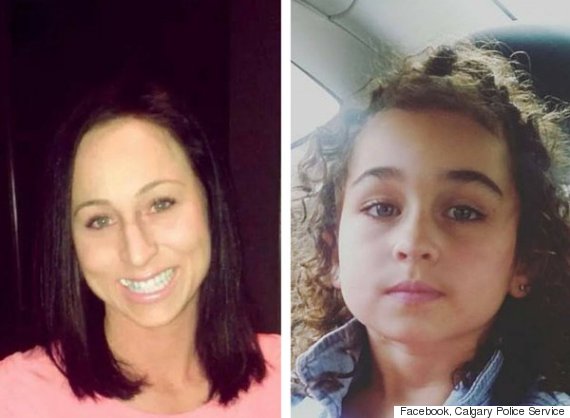 Sara Baillie, 34, and her daughter Taliyah Marsman, 5, were found dead this week. (Photos: Facebook, Calgary Police Service)
Investigators were collecting more evidence Friday in the area where the girl was found.
"There's ... lots of work to still do,'' a sombre Insp. Don Coleman said late Thursday at a news conference after Taliyah's body was found near a road beside a field.
No effort had been made to bury the girl.
Coleman said the investigation has concluded Taliyah was already dead by the time police had been called by concerned family.
"There was nothing we could do before we even got involved.''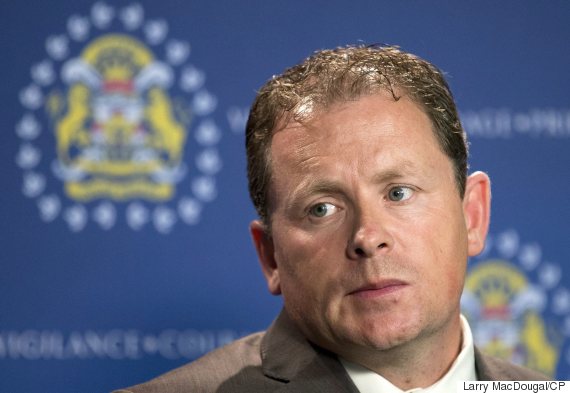 Insp. Don Coleman speaks to press after Taliyah Marsman's body was found on Thursday evening. (Photo: Larry MacDougal/CP)
Coleman said it's believed Baillie was the primary target. The cause of Taliyah's death was not known, but an autopsy was to be done later Friday.
"We were hoping for a different outcome. The family is devastated, clearly,'' Coleman said.
Prime Minister Justin Trudeau and Alberta Premier Rachel Notley, both in Calgary for the Stampede, offered their condolences.
"We all need to take a moment to send our love and hearts out to Taliyah and Sara's family,'' said Trudeau.
"There were so many volunteers and police services involved in trying to help a terrible situation.''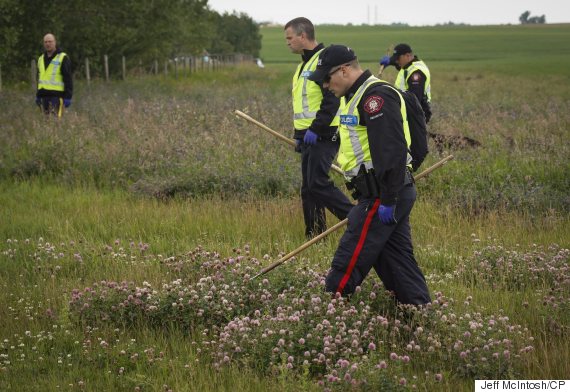 Officers search an area near Chestermere, Alta. where Taliyah Marsman's body was found. (Photo: Jeff McIntosh/CP)
"In the face of such senseless and tragic loss we reach out with love and with a desire to help each other,'' Notley said.
Calgary Mayor Naheed Nenshi simply said: "Our hearts are all broken.''
Taliyah had last been seen by her relatives on Sunday, and security cameras captured her and her mother at a Dairy Queen later that day.
CCTV footage shows Sara Baillie and Taliyah Marsman at a Dairy Queen the night before Baillie was found dead in her home. (Photos: Calgary Police Services)
The next morning, a girl matching Taliyah's description was seen near the family's home with a man. She was carrying a suitcase.
Baillie's relatives called police Monday when she didn't show up for work. After officers found her body later that night, they issued an Amber Alert for the girl.
On Wednesday, a suspect was taken into custody at a strip mall. Coleman said he was giving "zero co-operation'' to investigators, although the inspector later amended that to "limited'' co-operation.
Coleman also said the suspect was known to police and had an extensive criminal background with some violence.
Downey appeared before a judge late Thursday.
Police Chief Roger Chaffin said 100 officers had been working around the clock the last number of days.
"Unfortunately they are completely devastated by the loss, as am I,'' he said.
Also on HuffPost:
Taliyah Marsman Missing: A Timeline