'Gay Day' at Canada's Wonderland is no more.
The outing at the amusement park north of Toronto was planned annually by Parents and Friends of Lesbians and Gays Canada (PFLAG) in collaboration with Pride Toronto, but after a homophobic incident at this year's, planners are calling it quits, the Toronto Star reports.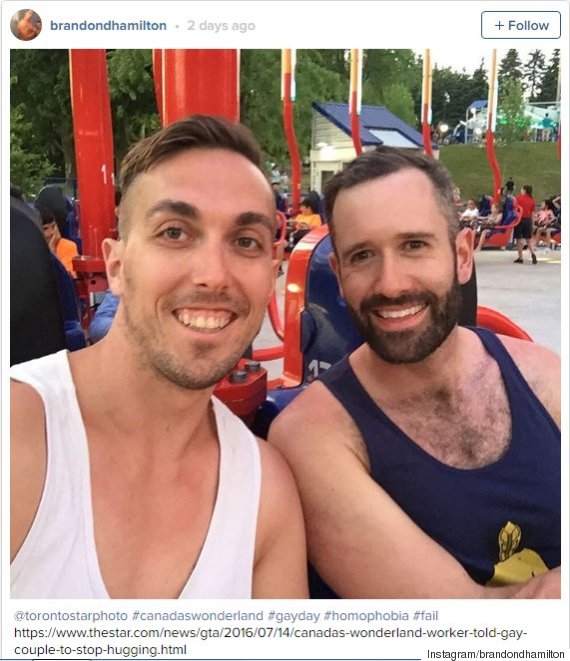 Brandon Hamilton and Barrett Morrison attended 'Gay Day' last month for Pride month.
According to Buzzfeed Canada, the two were hugging while waiting in line for the Lazy River, when a park employee approached them and asked, on behalf of another guest, that they stop, saying it was "a family park".
"It's so offensive and absurd that anyone would consider that not family friendly. It's just flat-out homophobia."
"We don't necessarily blame the kid who approached us," Hamilton told Buzzfeed Canada. "I think he was just relaying a message [from a woman in line] and didn't think about what he was saying."
At the time, they "told off" the worker, and he agreed the request was out of line and apologized, according to Toronto Star, but it was still a frustrating experience.
"It's so offensive and absurd that anyone would consider that not family friendly. It's just flat-out homophobia," Morrison told Buzzfeed Canada.
Morrison and Hamilton wrote Wonderland's general manager Norm Pirtovshek, who apologized, writing "This behaviour will not be accepted by any of our employees or guests."
Wonderland spokesperson Soulla Lindo, told the Toronto Star that the park does not tolerate discrimination and that each of their 4,000 employees receive human rights training.
Morrison told Buzzfeed that they made suggestions on how to improve, such as making Gay Day a park-wide event and improving anti-discrimination training, but they said Pirtovshek's apology felt "dismissive" of these concerns.
PFLAG Canada, the advocacy group that organizes 'Gay Day' was also unsatisfied with the response they got from the park, which is what prompted them to end the event.
PFLAG issued two statements regarding the decision on Facebook, writing that it was not "impulsive."
After PFLAG's offer to provide free diversity training for the park's staff went unanswered, the board voted to pull the event after having collaborated on the event for eight years.
"We can't offer a safe space, so how can we continue?" PFLAG Canada president, Bev Belanger, told the Toronto Star.
"Gay Day must be a safe and welcoming space for our LGBTQ family and friends and moving forward, it must be with an organization and venue that truly wants to celebrate and take ownership of Gay Day with PFLAG Canada," PFLAG's statement reads.
Also on HuffPost: