EDMONTON — Alberta's child advocate says seven out of every 10 youngsters in the province's welfare system are aboriginal and big changes are needed to bring those numbers down.
"Things are clearly not working,'' Del Graff said in a report Tuesday.
"Aboriginal families are struggling when they face challenges related to the safety and well-being of their children. And the child-welfare system in place to help them is not doing it very well.''
As of December, there were 6,880 children in care and 4,719 of those were aboriginal, Metis or Inuit.
Graff noted that total numbers have been falling since a peak in 2012, but the ratio has remained constant and is one of the highest in Canada.
Children need to be kept in communities
He recommended the government make a number of changes, including giving indigenous communities more say and legal authority over how their children are cared for.
The report follows meetings and discussions with hundreds of stakeholders.
Graff said feedback showed it is critical that children be kept in their communities and with their families wherever possible.
He said taking kids from their parents, siblings and surroundings profoundly hurts their well-being and ability to become successful adults.
"Things are clearly not working."
Graff suggested a fundamental re-think is in order. He said aboriginal culture views extended relatives and community members as caregivers as opposed to the Canadian-European model which focuses on immediate family.
Government officials still tend to make risk assessments and child care arrangements through the Canadian-European lens, he said.
"Participants (to the discussions) said the child intervention authorities at times take a view that aboriginal children are not being cared for when in fact that is not the case,'' wrote Graff.
"Without significant changes to the way the child-welfare system understands aboriginal children and families, there is every reason to believe that aboriginal children will continue to be over-represented in care.''
Money could help families overcome circumstances
He also noted some stakeholders suggested that money going to foster parents of aboriginal children might better be spent helping aboriginal families overcome the circumstances that can lead to family breakups.
Graff's report was one of two issued Tuesday assessing the state of aboriginal kids in care. The other was from auditor general Merwan Saher.
Saher said an audit of provincial programs and services revealed that the government lacks a clear early-intervention strategy for First Nations children.
"We found that indigenous children received less-frequent contact with caseworkers than non-indigenous children,'' said Saher. "Further, indigenous children had their care plans reviewed less often.''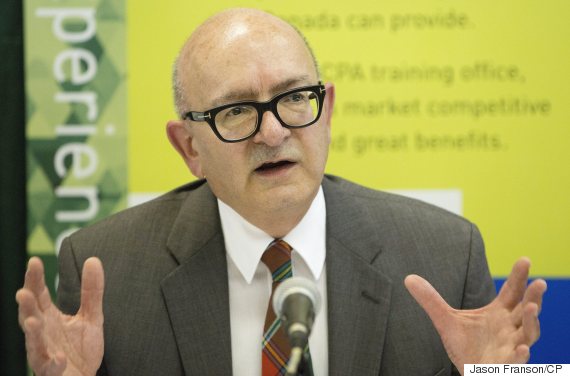 Auditor general Merwan Saher says Alberta lacks an early-intervention strategy for First Nations children. (Photo: Jason Franson/CP)
Saher also said department staff receive minimal training on understanding cultural differences.
"The only specific indigenous-focused training the department requires is part of its delegation training for new social workers, and there is no requirement to update or retake the training regularly.''
Premier Rachel Notley said her government accepts the recommendations from Saher and Graff.
"We need to roll up our sleeves to make better and faster progress on how to improve the quality of service and the quality of relationships between the child protection authorities in the indigenous communities and the government of Alberta,'' Notley said at the legislature.
Also on HuffPost:
11 Facts About Canada's First Nations