As Prime Minister Justin Trudeau embarks on a program of debt-fuelled stimulus spending, he should have little trouble finding lenders around the world to pony up the dough.
In fact, in the first five months of this year, foreign investors bought a record $61.6 billion in Canadian government debt, according to data from Statistics Canada.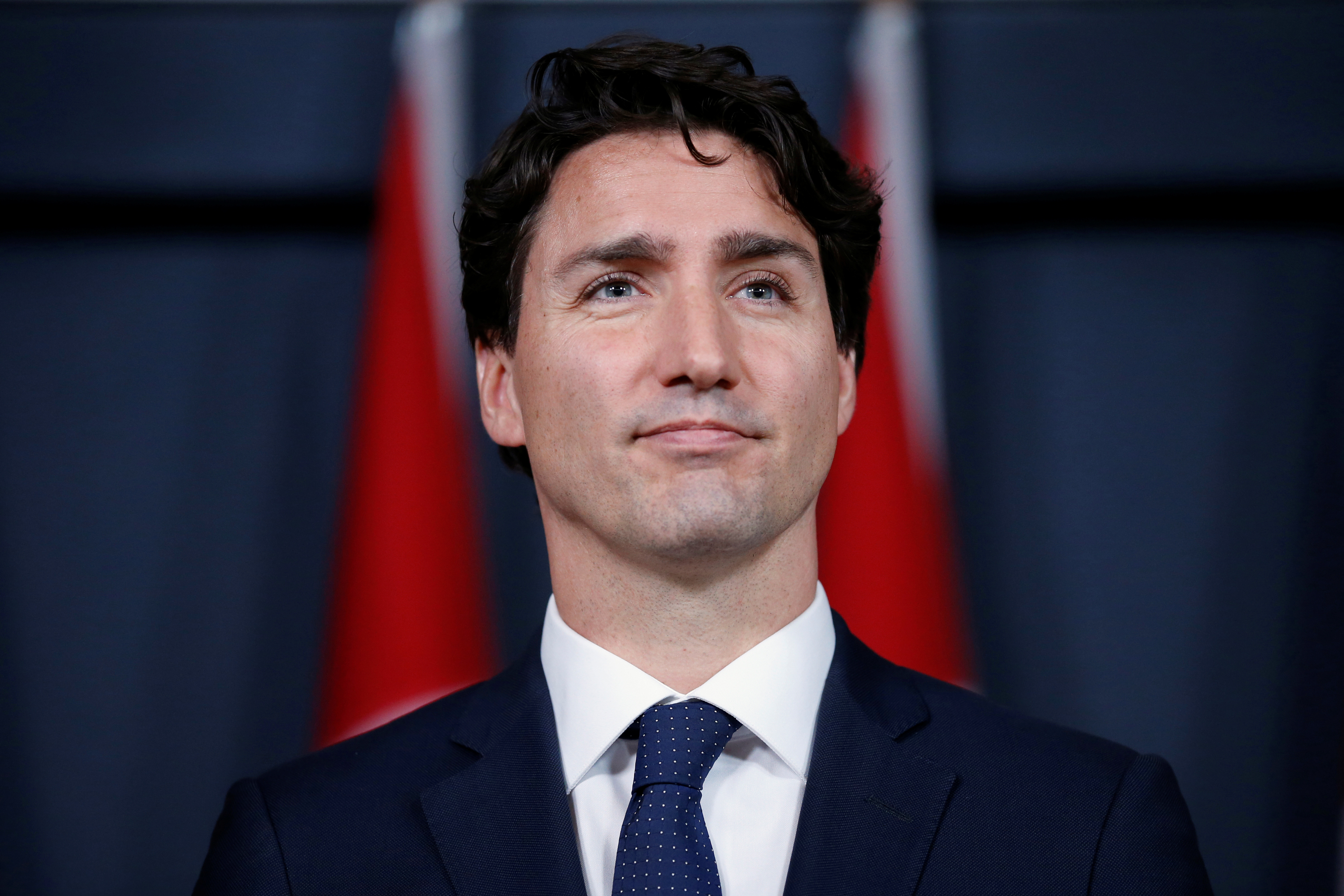 Prime Minister Justin Trudeau at a news conference in Ottawa, Ontario, Canada, June 22, 2016. (Photo: Reuters/Chris Wattie)
"With central banks leading the charge, foreign investors now own almost 40 per cent of publicly available Government of Canada bonds," National Bank economist Warren Lovely wrote.
He noted that, prior to the financial crisis of 2008-09, only 15 per cent of those bonds were owned by foreigners.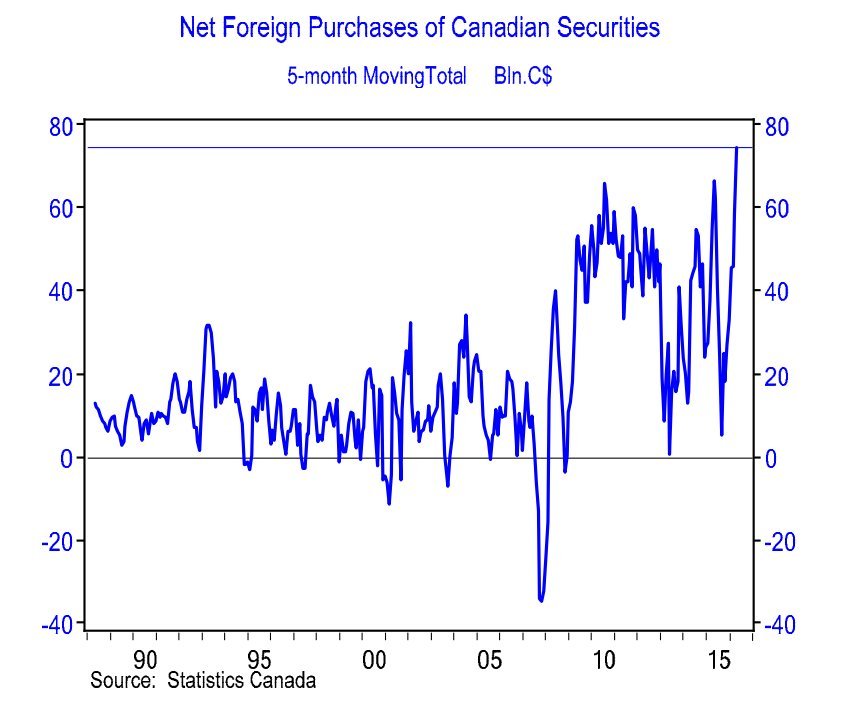 Foreign purchases of Canadian securities have hit a record high, and the vast majority of those purchases were government debt. (Chart: Bank of Montreal)
So why are investors buying up Canadian debt? Because at this chaotic point in the global economy, the country looks like one of the few things out there that just might be a sure thing, investment-wise.
"Canada is an oasis of stability in a pretty chaotic world," Bank of Montreal senior economist Benjamin Reitzes wrote in a client note.
"The failed coup in Turkey, Brexit, U.S. elections, and worries about Italian banks are just a few of the events/concerns clouding the global economic backdrop."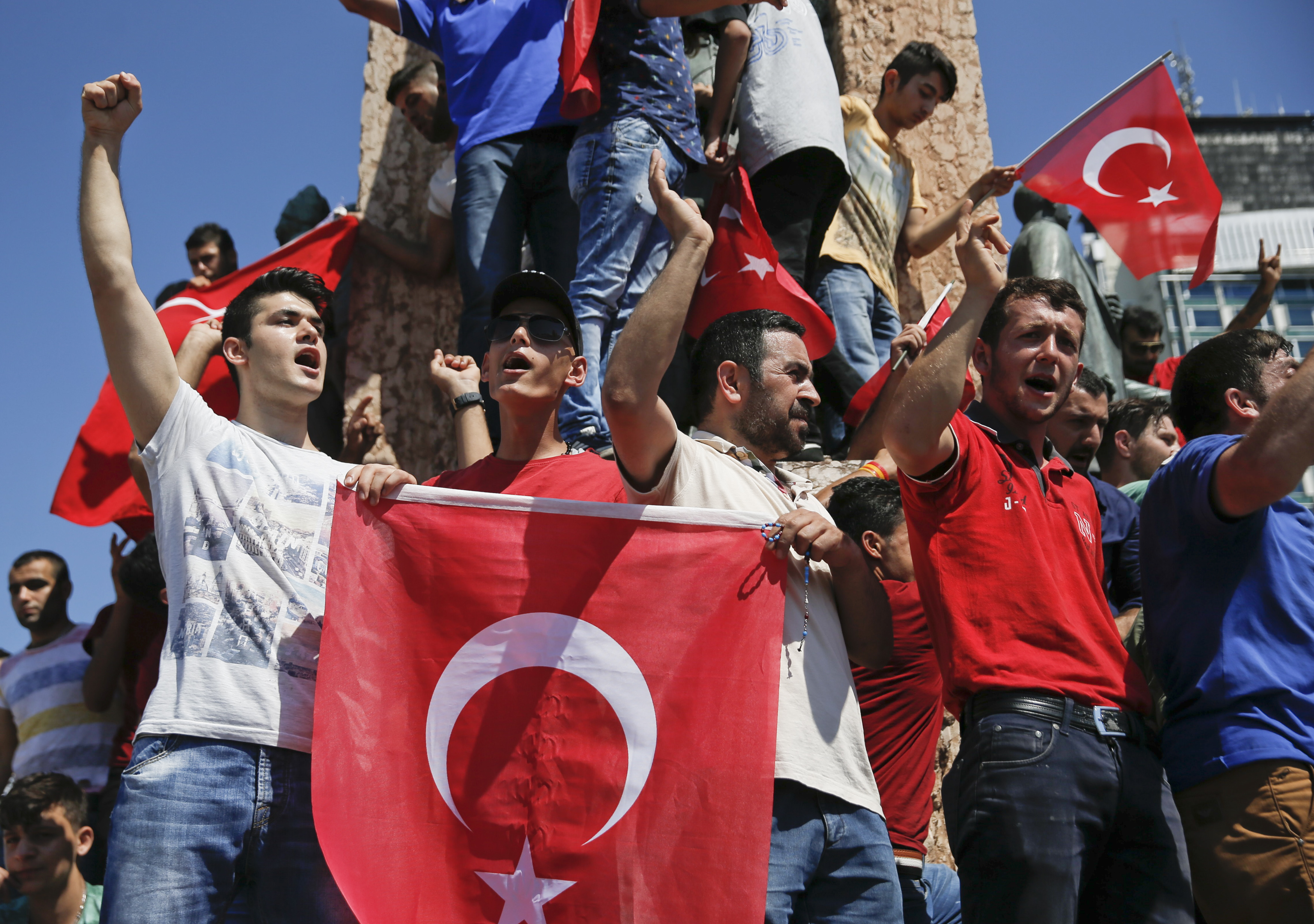 People wave Turkish flags as they stand around the Republic Monument in Taksim Square in Istanbul, Turkey, July 16, 2016. The attempted coup in Turkey is yet another element of instabililty that is pushing investors to "safe haven" investments like Canada bonds. (Photo: Reuters/Alkis Konstantinidis)
Reitzes pointed out in a separate note last week that there are just a dozen countries left in the world whose debt holds the coveted AAA rating, the highest rating possible — but about half those countries are "under review."
Of the remaining half dozen, Canada is the only country whose government debt has a positive yield. That means investors in the debt of those other countries are facing negative yields: They will never recover the cost of their investment, or as Reitzes put it, they are "paying the government for the right to lend the government money."
"That leaves Canada in the enviable position of having the largest positive yielding pool of AAA-rated debt in the world," Reitzes wrote.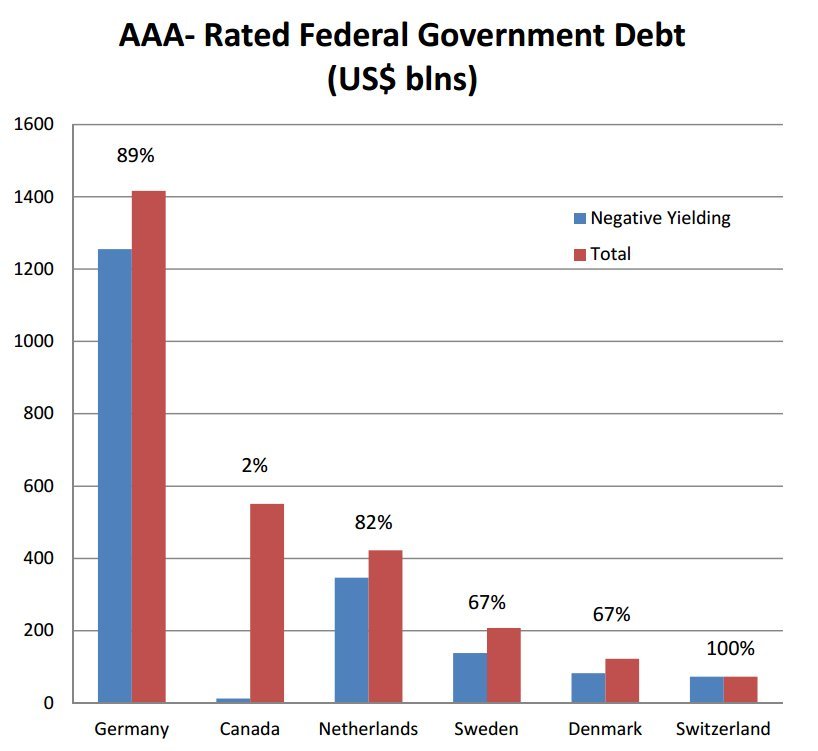 A number of countries other than Canada offer AAA-rated debt, but most of those countries' debts now have a negative yield. (Chart: Bloomberg via Bank of Montreal)
There is now some $13 trillion of government debt around the world that pays back less than it costs to buy it, an alarming and unprecedented situation that some fear will lead to crisis.
But for the time being, its major implication for consumers is that we are seeing the lowest interest rates in 5,000 years.
Lovely says the continuing instability around the world will continue to make Canadian debt look good.
"With more of the globe looking uncertain and/or providing scant yield, [foreign] participation in Canada's bond market may have only one way to go, and that's up," he wrote.
But that should not be seen as a clarion call for Canadian governments to rack up debt like drunken sailors. The Parliamentary Budget Office recently warned that provincial and municipal governments face a tripling of their debt in the next 75 years as health care and administrative costs rise.
The PBO had a cheerier outlook for the federal government, which it said is on track to eliminate its debt within 50 years.
Also on HuffPost
World's Most Competitive Countries, 2015