Welcome to 2016, the year of back-to-back celebrity social media feuds.
And it looks like beauty gurus aren't exempt.
Makeup tycoon and tattoo artist Kat Von D took to Instagram Monday night to make it loud and clear that she was no longer rocking with fellow cosmetics businessman Jeffree Star.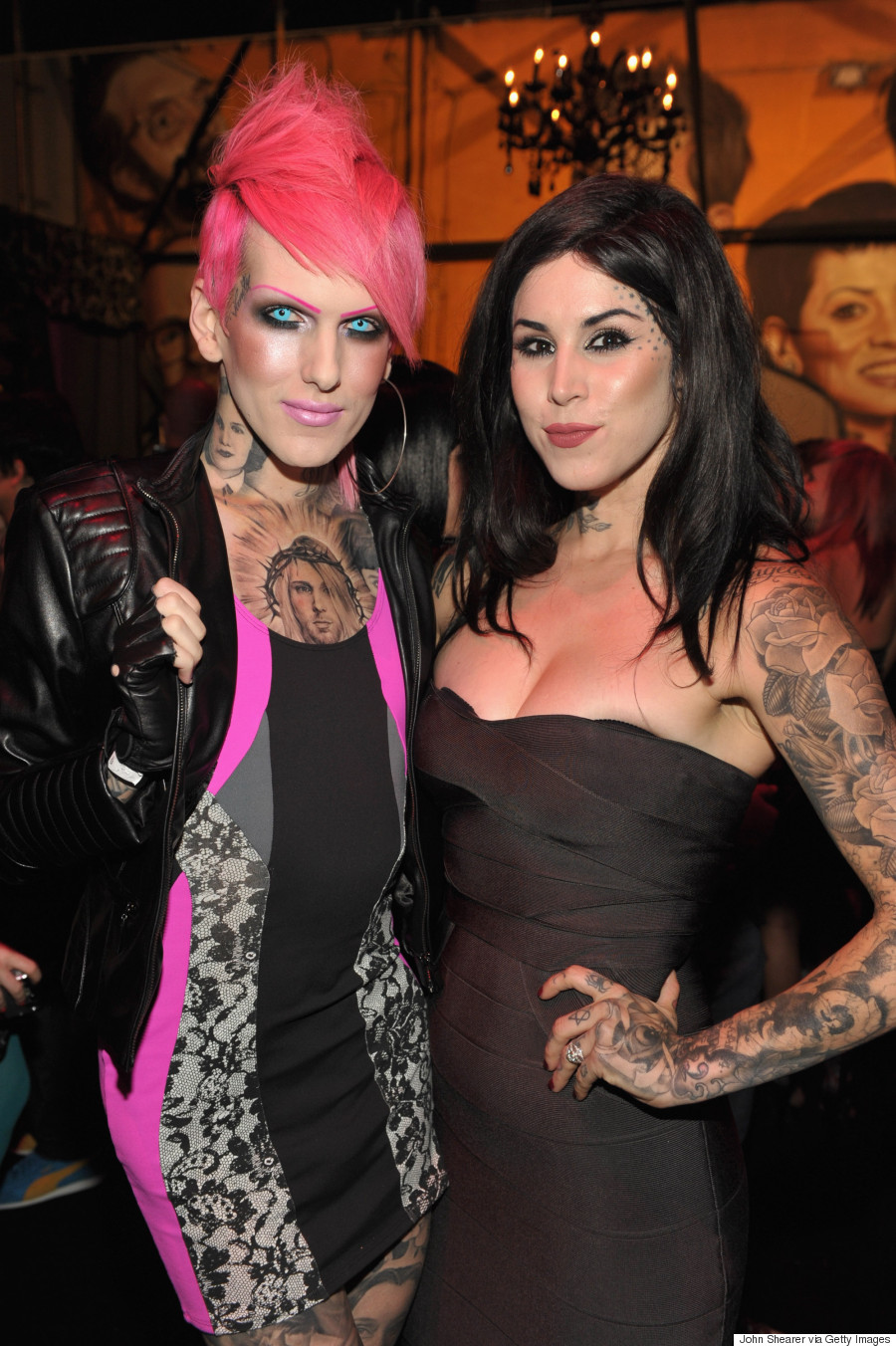 Jeffree Star and Kat Von D attend the opening of Kat Von D's 'Wonderland' gallery on September 2, 2010.
The 34-year-old Mexican-born influencer offered up an explanation for her overt disdain against Star in the photo's caption.
"After years of making excuses for, and rationalizing Jeffree's inappropriate behavior (including, promoting drug use, racism, and bullying) I can no longer hold my tongue after recent events," Von D wrote.

She continued:
"I know that over the years, many of you were introduced to Jeffree through me, and regardless if you chose to continue to follow him or not, I just would like to disassociate myself from him and his brand from this point on. I plan on posting a video explanation as to why I felt compelled to make such a statement. But for the time being, I simply want to apologize to anybody and everybody who has ever had to deal with any of his negativity. And yes, with a heavy heart, I will be pulling the shade 'Jeffree' from my collection. Sending extra love to everyone out there."
But it looks like Star wasn't having that.
The former MySpacer took to Twitter to share his side of the story, stating that he allegedly hasn't even seen Von D in over a year.
Someone I haven't seen in over a year, wants to make a post about me. I'm yawning right now.....

— Jeffree Star (@JeffreeStar) July 19, 2016
Kat and I texted a few days ago after 6 MONTHS of silence. She never supported me or my brand and got distant when I launched mine.

— Jeffree Star (@JeffreeStar) July 19, 2016
She accused me of something that wasn't true, so I told her to fuck off and then blocked her number. Not that juicy of a story, sorry

— Jeffree Star (@JeffreeStar) July 19, 2016
This whole situation is sad and gross. I don't need to clap back or make a video about someone's post. It's getting trite.

— Jeffree Star (@JeffreeStar) July 19, 2016
Instead of feeding into negativity and internet fights, I'm going back to the real world and off to enjoy the rest of my day <3

— Jeffree Star (@JeffreeStar) July 19, 2016
Well, damn.
The former Miami Ink reality star published a YouTube video on Tuesday morning to clear the air and further explain her stance on the feud, and made it clear she wasn't going public with the matter in an attempt to bash anyone.
"The way Jeffree chooses to live his life and treat other people is not something that I personally agree with," she states in the video. "Being associated with someone who does do things that he does, it really makes me nervous. Because I don't want my fans or followers to think that's a good example of how be with each other and how we should treat the people who are in our lives."
She then went on to explain how he had allegedly done some of her artistic friends dirty, and left them in the dust after they had helped him create his makeup line.
Sweet dreams 💛💗 pic.twitter.com/DoqW70wagd

— Jeffree Star (@JeffreeStar) July 19, 2016
Star, who's best known for his hot pink ensembles, later wrapped up his part of the argument with one simple tweet, at least for now.
There are 2 sides to every story. The truth will come out later today.

— Jeffree Star (@JeffreeStar) July 19, 2016
Oh, dear. Can't we all just get along?
UPDATE: Jeffree Star has since responded with the following video:
Follow Huffington Post Canada Style on Pinterest, Facebook and Twitter!
Also on HuffPost
The Best Waterproof Makeup Products For Summer