CALGARY — The lawyer for a man accused of killing a woman and her five-year-old daughter says he's worried that the case will be tried in the media and not in a courtroom.
Edward Downey appeared in court on closed-circuit television today — nearly a week after he was charged with first-degree murder in the deaths of Sara Baillie and Taliyah Marsman.
The accused, wearing a blue jumpsuit, looked straight ahead and walked briskly out of the room once the brief appearance was over.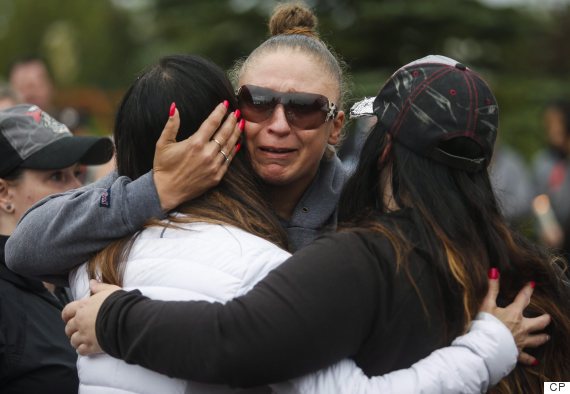 Loved ones of Sara Baillie and Taliyah Marsman mourn at a vigil held for the mother and daughter. (Photo: CP)
Downey's lawyer, Gavin Wolch, says he wants to move quickly to trial.
Wolch says he's concerned about the amount of information about his client that's been in the news — from details about his criminal past to images of him in a blue jumpsuit on the night of his arrest.
Downey's next court appearance is set for Aug. 3.
Baillie, who was 34, was found dead in her northwest Calgary home on July 11 and an Amber Alert was issued for Taliyah.
The little girl's body was found three days later in a rural area east of Calgary.
Also on HuffPost:
Taliyah Marsman Missing: A Timeline