The Toronto Transit Commission says it is investigating after a video about Pokemon Go showed footage of someone walking on subway train tracks.
The "Pokemon GO Problems" video was made by a Toronto production company called Noodle Boys. Actor Mark Correia is seen walking around the city playing the game with such a ferocious devotion that he slams into objects, falls into the lake, and, yes, walks on a subway track.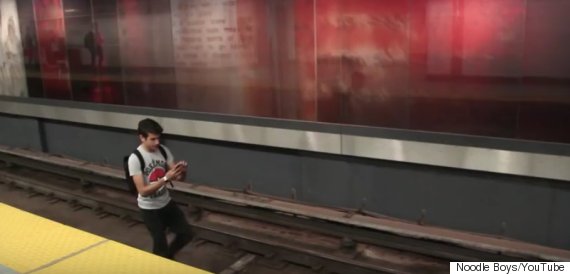 Mark Correia is seen walking on Toronto subway tracks in this screengrab from a YouTube video.
The subway footage was shot at the very busy Union Station, TTC spokesman Brad Ross said in an email to The Huffington Post Canada on Wednesday. He added the footage could be grounds for a trespassing charge at the very least.
"The TTC is not a film studio, it's a transit system," Ross said.
"This person could have been killed for this stunt. It sends a decidedly dangerous message that Pokemon are on the tracks — they are not. Play the game on the TTC if you like, but play it safely with the safety of yourself and others in mind."
Noodle Boys' Facebook page describes them as a company "dedicated to unconventional projects and social deceptions on a grand scale."
He's so zany!
Pokemon Go has already led players into some dangerous territory. A driver in the U.S., for example, crashed a car into a police vehicle while playing the game.
In California, two men fell of a cliff in pursuit of Pokemon characters. One of them fell almost 24 metres and landed on a beach.
Also on HuffPost