The CEO of one of Canada's major airlines says a national carbon tax could "kill" his industry if the government isn't careful.
At least one economist says he's "hilariously wrong."
WestJet CEO Gregg Saretsky told the Pacific NorthWest Economic Region (PNWER) conference on Tuesday that his company is working with the federal government on its plans for a carbon tax that will apply across Canada, The Calgary Herald reported.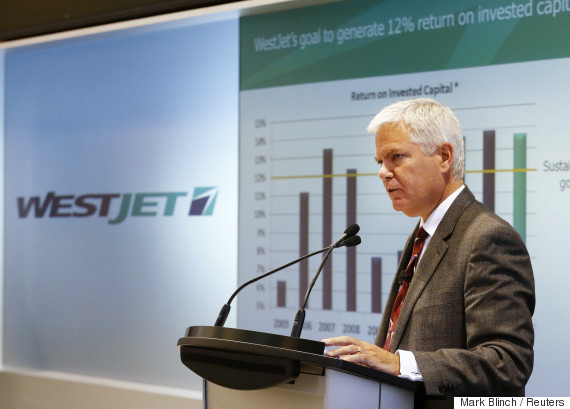 WestJet CEO Gregg Saretsky speaks at an annual general meeting for shareholders at a TMX market opening ceremony in Toronto on May 6, 2014. (Photo: Mark Blinch/Reuters)
Saretsky said the airline industry already works with thin margins.
And while he prefers a national tax to a patchwork of rates in different provinces — B.C. and Quebec have their own taxes; Alberta will impose one starting next year, and Ontario is looking into one of its own — he said the federal government should tread warily in the course of instituting one.
"Our business makes $14 in profit per guest. So the minute you add any kind of outrageous carbon tax, it's very simple and easy to wipe out $14," Saretsky said, as quoted by the Herald.
But one Calgary economist is taking the CEO to task for "baseless hyperbole."
University of Calgary professor Trevor Tombe tweeted to Saretsky that airlines could just increase fares to accommodate for a carbon tax.
Going to file Saretsky's comments under baseless hyperbole. He's hilariously wrong; they'll increase fares. #ableg https://t.co/IxWrhYAF4o

— Trevor Tombe (@trevortombe) July 20, 2016
He also tweeted a chart showing that a tax of 7.5 cents per litre on jet fuel purchases (which is less than what B.C. charges for jet fuel purchases on inter-province travel) is small compared to the cost of fuel itself.
Here's 10 years of aviation fuel prices; puts 7.5 cents/L into perspective. #ableg (Source: https://t.co/g1GflUFpb9) pic.twitter.com/mAgT9XEsKY

— Trevor Tombe (@trevortombe) July 20, 2016
Tombe also noted that WestJet's fuel efficiency has improved enormously over the past 16 years, and that a carbon tax could give the airline a "competitive advantage."
Westjet fuel efficiency improving substantially. CTax might even provide them a competitive advantage. #ableg pic.twitter.com/TM3wyWGgnc

— Trevor Tombe (@trevortombe) July 20, 2016
Canada will put a price on carbon by the end of the year, Environment Minister Catherine McKenna told Bloomberg last week.
The federal government will also release a plan this fall for reducing emissions, which could require private companies to disclose their emissions.
Her remarks came as provincial leaders met to discuss whether or not to back a national carbon tax.
McKenna hasn't said she would impose a price on carbon unilaterally if the provinces don't come to an agreement. But Prime Minister Justin Trudeau didn't rule out that possibility in an interview with CBC News.
Also on HuffPost: