A 17-year-old girl in Winnipeg was arrested after police received reports of a masked individual waving a gun at a busy intersection on Tuesday morning.
When police arrived at Portage Avenue and Main Street, the suspect took off the mask, put the gun to her head and dropped to the ground.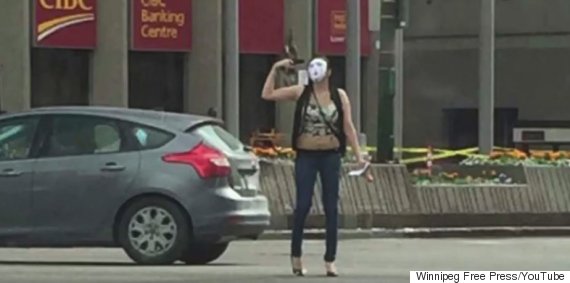 Witnesses at a busy Winnipeg intersection reported the suspect. (Photo: The Winnipeg Free Press/YouTube)
As police got closer, she moved away with the gun in her hand. An officer then tackled the suspect "without further incident."
Police later discovered that the gun was a replica.
"I know this was a significant event for the city of Winnipeg and members of the public, as it unfolded in such a public place," Gord Perrier, the city's deputy police chief, told the media in a briefing.
Bystanders shared videos of the chaotic scene on social media.
"Amazing how quickly and efficiently they reacted to a dangerous situation," wrote Mario R Tomberli on Facebook.
The suspect faces the following charges:
Possess weapon for a dangerous purpose
Cause disturbance
Public mischief.
Also On HuffPost:
Toy Guns Across The World