OTTAWA — Rosie MacLennan, the star gymnast who won Canada's lone gold medal in London four years ago, will carry the Maple Leaf into the opening ceremony at next month's Rio Olympics. The 27-year-old trampoline athlete from King City, Ont., was named Canada's flag-bearer today on Parliament Hill in a ceremony attended by Prime Minister Justin Trudeau.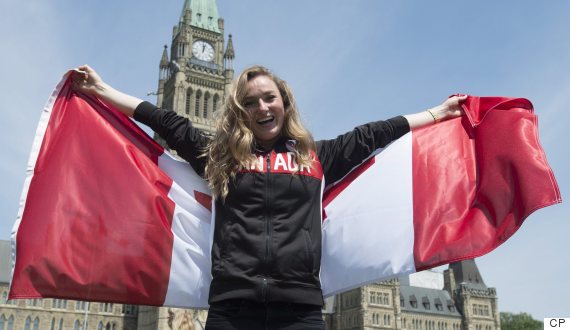 Rosie MacLennan holds a Canadian flag after being named as the Olympic flag-bearer in Ottawa. (Photo: Adrian Wyld/The Canadian Press)
"To lead my country into the opening ceremony makes me feel so proud to be Canadian," she said in a statement. "Joining the ranks of all the incredible athletes who have come before me is definitely a highlight of my career so far and one that I will remember for the rest of my life."
Replay the live ceremony:
Triathlete Simon Whitfield carried the flag into the stadium four years ago in London. It's been a challenging lead-up for the 27-year-old MacLennan. Her training was derailed last fall due to a concussion. She went on to book her ticket to Rio with a fourth-place finish at November's world championship. MacLennan says she's feeling healthy again and is ready to defend her title in Brazil. The Canadian packs a lot of power in her taut five-foot-two frame and uses it to get those precious extra split-seconds in the air. Her twists, flips and somersaults appear effortless and have a smooth fluidity.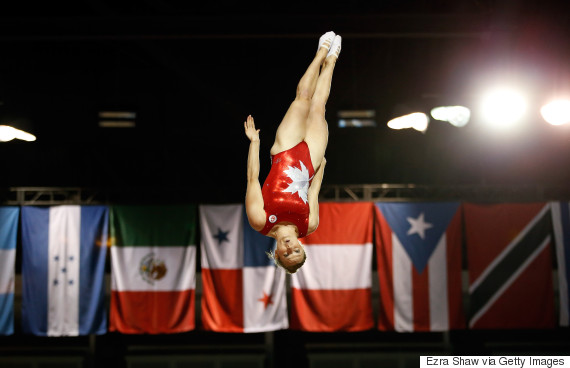 Rosie MacLennan competes in the women's individual trampoline gymnastics final at the Toronto 2015 Pan Am Games where she won gold. (Photo by Ezra Shaw/Getty Images)
She made her first world championship appearance in 2005 and won bronze two years later. She earned Pan Am silver at the 2007 Games in Rio and finished seventh in her Olympic debut at the 2008 Beijing Games. She showed her London win was no fluke by taking her first world title in 2013 and adding silver the following year. Last summer, she captured gold in front of a hometown crowd at the Toronto Pan Am Games. The Rio Olympics open Aug. 5. Canada will be sending a team of more than 300 athletes with the goal of surpassing the 18 medals it won four years ago.
Also on HuffPost:
Charitable Canadian Olympians