We've winced at 100 coats of lipstick, cowered in horror at 100 coats of foundation, but now, just maybe, the 100 coats trend will finally die thanks to Youtube vlogger Jenna Marbles.
In a recent video, Marbles decided to make the ultimate weird beauty challenge, by applying 100 layers of foundation, lipstick, nail polish, spray tan and hairspray, as well as 50 pairs of fake eyelashes. The entire process takes her seven hours and 30 minutes.
Warning: it gets gross, real fast.
If for some reason you wish to try this, you can follow along with Marbles' 100 coats of everything beauty routine. She uses Nyx Suede Liquid Lipstick for her lips, Smashbox Studio Skin 15 Hour Wear for her foundation (and a Beauty Blender to apply it), and St. Tropez Self-Tan Bronzing Spray for her arm.
Doing so might impair your vision. At one point, Marbles' eyelashes are so heavy they almost hide her eyes completely.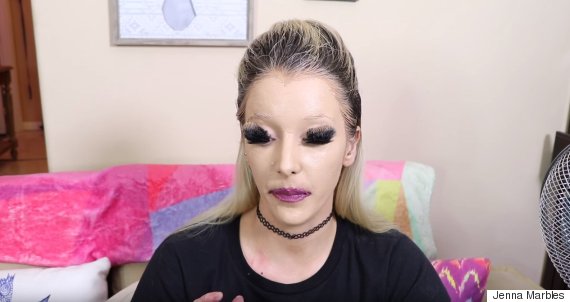 "A lot of my soul is dead," Marbles says.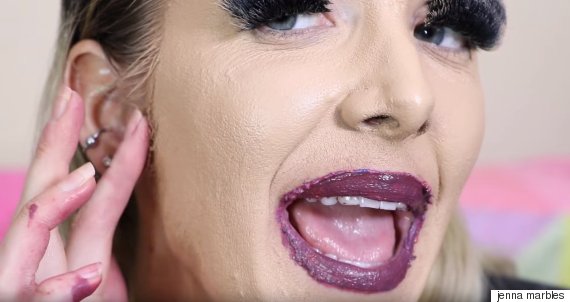 Midway through, she realizes that her new look bore a striking resemblance to Janice the Muppet.
@hitRECordJoe There's Janice also! She's the lead guitar player in the Electric Mayhem on The Muppet Show. pic.twitter.com/vikC8A4tvf

— Kaylyn Nicole Weeks (@KaylynNiicole) February 1, 2015
The end result?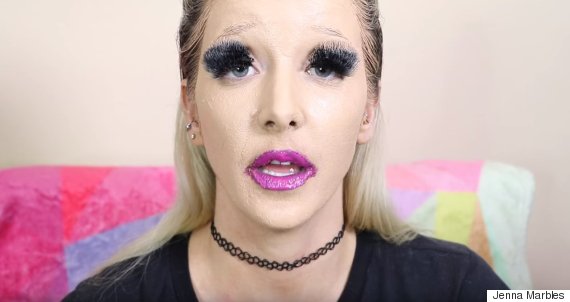 At the end of her face journey, Marbles decided that she learned something.
"I don't think I would wish this experience on anyone ever," Marbles says. "I don't know why I did this to myself, it just feels so wrong. I'm not sure if I could ever feel clean again."
Twitter agreed.
@Jenna_Marbles i was DYING whem i watched yesterday. Your face looked so lifeless after all that foundation 😂

— goodthingstaketime (@MelissaTartte) July 22, 2016
@Jenna_Marbles I really need an update on how is you skin girl

— youtube addict. (@xristinaaax) July 22, 2016
@Jenna_Marbles I wont be able to sleep until you post a photo of your face and hair without foundation or hairspray im so uncomfortable

— Eliza (@GrumpyEliza) July 22, 2016
Had a moment of silence for @Jenna_Marbles hair when I sprayed my own with hair spray this morning. GURRRRRRRRL 😂

— Allison H. (@allihend) July 22, 2016
In a way, Marbles' cakey accomplishment is bringing the trend full circle, which originated from a 365 layers of a full face of makeup done by Dutch makeup artists in 2011.
This isn't Marbles' first foray into weird beauty challenges. She's previously applied 100 layers of highlighters to her face.
Whatever you do, don't steal her look.
Follow Huffington Post Canada Style on Pinterest, Facebook and Twitter!
Also on HuffPost