The Duchess Of Cambridge's little sister will soon get a title of her very own, all thanks to her new fiancé.
The 32-year-old party planner and author confirmed her engagement to hedge fund manager James Matthews on July 19 and has been spotted flashing her art deco-style engagement ring ever since.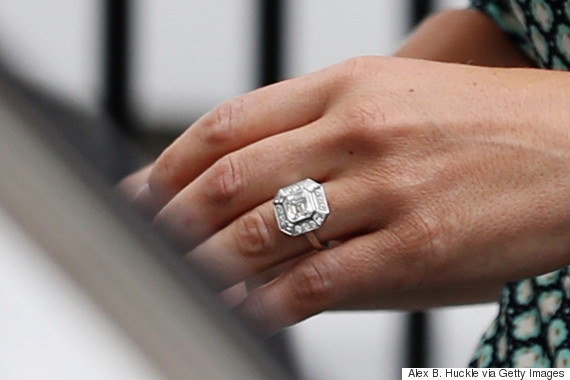 Close-up of Pippa Middleton's engagement ring taken outside of her home in London on July 21.
Matthews is the son of David Matthews, the Laird of Glen Affric and owner of a 10,000 acre Scottish estate near Loch Ness, which features a historic castle once visited by Queen Mary, Hello magazine reports.
The stunning property, which came with the Laird of Glen Affric title, was purchased by the elder Matthews in 2008.
As the eldest son of the Laird, 40-year-old James Matthews will one day inherit his father's title, though he may not choose to use it. As a courtesy, Middleton will be given the title of Mrs Matthews of Glen Affric the younger following her nuptials. Upon her father-in-law's passing her title will change to Lady Glen Affric.
The Glen Affric Estate is used as a second home by the Matthews family and can be rented out by the public for upwards of $1550 CDN a night with a minimum stay of three nights.
Also on HuffPost