FIELD, B.C. — Parks Canada is leading an extensive search for an 11-year-old Calgary boy who has been missing since falling into a river in southeastern British Columbia.
Two boys fell into the Yoho River on Friday evening while visiting Yoho National Park with their family, said Tania Peters, spokeswoman for Parks Canada.
The family group was on the river bank near the Takkakaw Falls day use area at the time of the incident, Peters said.
It is unclear whether family members or passersby responded when the boys fell into the river, Peters said, but they were quick enough to rescue one of the two children.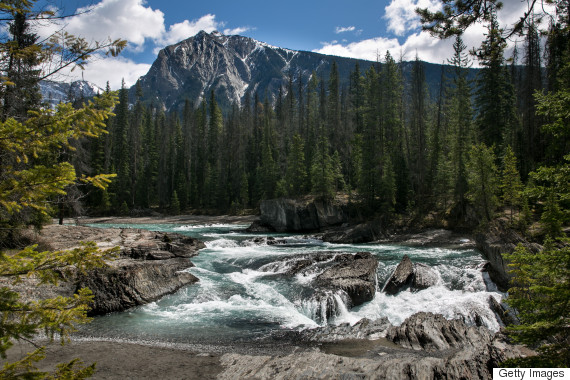 The Kicking Horse River in Yoho National Park flows under Natural Bridge Falls on April 25, 2016 near Field, B.C. (Photo: Getty Images)
"They tried desperately to get the second boy out but were unsuccessful and he was swept downstream.''
Parks Canada launched an aerial and ground search of the area with support of two helicopters, Golden Search and Rescue, RCMP and other local emergency services.
The search was called off at nightfall around 10:30 p.m. Friday and resumed before 7 a.m. on Saturday.
Officials did not have an update about how the family is coping or their involvement in the search, but Peters said, "I imagine that it's incredibly difficult.''
The park remains open to the public as officials continue the search.
Also On HuffPost:
15 Great Canadian National Parks