Canadians believe it's easier for men to get elected to high political offices, even though they see women as equally strong leaders, a new poll suggests.
The Angus Reid Institute released the numbers Monday as Democrat Hillary Clinton prepares to become the first woman to capture a major U.S. party's presidential nomination.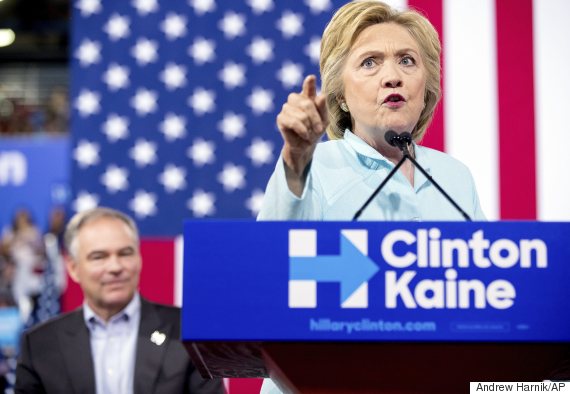 Democratic presidential candidate Hillary Clinton speaks at a rally in Miami on Saturday, July 23, 2016. (Photo: Andrew Harnik/AP)
The poll points to some varied opinions about women in politics and the potential hurdles they face, but also shows that few believe that men naturally make better leaders.
According to the numbers, 84 per cent of Canadians say men and women make equally good political leaders, while just 10 per cent say men are generally better.
Those numbers are perhaps unsurprising when one considers that three female provincial premiers currently lead majority governments — Ontario's Kathleen Wynne, Alberta's Rachel Notley, and British Columbia's Christy Clark. And, of course, Canada was briefly led by former prime minister Kim Campbell in 1993.
However, a vast majority of respondents — 85 per cent — also told the firm that either "some" (49 per cent) or "most people" in Canadian society as a whole (36 per cent) believe that men make better political leaders than women. Only six per cent told the firm that "no one thinks that anymore."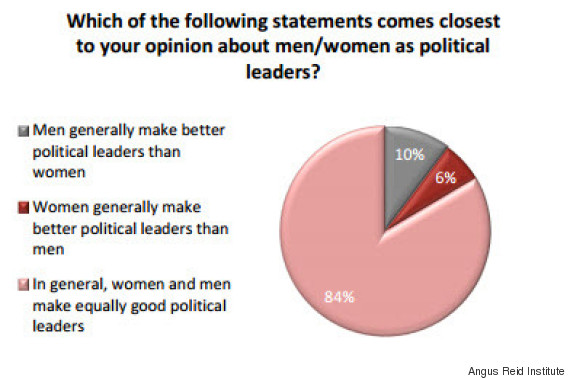 Despite strides, Canadian women only make up about a quarter of members of Parliament, members of provincial legislatures, and members of municipal councils across the country, according to a Simon Fraser University study.
Almost six-in-ten respondents said that men have an easier path to high political offices in Parliament or a provincial legislature, while 38 per cent said that gender did not make a difference.
But this question also saw big splits according to gender. While less than half of males between the ages of 18 to 34 said it's easier for men to get elected, 71 per cent of females in the same age group said the same.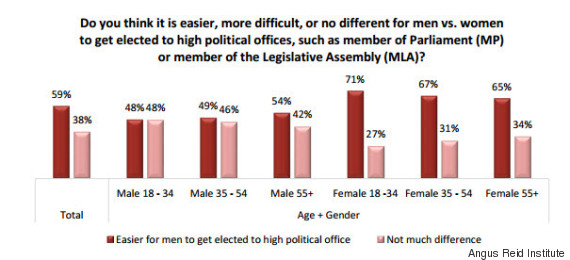 When asked why more women don't run, Canadians were more likely to say that political parties aren't doing enough to encourage their candidacies (40 per cent) than they were to point to "family commitments" (38 per cent).
Parties also took the blame for women not holding higher offices more frequently, with 69 per cent saying women in party politics receive less support from leaders to help them rise.
Seventy-one per cent of Canadians reject the notion that women "aren't tough enough" for politics — though another 22 per cent said that was a "minor reason" and seven per cent said it was a major one.
Sixty-four per cent also agreed that women who run are "held to higher standards than men."
On Clinton — who will formally accept her party's nomination on Thursday — more Canadians feel her gender has helped her political career (35 per cent) than hurt it (24 per cent). Forty-one per cent, however, said it has made no difference at all.
Young men and women between the ages of 18 to 34 were most likely to believe Clinton's gender helped her presidential ambitions. Women over the age of 55 were most likely to believe Clinton's gender has hurt her.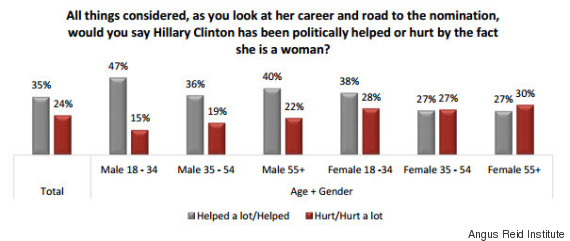 The online poll was conducted from June 8 to 13 among a representative sample of 1,515 Canadians adults who are part of the Angus Reid Forum. It has a margin of error of 2.5 percentage points, 19 times out of 20.
Also on HuffPost
Perfect Quotes From Hillary Clinton