One female tourist is dead and another seriously injured after they were attacked by tigers at a safari park in China.
A family of four was driving through Badaling Wildlife World in Yanqing Saturday afternoon when a woman got out of the car and was dragged away by one of the big cats, the Legal Evening News reported.
The woman and the man were having an argument, according to the outlet, and surveillance footage shows her get out of the car and go around to the driver's side door to talk to him.
The the male driver and another woman then run after her, but the second woman, which relatives identified as the first victim's 57-year-old mother, was mauled to death by another tiger, according to The Beijing News.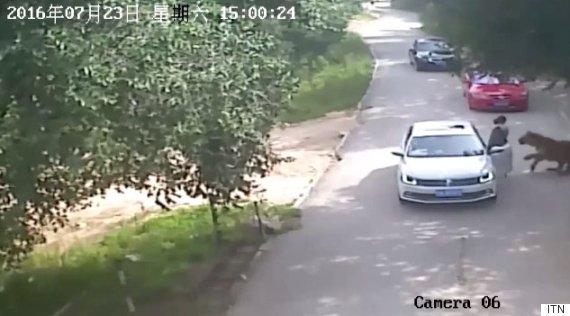 Surveillance footage from the Badaling Wildlife Park shows a woman being dragged away by a tiger.
The other victim, a woman in her 30s, was taken to hospital with multiple injuries, according to The Beijing News, and was in stable condition as of Sunday.
A Yangqing District spokesperson told the outlet that visitors driving through the park have to agree in writing not to get out of their cars and shut their windows and doors, and to take responsibility in case of injury or damage. A sign at the entrance to the tiger enclosure also warns visitors to stay in their cars and a vehicle patrols the park broadcasting warnings.
The park was closed after the incident while it was being investigated, according to authorities.
You can see footage of the encounter in the video above.