Anadolu Agency via Getty Images
CALGARY — Friends and relatives say a Calgary man being detained in Turkey has been allowed to see his wife, but the visit was too brief to glean much information about how Davud Hanci is faring and what might happen next.
Hanci's wife, Rumeysa, called from a police station in Turkey on Monday to say she was able to see her husband for between 30 seconds and a minute, said her brother Selman Durmus, who lives in Toronto.
"All she could ask is, 'How are you?' to my brother-in-law and that was pretty much it,'' said Durmus, relaying what another sister, who also lives in Toronto, told him about the call.
"He said he was doing all right. He was stressed out. That was pretty much it.''
Held on allegations of coup
Hanci, an imam who provides spiritual counselling to prisoners, is being held on accusations he was involved in a July 15 coup attempt in Turkey, Durmus said.
Pictures are being circulated in Turkish media showing a man purported to be Hanci with U.S.-based cleric Fethullah Gulen, a critic and former ally of Turkish President Recep Tayyip Erdogan.
"They do look alike, but they're not the same person at all,'' said Durmus.
Family members waiting for news
Hanci's family members are waiting to hear from Turkish prosecutors about what happens next, he added.
Hanci, his wife and two sons, who are 8 and 9, left for Turkey on July 7 to visit his ailing father. Had the father not been so gravely ill, it's likely they would have opted to take the trip another time, given the political instability in the country, said Durmus.
He fears for the safety of his sister and nephews if they stay in Turkey. He said Canadian government officials have told the family they can help get Hanci's wife and children out of the country, but cannot provide security while they're there.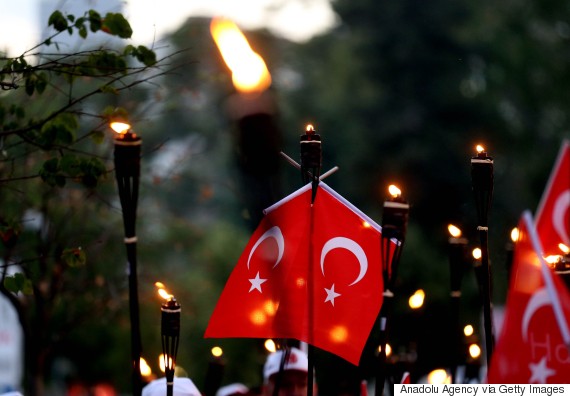 Protesters march against an attempted military coup in Turkey. (Photo: Andalou Agency/Getty)
A spokeswoman for Global Affairs said in an email Saturday night that the department is "aware of a Canadian dual-citizen detained in Turkey'' and that Canadian consular officials are standing ready to assist if needed.
Family friend Malik Muradov also spoke to Hanci's wife on Monday. He said she told him she wanted to talk to her husband for longer before leaving the country.
"I am concerned because the situation in Turkey is pretty critical ... Her life is in danger for sure. I wish she'd come back as soon as possible,'' said Muradov, who runs the Intercultural Dialogue Institute in Calgary, an organization for which Hanci has volunteered.
State of emergency
Turkey has imposed a three-month state of emergency, which means authorities may hold Hanci for a month — a prospect Durmus fears.
"God knows what could happen to him if they decide to detain him 30 days.''
In addition to the state of emergency, the Turkish government has detained or dismissed tens of thousands of people in the military, the judiciary, the education system and with other institutions.
Turkish leaders allege that supporters of Gulen infiltrated state agencies and groomed loyalists in a vast network of private schools as part of an elaborate, long-term plan to take over the country.
Turkey announced on the weekend that it had seized more than 2,250 social, educational or health-care institutions and facilities that it claims pose a threat to national security.
Gulen has denied any knowledge of the attempted coup.
Also on HuffPost: