As Hillary Clinton is poised to become the first woman nominated by a major party to run for president of the United States, Canada's three female premiers say it's an important milestone to celebrate but caution against thinking the political playing field for women is finally even.
"The first question I got after I got elected leader and became premier was, 'Who are you dating?'" B.C. Premier Christy Clark told the CBC's Peter Mansbridge.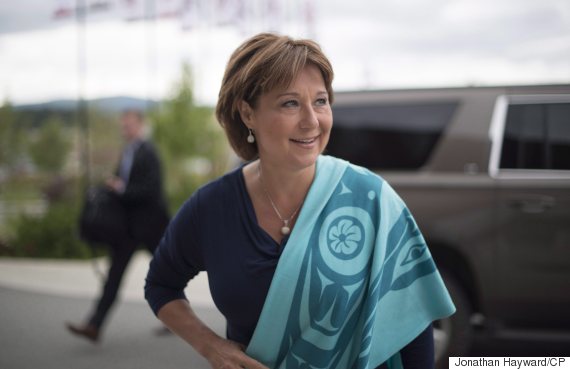 British Columbia Premier Christy Clark arrives for a meeting of Premiers in Whitehorse, Yukon, Friday, July, 22, 2016. (Photo: Jonathan Hayward/CP)
In an interview airing Tuesday evening on The National, Clark, along with Alberta Premier Rachel Notley and Ontario Premier Kathleen Wynne, said even securing some of the most powerful political positions in the country hasn't shielded them from workplace sexism.
"You'll often be in a meeting, or at least I will, and I'll find men who come to the meeting, senior people who aren't part of the government, who will speak to the men in the room rather than to the premier when they're meeting with me," Clark said. "That still happens."
Wynne said she has dealt with situations in which "someone is talking to the man sitting beside you as opposed to you" by "just sort of moving over and making eye contact, forcing that eye contact."
"It's always a bit disconcerting," Notley agreed. "I think it's just a question of, you know, engaging in the conversation and redirecting their attention to you.
"And then sometimes, sort of doing the same thing to them, and looking at someone else."
All women experience it
It may be easier to deal with that kind of behaviour when you're the boss, Clark said, but she worries about how the issue affects women who don't have the same level of power.
"If it's happening to me, it is happening to millions of women in your newsroom, in law offices, in workplaces all over this country," she told Mansbridge. "Not all men are doing it, but all women are experiencing it somewhere, some days."
Mansbridge asked the premiers for their thoughts on an impassioned speech given in the Australian Parliament in 2012 by the prime minister at the time, Julia Gillard.
Gillard blasted then-opposition leader Tony Abbott after he criticized her for not dismissing the speaker of the house over sexist text messages he allegedly sent to a staffer.
"I will not be lectured about sexism and misogyny by this man," she said at the time before listing a litany of offensive comments Abbott had made about women and Gillard specifically.
"I was offended when the leader of the opposition went outside in the front of Parliament and stood next to a sign that said, 'Ditch the Witch.' I was offended when the leader of the opposition stood next to a sign that described me as a man's bitch," Gillard said. "Misogyny, sexism every day from this leader of the opposition."
Gillard's speech was widely shared around the world and received almost three million views on YouTube. It was significant, Wynne said, because "it's important for young women, for women everywhere, to hear women in leadership saying, 'It's not OK.'"
Women in politics are sometimes "cautious about seeming like we're complaining about our lot in life," Clark said, because "we're pretty privileged."
"I'm concerned about what's happening to women who don't have the power to stop [sexist or misogynistic behaviour]," she said. "And so, I think [Gillard's] comments were valuable from that perspective."
'A great deal of work to do'
Clinton's imminent confirmation as the Democratic presidential nominee at the party's national convention in Philadelphia this week is "inspirational" for women around the world, Notley said, and a "good start."
"In U.S. politics, the vast minority of people who are elected are women, and the same is true even here in Canada," she said.
"There's a great deal of work to do ... to ensure that the role of women is promoted, and that opportunities for women are actively promoted and presented, because it won't happen organically."
"I think it's really significant that Hillary Clinton is the candidate," Wynne said. "It's not the end of the story, though, you know. It's not like ... this is the breakthrough and from here on in we don't have to think about that glass ceiling."
Also on HuffPost
Perfect Quotes From Hillary Clinton