Looks like the queen of prime time Shonda Rhimes isn't only pushing for diversity on TV, but in the world of children's toys as well.
The "Grey's Anatomy" creator took to Twitter on Monday to express her frustration with Lego after she claimed she couldn't find any brown figures to buy for her daughters.
.@LEGO_Group Is it just me or r there no brown LEGO people/figures for my girls to play with & see themselves in? It's just me?I'm mistaken?

— shonda rhimes (@shondarhimes) July 25, 2016
Up at midnight trying to buy the Tiny Human's birthday presents. And getting all political with the toys. #Iwantsomebrownlegopeople #tired

— shonda rhimes (@shondarhimes) July 25, 2016
That I have the energy to get toy political? Means i have finally got some life/work balance. Or I need to stop drinking coffee at night.

— shonda rhimes (@shondarhimes) July 25, 2016
While some Twitter users understood where Rhimes was coming from, many were confused as to why she wanted her children to play with brown Lego toys.
@shondarhimes @LEGO_Group Lego minifigures are yellow so that you can imagine them to be whatever color you want. Unless they depict a real

— Dylan (@thatdudedylan) July 25, 2016
@shondarhimes @LEGO_Group there are no white Lego people either that's the beauty of Lego they r all one not everything has to be b+w

— Plutarka Bernandino (@grashion) July 25, 2016
And one seemed to have completely missed the boat.
@shondarhimes @LEGO_Group I don't think yellow Lego people represent any person...unless they have jaundice. 😐

— Lisa Hall (@notgreatjustok) July 25, 2016
But regardless of which side of the argument you're on, it seems the popular children's toy is lacking in the diversity department.
On the Lego minifigures website, there appears to be only one black toy featured – Dr. Hibbert from "The Simpsons" – while the rest are the traditional bright yellow hue.
The megahouse's sister brand, Lego Friends, also appears to have only one black character as well.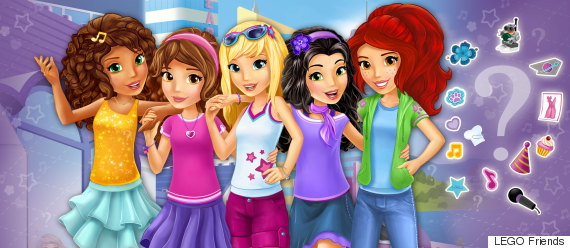 This isn't the first time Rhimes has gotten political on Twitter when it came to representation.
Most recently, the 46-year-old shut down a petition calling for the termination of "Grey's Anatomy" star Jesse Williams, after he gave a powerful speech on racism in the U.S. at this year's BET Awards.
Um, people? Boo don't need a petition. #shondalandrules

— shonda rhimes (@shondarhimes) July 5, 2016
Lego has yet to respond to Rhimes.
Do you think children's toys should be more diverse? Let us know in the comments below.
Also on HuffPost