In just under two weeks more than 10,000 athletes will compete across 42 sports in the first edition of the Olympic games in South America. Here we take a look at the three gymnastic disciplines that will be taking place during Rio 2016: artistic gymnastics, rhythmic gymnastics and trampoline gymnastics.
The history of the sport and its history in the games
Gymnastics has been an Olympic sport since Ancient Greece, when both individual and team competitions took place in the male-only event.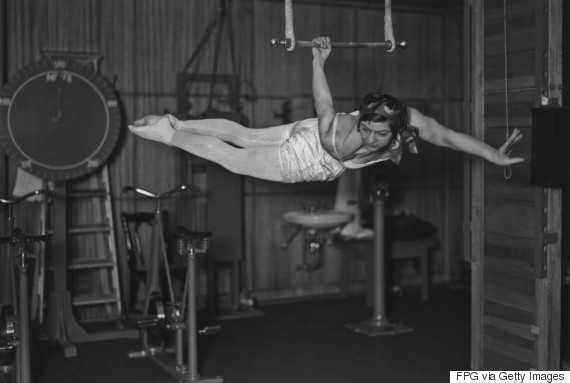 A woman using a piece of apparatus in the gymnasium of the ocean liner S.S Bremen in the 1930s. (Photo by FPG/Getty Images)
The term "artistic gymnastics" was first used in the 19th century with gymnastics included in the first modern Olympic Games in Athens 1896, with women making their debut in the sport in Amsterdam 1928.
Although it also first appeared in the 19th century, rhythmic gymnastics wasn't recognized as an official discipline by the International Gymnastics Federation (FIG) until 1963, and didn't make its Olympic debut until the Los Angeles games in 1984.
Trampoline gymnastics was created later, in the 1930s, when the first modern trampoline was built by George Nissen and Larry Griswold at the University of Iowa. It has been an Olympic sport for both men and women since Sydney 2000, making it the "youngest" of the gymnastics disciplines.
How the competition unfolds
Artistic gymnastics offers events for both men and women. Athletes must use their strength, flexibility, and balance to perform a series of graceful movements on six pieces of apparatus in the men's competition (floor, vault, horizontal bar, parallel bars, pommel horse and rings) and four pieces of apparatus in women's (floor, vault, uneven bars and balance beam).
Rhythmic gymnastics incorporates elements from classical ballet, German weightlifting techniques and Swedish exercising systems, and unlike its Olympic counterparts of artistic and trampoline gymnastics, is performed in the games only by women. Athletes compete on the floor to a musical soundtrack using four of five pieces of apparatus — rope, ball, hoop, ribbon and clubs — with the rope out for Rio 2016.
Trampoline gymnastics is performed individually and involves bouncing on a trampoline of heights of up to eight metres while performing a series of impressive twists, somersaults and aerial acrobatics in mid-air. Gymnasts are required to perform a series of ten elements in total with both simple and double jump and with or without pirouettes. They can compete wearing socks or with proper gym shoes, but it is forbidden to compete barefoot.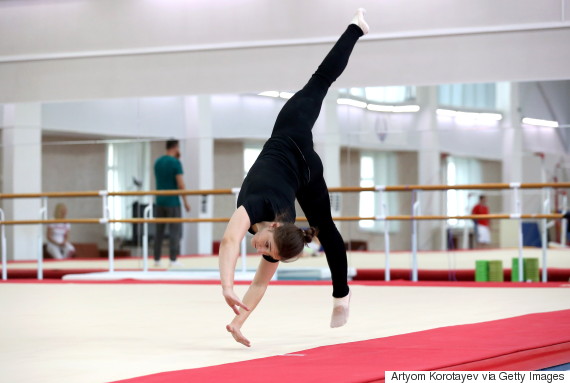 Russian gymnast Aliya Mustafina during a training session held by the Russian men's and women's gymnastics teams at the Ozero Krugloye Training Center. (Photo by Artyom Korotayev\TASS via Getty Images)
Scoring
In all three of the disciplines gymnasts are assessed by judges on the difficulty of their performance as well as the execution of their presentation.
In trampoline gymnastics points are also awarded for flight time, and in artistic gymnastics medals are also distributed for individual events, team events, and for each apparatus.
Find out more
To learn more about the sports head to the official Rio 2016 website.
Watch Team USA win Gold in artistic gymnastics at the London 2012 Olympic games.
See the most successful rhythmic gymnastics Olympic competitor, Russia's Evgeniya Kanaeva, in action.
And watch China's Dong Dong win Gold in the Men's Trampoline Final during the London 2012 Olympic Games.
Also on HuffPost
London 2012, Women's Gymnastics- 8/2