Many truck drivers likely get confused and head the wrong way on highways all the time. They suck it up and wait for an exit.
But one big rig driver in Italy just couldn't deal with his mistake, so he opted to make a U-turn across several lanes of traffic.
State police posted CCTV footage of the incident, which occurred on the A15 highway near the city of Pontremoli, on YouTube.
In the video, the 18-metre-long truck backs into an emergency pull-out area off one side of the four-lane highway, then straightens out and drives through a small empty space in the median to cut across to the other side.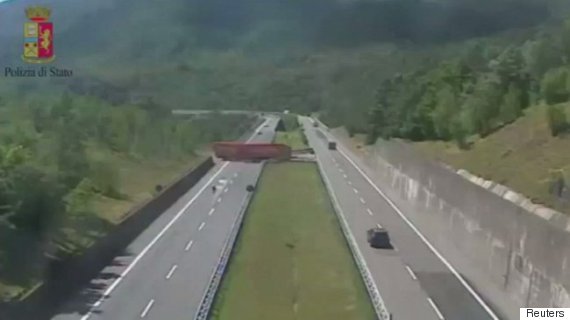 Really, buddy? Really?
"Motorists could not believe their eyes," police said in a statement obtained by The Mirror.
"Although they were terrified, they managed to avoid losing control of the situation, dodging the truck and braking in time."
Luckily, no one was hurt. Other drivers notified traffic police and the man was soon stopped and arrested.
He faces a fine of 8,000 euros (almost C$12,000) and officials have started the process of revoking his driver's licence.
You can see the jaw-dropping footage in the video above.
Also on HuffPost
The Worst Drivers Of All Time