Canadian weightlifter Christine Girard's bronze medal from the London Olympics could be upgraded to gold after the two women who finished ahead of her were nabbed in doping retests.
The International Weighlifting Federation announced Thursday that samples of 11 weightlifters from the 2012 Games showed positive results.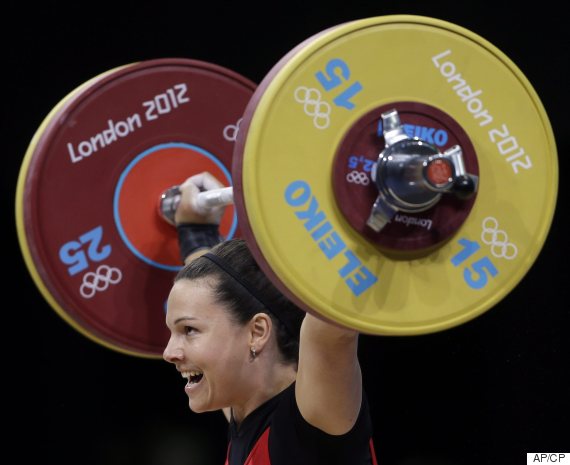 Christine Girard competes in the women's 63-kg weightlifting event at the 2012 London Olympics. (Photo: Mike Groll/AP via CP)
Svetlana Tsarukaeva of Russia, who finished second in the women's 63-kilogram division, was among the 11 athletes. She tested positive for dehydrochlormethyltestosterone, an anabolic steroid.
Gold medallist Maiya Maneza of Kazakhstan was already caught in another batch of retests in June.
Both have been provisionally suspended but it will likely take months, or even years, for the Olympic medals to be redistributed.
Girard, who grew up in Rouyn-Noranda, Que., and now lives in the Vancouver area, finished fourth at the 2008 Beijing Olympics.
Canadian cross-country skier Beckie Scott was upgraded from bronze to gold when the medallists ahead of her were caught doping. Shot-putter Dylan Armstrong also got a bronze medal some seven years after the Beijing Olympics due to doping.
Also on HuffPost
Best Of 2012 Olympics In Pictures