Blake Shelton is a man in love and he isn't going to stay quiet about it.
"Gwen saved my life. Who else on earth could understand going through a high-profile divorce from another musician? You can't even imagine the similarities in our divorces," "The Voice" judge told Billboard magazine for its new cover story.
Opening up about his new album, "If I'm Honest," Shelton revealed, "You can learn some facts of my divorce. Maybe not specifics, but you can get a general idea about it. It is my divorce record, but maybe even more than that, it's my happy, falling-in-love record too."
The Voice judges.
Shelton, 40, of course fell in love with his now-girlfriend and former "The Voice" co-star Gwen Stefani, 46, after confessing to her about his split from then-wife Miranda Lambert.
"I won't forget that day," he said. "I looked over at Gwen – who I didn't really know – and she had these huge tears in her eyes. I thought, 'Wow, she feels super bad for me!'"
"I was in shock, because I felt like he was exposing me," Stefani told Howard Stern of the moment Shelton revealed his secret.
Shelton didn't know at that time Stefani was in the midst of her own divorce from fellow musician Gavin Rossdale after almost 20 years together. Once Stefani revealed her own separation the two quickly discovered they could lean on each other.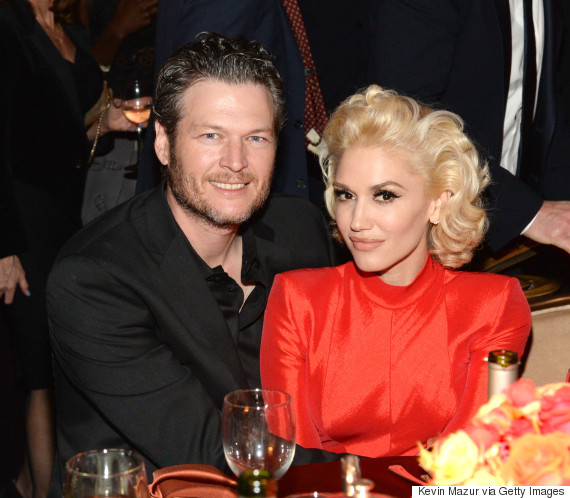 Gwen and Blake attend the Pre-GRAMMY Gala at The Beverly Hilton Hotel on February 14, 2016 in Beverly Hills, California.
"It went from that, to checking in on each other once a week through email – 'This s--- happened to me, what happened to you?' – to maybe three times a week, then every day, to 'Hey, here's my phone number if you ever want to text.' Next thing I know, I wake up and she's all I care about, and I'm wondering if she feels the same about me," he said.
Like Shelton, Stefani has been quite vocal about her divorce and her mutual feelings for the country singer. "It was like being handed this gift of a friend who was going through the exact same thing at the exact same time," she told Harper's Bazaar earlier this year.
Both Shelton and Stefani have alluded their spouses cheated on them.
Also on HuffPost