Social media have the potential to transform Canadian politics and hold enormous opportunities for politicians who want to manage public opinion, according to a one-time communications director for former prime minister Stephen Harper.
"To fulfil the opportunities afforded by social media, directors of communication need to be aware of this trend and engage with it," Dimitri Soudas writes in his master's thesis, a copy of which has been obtained by CBC News.
Soudas successfully defended his thesis in January 2015 and received his master's degree from Simon Fraser University in June 2015. However, he arranged to have publication of his thesis delayed until a few days ago, on July 28 — well after last fall's federal election.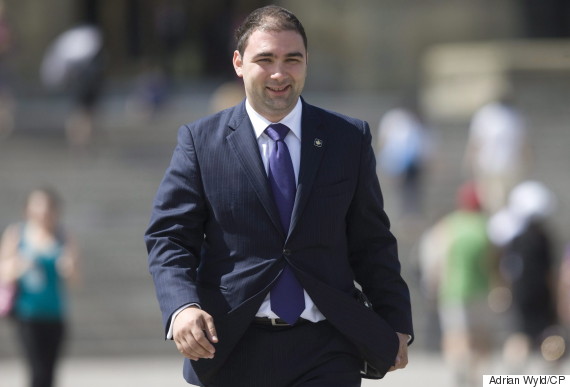 Dimitri Soudas, former communications director for Prime Minister Stephen Harper, leaves Parliament Hill in June 2011. (Photo: Adrian Wyld/CP)
"The fact that people with similar interests are communicating online and organizing around specific causes is advantageous to the prime minister's director of communications," he writes. "A sympathetic and receptive audience is only a Google search away for a director of communications seeking to promote a particular policy."
Soudas says Canadian political actors are trailing their counterparts in the United States and have yet to realize the full potential of social media to engage with voters rather than just transmit information.
"The first party to recognize the potential of social media and employ it to its fullest potential will achieve a decisive advantage over other parties while they struggle to adapt."
Soudas's 74-page thesis "Media and Government: The Role of the Director of Communications" is a fascinating glimpse inside the corridors of power. Part analysis, part how-to guide, it outlines how governments, including Harper's administration, have effectively "manipulated" public opinion and the media over the years, arguing that directors of communication are now key players in successful governments.
Story continues after slideshow:
Harper's 9 Communication Directors



A longtime political animal, Soudas arrived in Ottawa in 2003 as press secretary to Harper, then leader of the Opposition. Known as a fierce Harper loyalist, he rose through the ranks to become Harper's director of communications in 2010 before leaving in September 2011. In 2014, he served briefly as executive director of the Conservative Party of Canada before a dispute over his attempts to help his then fiancée, MP Eve Adams, win the party's nomination in the riding of Oakville North Burlington led to his departure.
In 2015, Soudas joined the Liberal Party after Adams crossed the floor to join Justin Trudeau's caucus. However, Adams failed in her bid to secure the Liberal nomination in the riding of Eglinton-Lawrence.
He is currently a managing partner with Stampede Group.
Soudas's thesis tracks the evolution of the position of director of communications, from obscurity to having a seat at the cabinet table. He maintains directors of communication now have more influence than cabinet ministers.
"The new director of communications is one of the most visible faces of government, with influence and power beyond most cabinet ministers and is responsible for strategic planning, advertising, social media, crisis and issue management, and above all being the voice of the prime minister."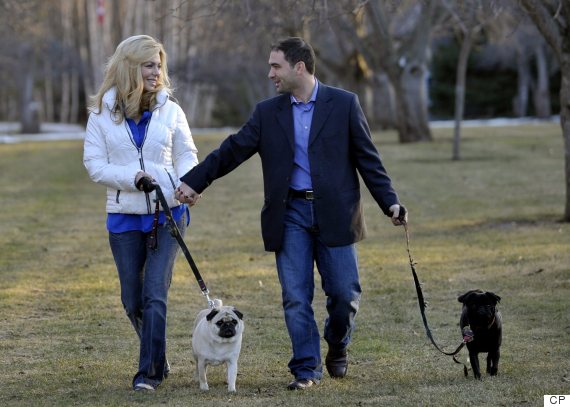 Former MP Eve Adams and Dmitiri Soudas walk their friend's dogs in Oakville, Ont. in April 2014. (Photo: J.P. Moczulski/CP)
The fact that directors of communication now enjoy a seat in the heart of power has also "blurred the line between policy and publicity," he writes.
"These same changes that have propelled communication strategies to [the] heart of political power in this country have also provided governments with the ability to manipulate public opinion to their own ends," Soudas writes.
"This has proven to be an opportunity for governments seeking to implement important, if unpopular, decisions on a skeptical public, but has also been a challenge to the fourth estate seeking to hold government to account."
One of the biggest boons for directors of communications seeking to control and disseminate the government's message has been the diversification of the media in recent years, including local, online and ethnic media, says Soudas.
That made it easier for the Harper government to follow an American-inspired strategy of circumventing traditional mainstream media and Ottawa's parliamentary press gallery, he says.
"Newer and smaller media outlets have in fact increased competition within the Canadian media industry and given the prime minister's directors of communications a greater array of options in choosing how to disseminate the government's message to the Canadian public."
Winning without the press
Soudas contends that social media haven't made politics more personal and vicious than in the past — it's just that more people can now see the character attacks and smear tactics.
"The Canadian public is shocked by them and perceive them as new tactics because they are being transmitted in ways that were not possible with older communications technologies," he wrote. "While there is a superficial difference between an attack ad that appears in print and one that appears on screen, there is no substantive difference between the two. New technology has amplified what is really a venerable tradition in Canadian political culture, and has led to a perception of novelty."
While Harper's government was known for its rocky relationship with the media, Soudas says the decline in cordial relations between Canada's prime minister and the media began with former Liberal prime minister Pierre Trudeau. He says Trudeau was never completely comfortable with journalists, considered members of the press gallery as his intellectual inferiors and "generally did not respect them."
Soudas says governments have faced an "increasingly adversarial press," but Harper's 2011 election win showed that an election could be won without actively courting the media.
Going too far
However, Soudas was critical of one of his predecessors, Sandra Buckler, who he said carried the refusal to deal with journalists too far.
"She refused to engage with the media and as such abrogated any degree of control that she may have had in managing the government's message," he says. "This was at best a dubious strategy because refusing to interact with the media did not stop critical stories from being written, instead it removed any control that the director of communications might have had over the message."
While the Harper government regularly sought television coverage of its events when Soudas worked in the Prime Minister's Office, in his thesis, he is sharply critical of television's influence on Canadian politics.
"Style has come to trump substance, which has directly impacted the strategies that the Prime Minister's Office and its director of communications develop for interacting with television reporters."
Soudas also blames television for the deterioration of political dialogue, saying it "is not an efficient platform to inform the public about relevant social and political issues."
"Television further undermines the depth and quality of political dialogue and the debate by requiring politicians to speak in sound bites, rather than in a substantive manner. As a result, television has encouraged the 'theatrics' seen during coverage of question period, which has become the norm within Canadian politics."
Politicians, however, have been "only too happy" to provide those sound bites, he points out.
Also on HuffPost
Harper's Legacy: Top Achievements, Failures, According To Poll