Their own apartment. College classes. A new life in a new town.
Cory Grey and Dylan Laboucan were so close to having all those things together. The teens were set to move to Slave Lake, Alta. in the fall.
But the young couple's story was cut short.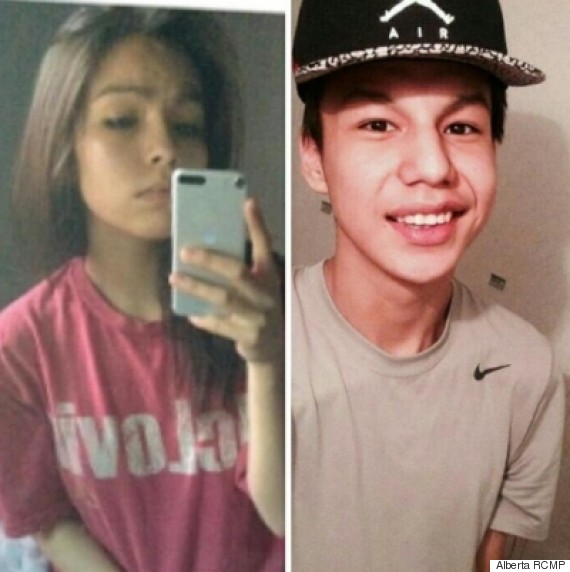 Cory Grey, left, and Dylan Laboucan lived on a reserve in northern Alberta. (Photo: Alberta RCMP)
Seventeen-year-old Laboucan's body was found on July 25 near the Whitefish First Nation reserve in northern Alberta, where the couple lived.
Grey, 19, was located at a different location in the greater Whitefish Lake area.
Both shot dead, according to the RCMP.
Together, again
Laboucan's father told CBC News the teens were "inseparable."
Now, after their tragic deaths separated them, Laboucan and Grey will be together again.
The two will be buried next to each other, according to CBC News.
"We will be burying them together because they belong together," Becky Thunder, Laboucan's mother, told the broadcaster.
A joint funeral will be held for Grey and Laboucan on Friday, according to the Edmonton Sun. A wake will be held on Wednesday at Atikameg School.
Funeral date set for slain Whitefish River First Nation teens https://t.co/gwhH9LxoRC pic.twitter.com/kB8fmx9vv6

— Edmonton Journal (@edmontonjournal) August 2, 2016
The RCMP is investigating their deaths as a double homicide.
"It is not a random act,'' RCMP Insp. Gibson Glavin told reporters in late July.
"These two victims, Cory and Dylan, were deliberately killed by someone or some people, and they were connected to them in some way."
With files from The Canadian Press
Also On HuffPost:
Edmonton's Most Wanted (July 2016)