"America's Got Talent" got scary Tuesday when a Canadian stunt man was shot in the throat with a flaming arrow.
Ryan Stock, who is originally from Edmonton, and his fiancée, AmberLynn Walker, were on stage preparing for a stunt in which Walker would shoot a flaming arrow at a bull's-eye attached to a pole in Stock's throat, according to US Weekly.
Standing on a ladder, Walker aimed a crossbow at her fiancé, who was crouching a few metres away. But she missed, and hit his neck instead.
Stock immediately batted at his throat, pulling the pole out and cowering and gagging.
The camera then cut to the stunned judges. Heidi Klum even covered her mouth.
Stock reassured the crowd that he was OK, according to USA Today.
"It just caught my shirt," he said.
But judge Howie Mandel wouldn't take the daredevil at his word, urging him to get medical attention.
"I think the fact that you're willing to do this we gotta vote for you, but the audience just saw what can happen. I hate that I saw what can happen."
"In the moment, I thought I had messed up horribly."
Judge Simon Cowell also told Entertainment Tonight afterwards that the accident was stressful.
"I've done this show for 10 or 11 years, and this has never happened before," he said.
Stock tweeted Tuesday that he was OK.
We had a serious mishap tonight outage live on @nbcagt. A very unfortunate mechanical failure but I am very fortunate to walk away from it.

— Ryan Stock (@comedydaredevil) August 3, 2016
In an interview with ET, the two revealed how the stunt went wrong.
"In the moment, I thought I had messed up horribly," Walker said.
But after re-watching the footage and examining their equipment, they discovered that while she had perfect aim, the notch on the back of the arrow had broken off.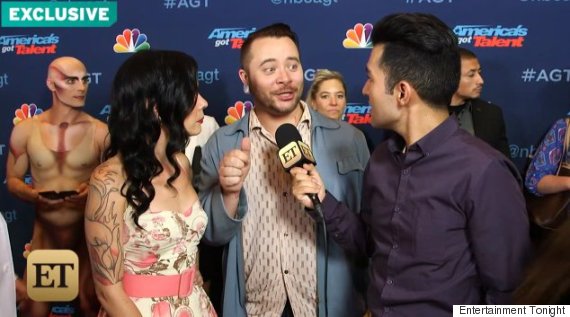 The stunt duo opened up to Entertainment Tonight about what went wrong.
"If she had just missed, it actually would have gone probably through my neck, but because of the way it slipped, it kind of came at an angle with less power," Stock told ET.
"So, lucky but unlucky," he said.
This is not the craziest thing Stock has done. He holds over 30 world records, including for the heaviest vehicle pulled with a swallowed sword, according to his website.
One of his signature stunts is called "The Human Meathead," in which he feeds a meat hook through his nose and out through his mouth, then suspends weight from it.
He also starred in a Discovery Channel show called "Guinea Pig" in which he and Walker carried out other crazy tricks.
According to USA Today, Stock said the two had never messed up the arrow stunt before.
You can watch the whole stunt, and the judges' reaction, in the video above.
Also on HuffPost
Celebs With Their Stunt Doubles