Canada is one of the few countries where you can ski a glacier, eat poutine and pay massive amounts for the right to call yourself a permanent resident.
But how much does that privilege cost? And how does it compare to other countries?
The International Monetary Fund (IMF) outlined the cost of citizenship and residency in a chart published in December, that was recently reported on by the World Economic Forum (WEF).
It shows that the cost of permanent residency in Canada ranks with either the most or least expensive countries, depending on whether you want to settle in Quebec or P.E.I., the two provinces that still take money in exchange for permanent residency.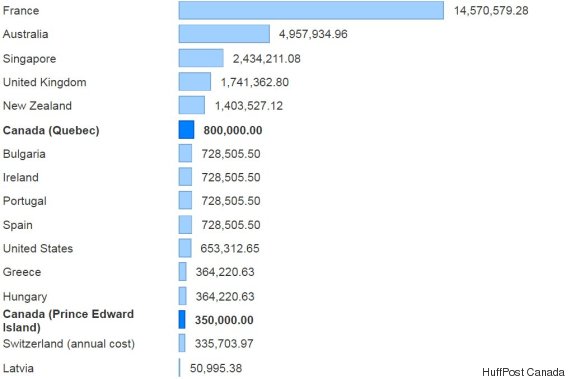 (All figures in Canadian currency.)
An immigrant investor program allows people to buy citizenship or residency for a "substantial investment," the WEF reports.
The object of such a program is to drive business investment in a country. And there's lots of money to be had.
Every year, thousands of people spend as much as $2 billion every year obtaining a second or even third passport, BBC News reported in 2014.
Foreign investor money made up as much as 25 per cent of the GDP in St. Kitts and Nevis in 2013, the Forum said.
But not all countries offer immediate citizenship. Some, like Canada, give you permanent residency first, then make you wait years for the privilege of calling yourself a Canadian.
Pathway to Canada
Canada has two immigrant investor programs.
The Quebec Immigrant Investor Program (QIIP), for example, allows people to enter Canada with an $800,000 investment, which is reimbursed to participants after five years.
Investors must also have assets worth at least $1.6 million, and have agricultural, industrial, commercial or management experience.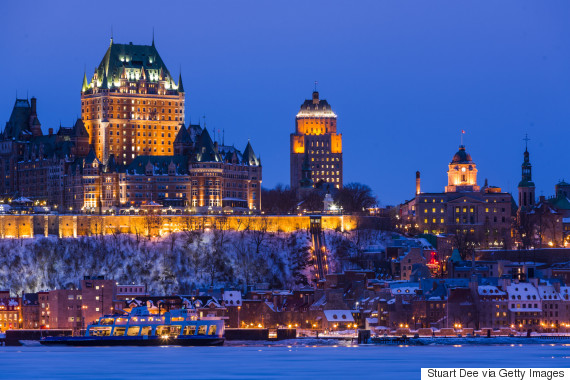 Quebec City. (Photo: Stuart Dee/Getty Images)
There is also the Prince Edward Island Provincial Nominee Program (PNP), which invites foreign nationals to become permanent residents so long as they "invest in and actively manage a business" in Canada's smallest province.
PNP applicants must invest at least $150,000 in a P.E.I. business, and control not less than 33 1/3 per cent of the firm in question.
There are also limits on the kinds of businesses you can run there. A foreign national can't, for example, develop real estate, unless it's "deemed to be [of] significant economic benefit to the P.E.I. economy."
A source of controversy
Immigrant investor programs in Canada have been the subject of controversy for years.
The federal government shut down its program in 2014 amid concerns that it was just a way for wealthy foreigners to buy citizenship, The Globe and Mail reported.
The QIIP, however, remains in operation — and a significant source of consternation amid worries that it's allowing foreign capital to inflate Vancouver's housing market.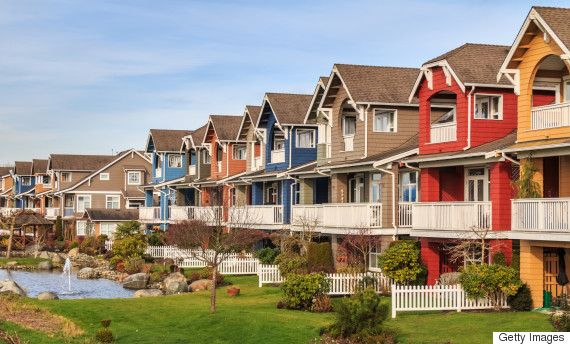 Townhouses in Richmond, B.C., a suburb of Vancouver. (Photo: Getty Images)
Investors coming to Canada through Quebec's investor program must intend to settle in the province.
But as many as 89 per cent of applicants leave Quebec and about two-thirds of them end up in Vancouver, according to South China Morning Post reporter Ian Young.
Many of these investors come from China and put their money into expensive detached homes on the city's west side and in the suburb of Richmond — a trend that could very well be helping to drive prices to unaffordable heights, he added.
The QIIP has been such a concern in B.C. that Premier Christy Clark raised it with Quebec Premier Philippe Couillard at a meeting last week, Global News reported.
"When people come into Quebec as investor immigrants, they want them to spend the money there and they want them to stay there," Clark told the network.
Also on HuffPost:
Countries With The Most Immigrants: 24/7 Wall St.