The Summer Olympic Games are not only filled with memorable moments of the world's most elite athletes, but it's also filled with equally memorable fashion.
Fashion at the Olympics starts with the opening ceremonies, where athletes reveal their designer uniforms on a world stage.
So we know what to expect from our 2016 summer Olympic athletes, but can you remember what Canadian competitors wore 10, 20 or 90 years ago?
Here is a look at the evolution of Team Canada's summer Olympic uniforms throughout the years: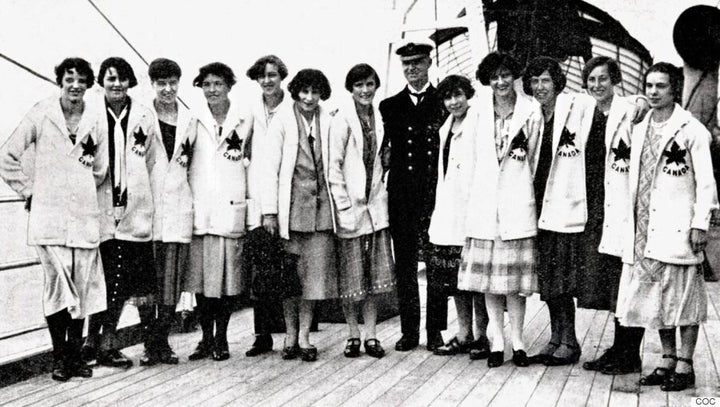 Wearing mismatched plaid skirts and different type shoes, Team Canada's 1924 opening ceremony uniform seemed to only include an oversized, knitted cardigan. And it worked. The team looked ready to compete.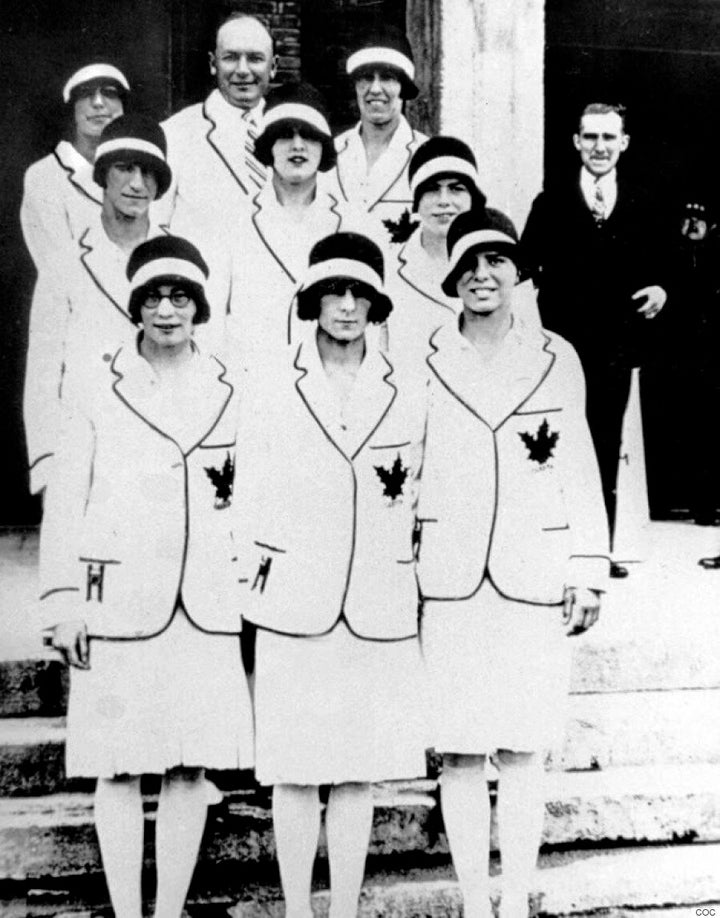 With the maple leaf proudly plastered on their uniform, the 1928 Canadian team in Amsterdam looked downright stylish in their flapper-inspired pristine white suits. Athletes sported cloche hats and blazers, and the women got to wear shorter-than-usual skirts. So fancy!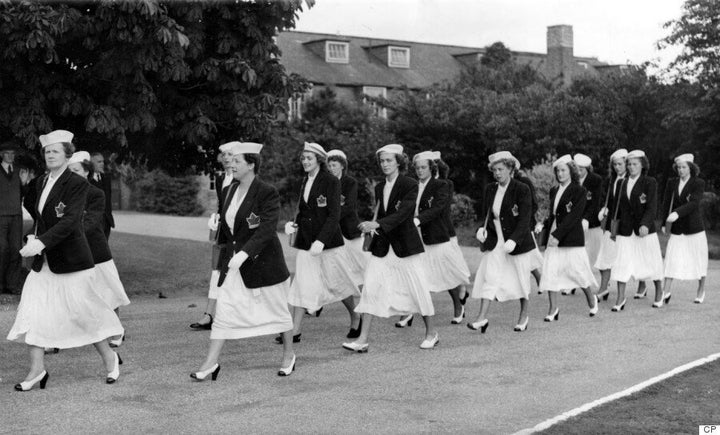 Walking the ceremony in kitten heels, the women of the Canadian 1948 team donned not only berets, but also long, velvet blazers and flowing white skirts. For that extra classic touch, the female athletes also sported dainty white gloves.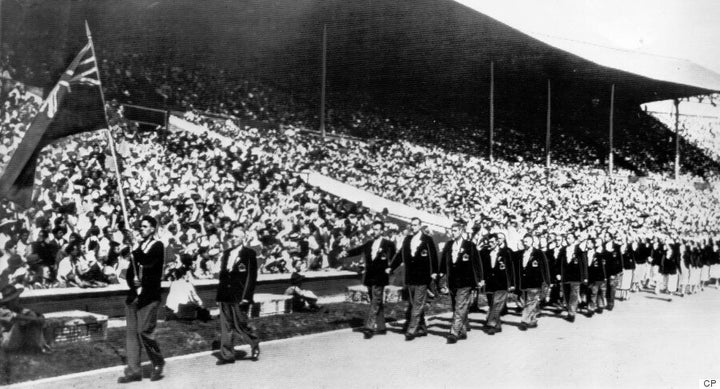 As for the men, who sported that same velvet blazer, baggy trousers and white collared shirts were the way to go.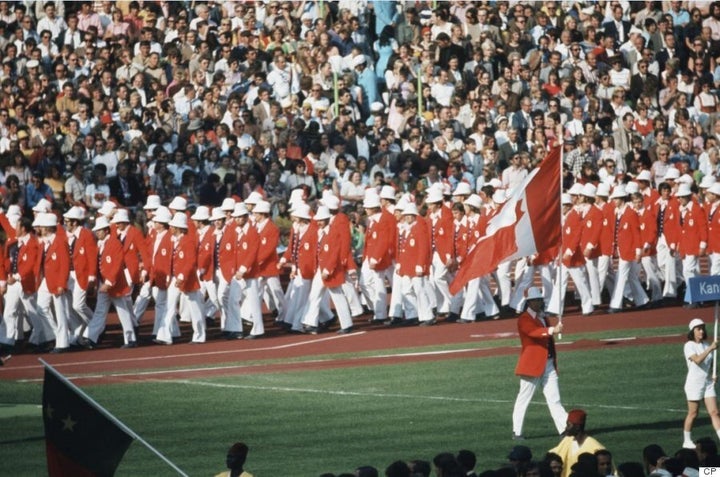 We're not sure what those hats are, but we do know Canada fully embraced the bell-bottoms trend.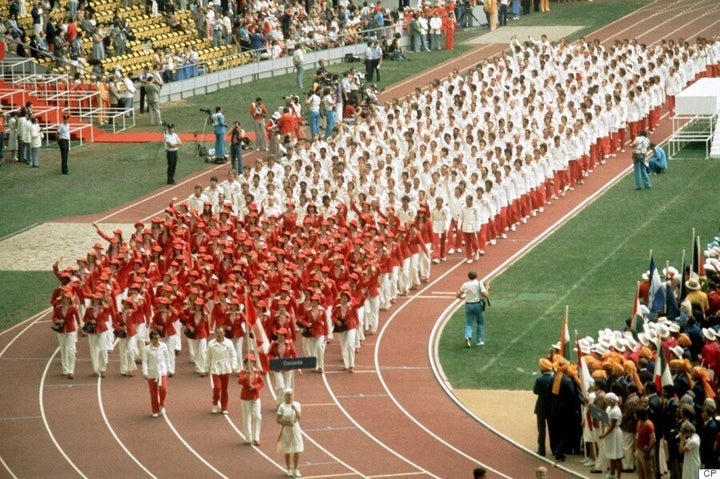 Designed by Montreal designer John Warden, Team Canada looked '70s chic on home soil in their elegant wrap coats and flared trousers. And the women's floppy hats? Are we at the Olympics or in Hollywood because they're glamourous!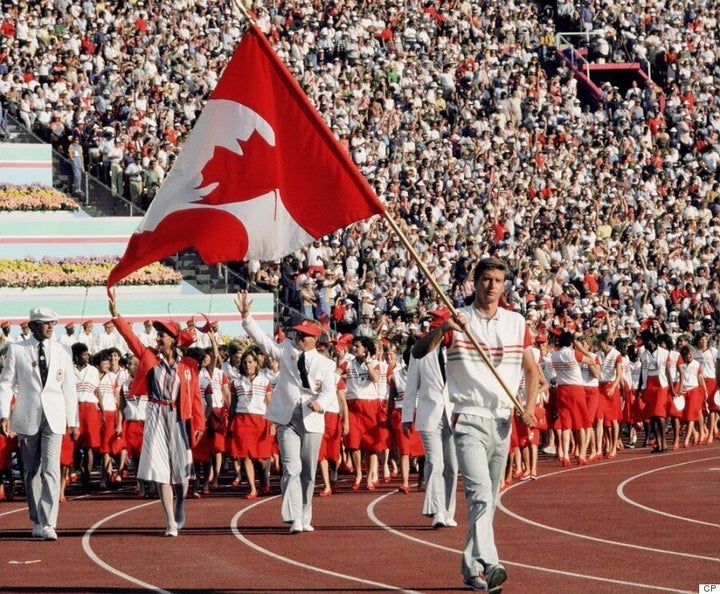 The key to a great Olympic team is to fully match. Each Canadian athlete donned scarlet red shoes, and you know what? It was awesome. Also, those oversized, unbuttoned shirts? Casually cool, Canada.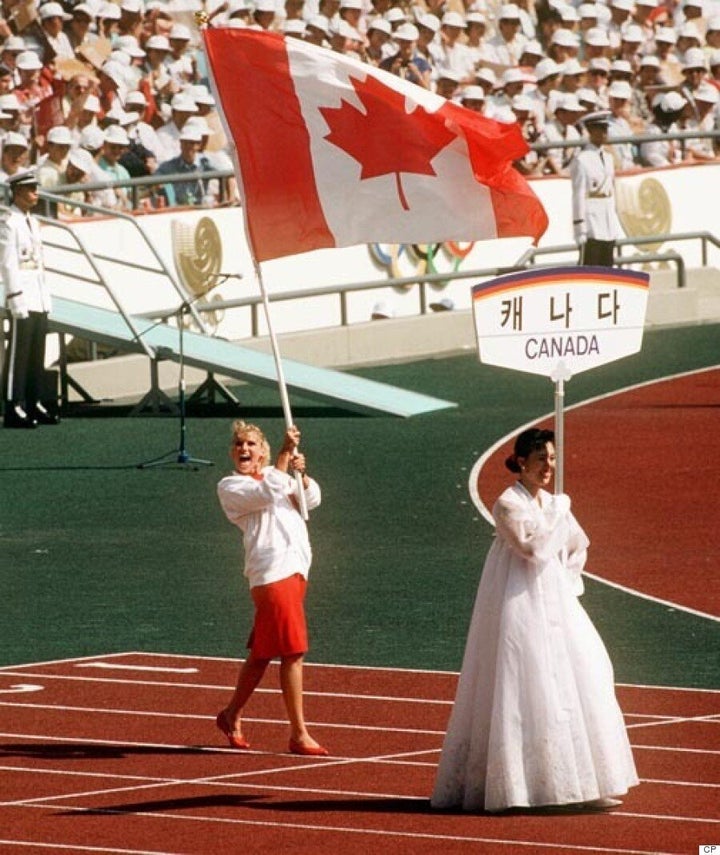 Similar to Los Angeles? Crisp white polo shirts, knee-length red skirts... and perms. Yup, it's the Olympics in the '80s.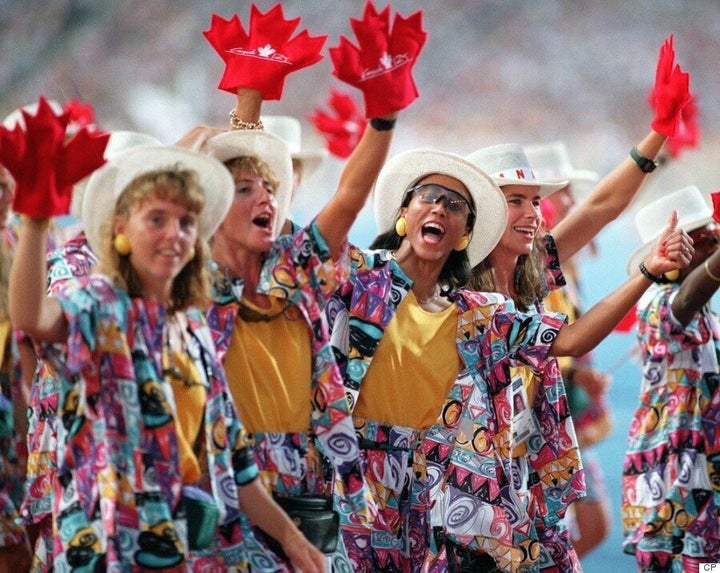 How do we even begin to explain Team Canada's 1992 Barcelona opening ceremony uniforms? They were the epitome of the '90s and we loved them. They had fanny packs. They had cowboy hats. They tucked their shirts into their high-waisted shorts. They wore a weird yellow shade with a print that screamed, "We've arrived!" And are those shoulder pads? Great work, Team Canada!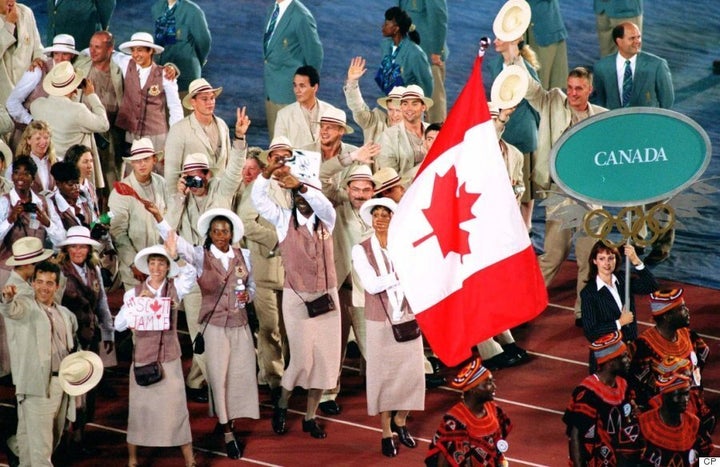 Celebrating the centennial of the Olympic games, Canadian athletes looked a whole lot different then they did in Barcelona. Umm, Team Canada, did you think you were going on a safari? Those hats? Those vests? Those oversized skirts and blazers? Those shiny shoes? WHAT ARE THOSE?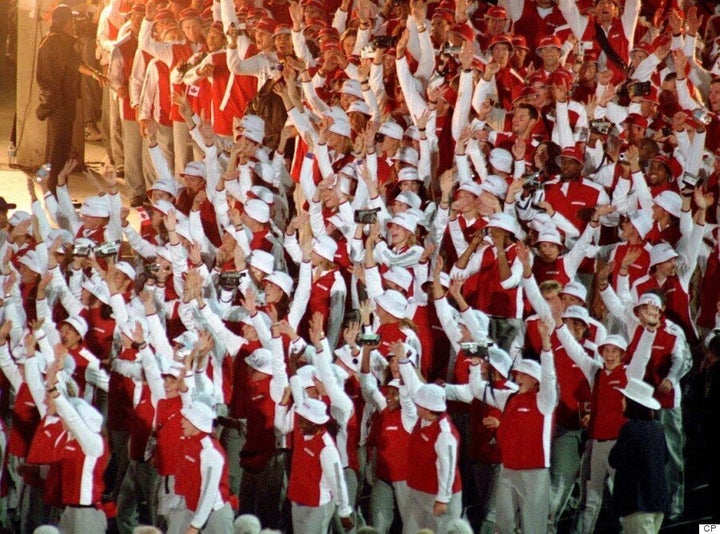 Guys, Team Canada wore bucket hats to the 2000 games in Sydney (because nothing says Australia like bucket hats, we guess?) But sadly, it wasn't the bucket hats that threw off the entire Canadian uniform, it was those grey, lifeless straight-leg pants.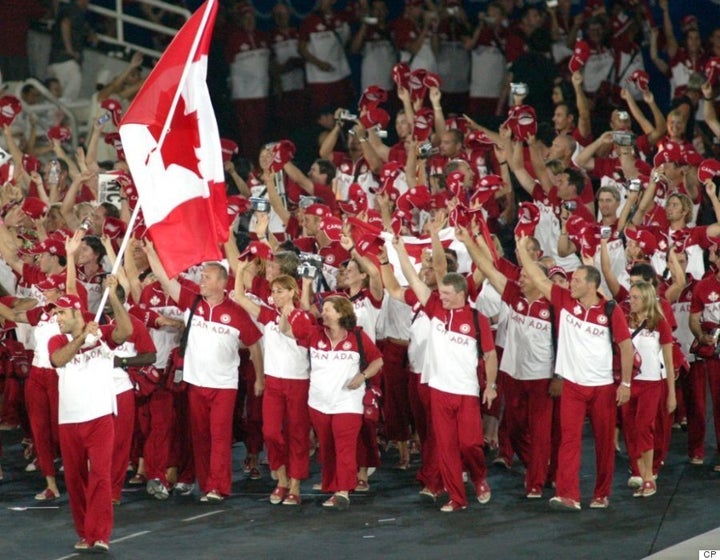 Even though most of the athletes wore sandals letting their feet be free, the opening ceremony uniform was totally boring, which was disappointing considering the Olympics had finally made a return to their birthplace. Special moment = ruined.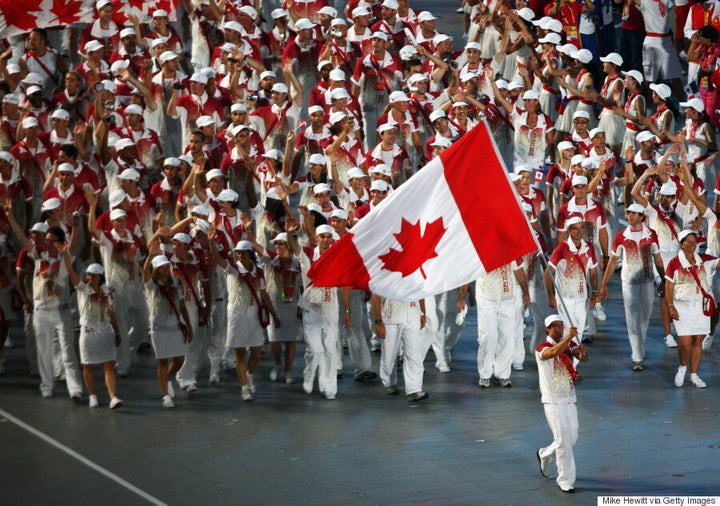 Team Canada's uniforms at the 2008 Beijing games caused A LOT of controversy. Designed by Hudson's Bay and made in China (to the dismay of Canadians who said the uniforms should have been crafted on Canadian soil), the lightweight, organic fabric featured a fusion of Canadian and Chinese symbols and prints, including the Chinese elements of astrology — fire, wood, water, earth and metal.
During the ceremonies, Canadian women wore skirts, and the men wore baggy pants. In an interview with the Toronto Star back in 2008, Suzanne Timmins, fashion director of Hudson's Bay Company, jokingly said she could "see Kanye West in [these] outfit[s]" because of their explosive prints. Hmm, interesting how times have changed.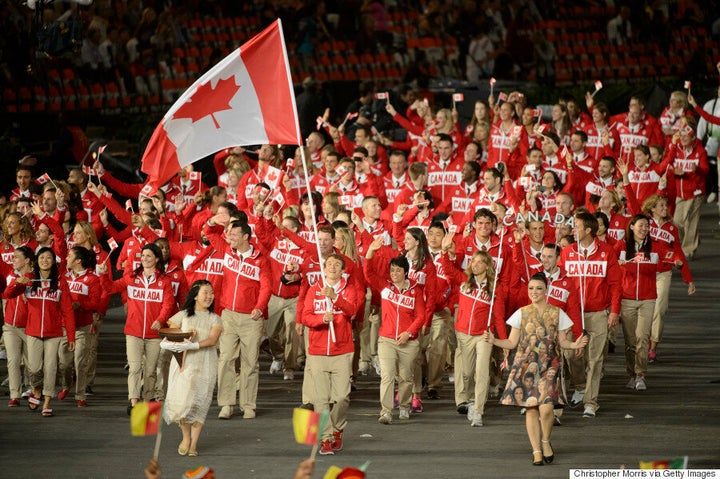 Inspired by the Montreal Olympics of 1976, the 2012 London opening ceremony threads, designed by Hudson's Bay, consisted of tailored khakis (womp) and bright red jackets with Canada labelled on the front. Overall, the look was fairly basic but it had that ~classic feel~.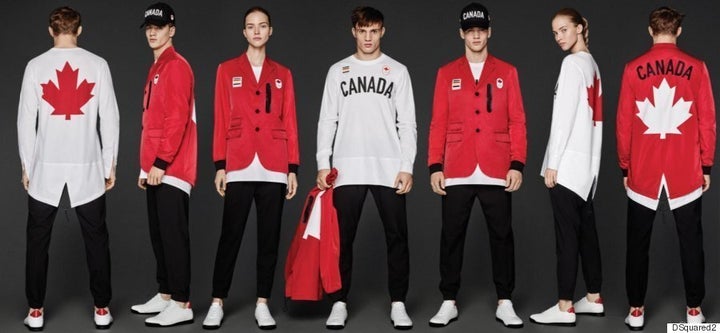 Here it is. The 2016 "Team Canada Collection" designed by Canadians Dean and Dan Caten of DSquared2. Featuring stylish and athletic shapes, expect our team to be the main attraction of the ceremonies in their tailored blazers with a windbreaker material. We can wait to see what the uniforms look like on the athletes come Friday!
And for more photos of Team Canada's 2016 Rio uniforms, click on the slideshow below: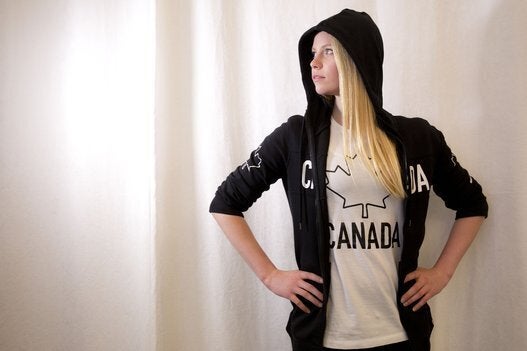 Team Canada Rio 2016 Uniforms