Facebook is cracking down on clickbait headlines.
You know, the kind of headline that starts with "You Won't Believe..." or ends with "... Will Melt Your Heart." The ones that don't tell you what the story is about in an attempt to make you click through.

Okay, we admit. HuffPost Canada has, on occasion, used clickbait headlines.
Facebook announced the move in a Thursday note by research scientist Alex Peysakhovich and user experience researcher Kristin Hendrix.
The social network had previously tweaked the News Feed to reduce the number of posts that force people to click into stories without quite telling them what they're about.
This is what that was meant to stop: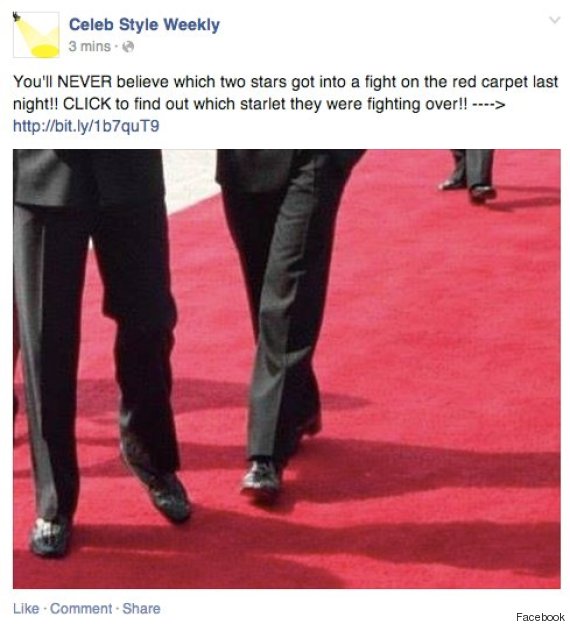 "While this update helped, we're still seeing Pages rely on clickbait headlines, and people are still telling us they would prefer to see clearly written headlines that help them decide how they want to spend their time and not waste time on what they click," the note said.
So now Facebook has developed a system that identifies words commonly used in such headlines.
It will judge content to be clickbait in two ways:
1) If the headline doesn't disclose any information showing what the content is about.
2) If the headline exaggerates the story so much that it heightens readers' expectations, and misleads them.
Here are two examples of the latter:
"Apples Are Actually Bad For You?!"

"You'll Never Believe Who Tripped And Fell on the Red Carpet..."
The system will work like an email spam filter, identifying phrases commonly used in clickbait and comparing them against words used in other kinds of headlines.
Any pages that are found to use clickbait headlines will start appearing lower on News Feeds. They won't see a negative impact if they stop using those kinds of headlines.
"We anticipate that most Pages won't see any significant changes to their distribution in News Feed as a result of this change," Facebook said.
"However, websites and Pages who rely on clickbait-style headlines should expect their distribution to decrease."
Also on HuffPost:
The Most Dangerous Internet Crazes