The Rio Olympics haven't even officially started and some athletes are already complaining about their living situations.
Team China's media team shared photos from the Olympic Village that show unstable toilets, collapsed sinks and holes in the ceiling.
RIO ADVENTURE! Chinese table tennis players for #Rio2016 all surprised moving into Olympic Village, WHY? #TeamChina pic.twitter.com/lfyPOHpGtg

— Team China (@XHSports) July 28, 2016
One video shows athletes trying to fix a shower curtain in a bathroom. "God helps those who help themselves," read a tweet from the team's account.
God helps those who help themselves. #TeamChina table tennis players fix the problems at the Olympic villagehttps://t.co/3D1GetO82E

— Team China (@XHSports) July 30, 2016
But reports of deficient housing went beyond Team China's assigned living quarters.
Australian basketball player Andrew Bogut shared a photo of him assembling a shower curtain as a memento of his experience in the village so far.
#IOCLuxuryLodging. Putting together a shower curtain so we can shower and not flood the place. pic.twitter.com/omaBJ7Dlje

— Andrew Bogut (@andrewbogut) August 2, 2016
The village and the games have been blasted by Chinese fans on social media, according to the BBC. Some users are already calling it "the worst Olympics ever."
Some teams have chosen to skip living in the village completely. The U.S. basketball teams are staying on a luxury cruise ship instead, according to NPR.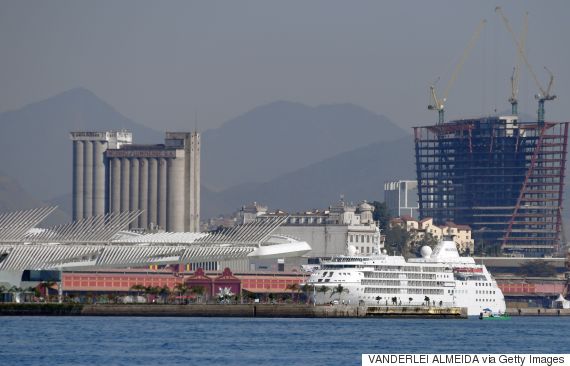 The cruise ship 'Silver Cloud', where the USA men and women's basketball teams will be staying during the upcoming Rio 2016 Olympic Games, remains docked at the Maua Pier in Rio de Janeiro, Brazil, on Aug. 1, 2016. (Photo: Vanderlei Almeida/AFP/Getty Images)
Things don't look that much better over in the media village. Journalists have complained about a lack of furniture and even water in some rooms.
When I heard there was a pool at the media accom #Rio2016 I didn't realise it was in our apartment @NewshubNZ pic.twitter.com/f5PgbzIqul

— Jeff McTainsh (@Jeff_McTainsh) August 1, 2016
It seems Rio not quite ready for @Rio2016 as no sprinkler, table, plug, even no water in some rooms of Media Village pic.twitter.com/JQdNmlfldn

— Team China (@XHSports) July 28, 2016
Watch out while washing in bathroom at the #Rio2016 Media Village. The washbasin may fall down & so does the mirror pic.twitter.com/VbplO2Fo6d

— Team China (@XHSports) August 3, 2016
First attempted shower in room at media village. No hot water and shower head fell off. #RoadToRio pic.twitter.com/bUfxLKh4A6

— Stephen Wade (@StephenWadeAP) August 1, 2016
The Rio Olympics officially kick off with the Opening Ceremony on Friday.
Also on HuffPost