TORONTO — The woman who inspired Leonard Cohen's "So Long, Marianne'' has died.
The singer's official Facebook page is featuring memories of Marianne Ihlen, who died last week at the age of 81.
A tribute post cites the "overwhelming response from those who knew Marianne well, those who knew her only as Leonard Cohen's muse, and even those who previously didn't know there was a 'real Marianne.'''
Ihlen and Cohen met on the Greek island of Hydra in the 1960s when they were in their early 20s.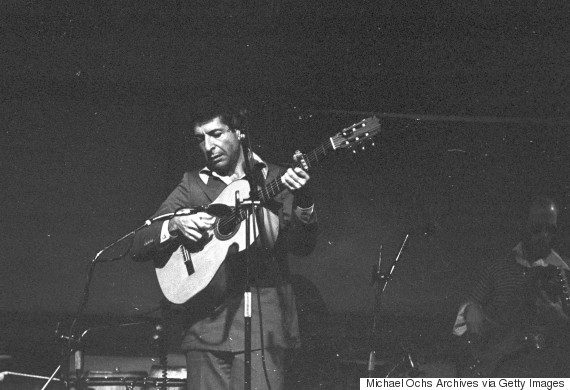 Leonard Cohen in 1970. (Photo: Michael Ochs Archives/Getty Images)
"So Long, Marianne'' was released in 1967 on Cohen's debut album "Songs of Leonard Cohen.''
A message on Cohen's Facebook page from Ihlen's close friend and documentarian Jan Christian Mollestad thanks the singer for a letter he sent days before her death that "gave her extra strength.''
"Your letter came when she still could talk and laugh in full consciousness. When we read it aloud, she smiled as only Marianne can,'' Mollestad wrote.
"In her last hour I held her hand and hummed 'Bird on a Wire,' while she was breathing so lightly. And when we left he room, after her soul had flown out of the window for new adventures, we kissed her head and whispered your everlasting words, 'So long, Marianne.'''
"Marianne came from a time when women were raised to be muses and helpmates, which she was; she loved creative men and she was creative herself."
Kari Hesthamar, author of the book "So Long Marianne - A Love Story,'' wrote "Marianne had that gift: she made you feel that you were seen; she made you become a better version of yourself. With her eye for beauty, she made everything around herself beautiful.''
Biographer Sylvie Simmons added that Ihlen was "a truly beautiful soul.''
"Marianne came from a time when women were raised to be muses and helpmates, which she was; she loved creative men and she was creative herself,'' wrote Simmons, author of "I'm Your Man: The Life of Leonard Cohen.''
"Her life was not the easiest, but nothing seemed to dent her generosity and kindness.''
Read Mollestad's letter informing Cohen of Ihlen's death:
Dear Leonard

Marianne slept slowly out of this life yesterday evening. Totally at ease, surrounded by close friends.

Your letter came when she still could talk and laugh in full consciousness. When we read it aloud, she smiled as only Marianne can. She lifted her hand, when you said you were right behind, close enough to reach her.

It gave her deep peace of mind that you knew her condition. And your blessing for the journey gave her extra strength. Jan and her friends who saw what this message meant for her, will all thank you in deep gratitude for replying so fast and with such love and compassion.

In her last hour I held her hand and hummed Bird on a Wire, while she was breathing so lightly. And when we left he room, after her soul had flown out of the window for new adventures, we kissed her head and whispered your everlasting words

So long, Marianne
Also on HuffPost
Leonard Cohen Music Videos