Alberta's NDP government announced recently it had launched legal action against the province's former PC government over arrangements signed by electric companies 16 years ago.
The lawsuit centres around a complicated situation referred to colloquially as the "Enron clause," and if the government loses, it could potentially have a big impact on Alberta consumers.
Here's a breakdown of why the government is — kind of — suing itself.
What's the arrangement the government's upset about?
In the late 1990s, Premier Ralph Klein's government decided to deregulate the energy industry and implement power purchase arrangements (PPAs). They allowed buyers to purchase electricity from power plants and sell it on to consumers.
So far, the arrangements have proven lucrative — electricity buyers have made over $10 billion in profit since PPAs were put in place.
When PPAs were introduced, Klein's government suggested they would allow both the companies and the consumers to share the risk in case the market took a bad turn, through something called a balancing pool. But Alberta's current government contends that's not exactly what happened.
What is the balancing pool?
The balancing pool was created to hold any additional energy and proceeds as sort of a "backstop" for PPAs. If there were energy surpluses or shortfalls, those net losses or proceeds would be distributed onto consumer's energy bills. If there are no buyers for electricity from a company, the balancing pool acts as the default buyer.
What's the 'Enron clause'?
The government's legal action hinges on one clause inside the PPAs that the government contends was inserted "unlawfully" after lobbying from energy companies in 2000.
The so-called 'Enron clause,' named for the now bankrupt U.S. energy company that lobbied for it, allows companies to bail on contracts if a change to the law makes them "more unprofitable."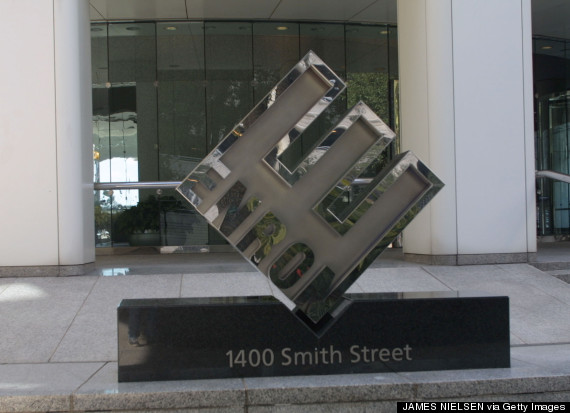 A 2002 photo shows the entrance to the now defunct Enron corporation. Enron lobbied for a clause to be inserted into the PPAs. (Photo: Getty)
Those contracts would get handed over to the balancing pool — essentially, passing the increased costs onto consumers.
"This amendment is not the sort of clause you would expect to see in any ordinary commercial arrangement because it really did provide an open-ended opportunity for companies to walk away from unprofitable arrangements having taking advantage for many years of very profitable arrangements,'' Nigel Bankes, chairman of Natural Resources Law at the University of Calgary, told the Canadian Press.
Why is this happening now?
On January 1, the Alberta government increased the carbon tax — meaning energy companies that get their power from coal could take a big hit, and they stand to take an even bigger one since the tax is to be increased over coming years as the province implements its climate change plan.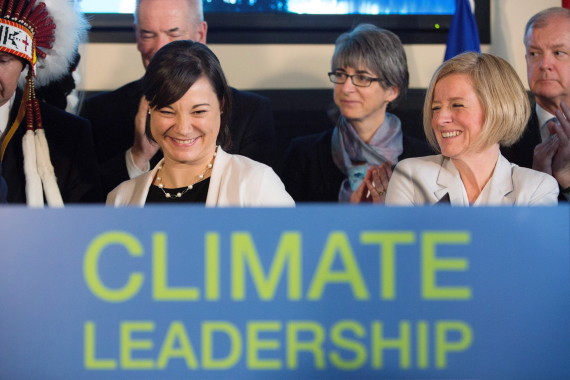 Alberta Environment Minister Shannon Phillips and Premier Rachel Notley announce plans to increase the carbon tax in November 2015. (Photo: CP)
Since then, companies including TransCanada and Enmax announced their intent to terminate their PPAs.
How much could this cost Albertans?
According to the Alberta government, if the power companies are allowed to terminate their PPAs and pass those costs back to the balancing pool, it could cost Albertans $2 billion by 2020.
"Our government believes that regular Albertans shouldn't be on the hook for secret back room deals between companies like Enron and the previous PC government. We think this is not only unfair to Albertans, it's also unlawful. That's why we're going to court," said Deputy Premier Sarah Hoffman in a speech on July 25.
So, why did the government hike taxes if they knew energy companies had a way out?
Here's the thing — the government says it had no idea the clause existed at the time the tax was announced, something the official opposition disputes.
Hoffman says the NDP were "unaware" of the clause until companies began notifying of their intent to terminate their PPAs this year, according to Metro News.
But...
A freedom of information request obtained by the Wildrose Party shows government officials were briefed on PPAs in November.
"The NDP government owes it to the people of Alberta to come clean about when they learned about the exit clause built into these arrangements and why they went ahead with a policy decision that will raise the cost of electricity for every Albertan," said Wildrose Leader Brian Jean in a statement.
Calgary Mayor Naheed Nenshi said the suit is "outrageous" in an interview with the Calgary Sun.
"We have the spectacle of the provincial government suing itself because apparently it didn't know its own policies that have been in place for 15, 16 years and that Enmax has been abiding by," Nenshi said.
What's going to happen?
That'll be decided when the case is heard in court in November.
Regardless of what happens, experts say it's worthwhile — at least from the government's perspective — to give it a shot.
"I guess I'd put it this way, it's an argument that's worth running, because the stakes are very high," Bankes told CBC News.
With files from The Canadian Press
Also on HuffPost: