Singapore Prime Minister's wife Ho Ching is making global headlines and for all the right reasons.
While accompanying her husband, Lee Hsien Loong, to the United States for a state visit, Ching was seen carrying a $14 dinosaur-printed clutch designed by a 19-year-old autistic student.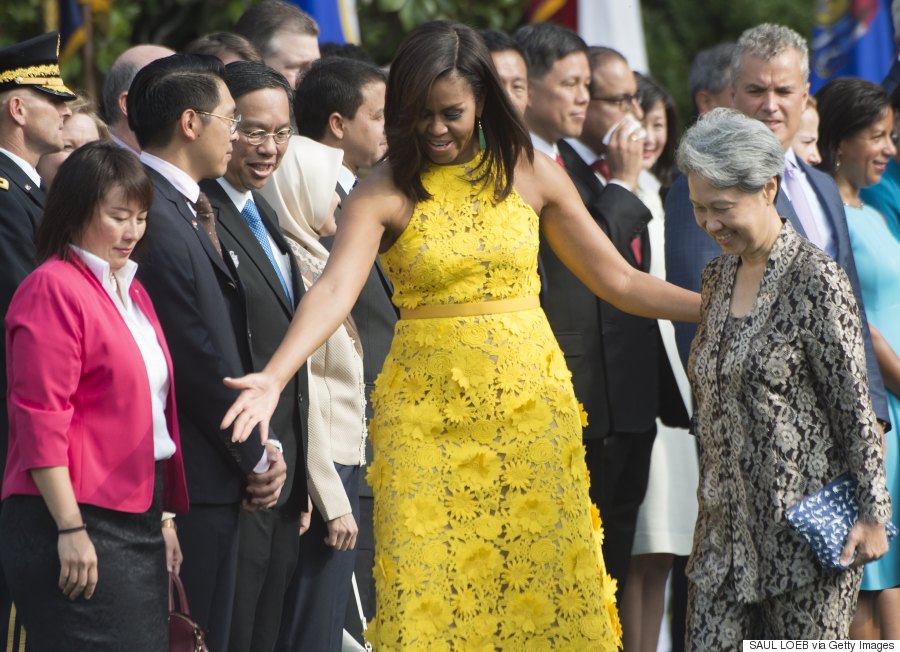 First Lady Michelle Obama arrives with Ho Ching, wife of Singapore's Prime Minister Lee Hsien Loong, for a State Arrival ceremony on the South Lawn of the White House in Washington, Aug. 2, 2016.
The denim pouch was created by Seetoh Sheng Jie, a student at the Singapore's first autism-focused school, Pathlight. According to the school, Sheng Jie is "extremely pedantic" about dinosaurs, and all of his illustrations and figurines are "produced from his personal knowledge."

Shortly after Ching was photographed wearing the clutch, it sold out on Pathlight's website.
Loy Sheau-Mei, senior vice principal and head of ADP, Pathlight School, told Today that See Toh "seemed happy about the overwhelming positive response, and that his parents are 'very proud and honoured.'"
Meet Sheng Jie, the student who created Ho Ching's denim dino ...

Meet Sheng Jie, the Autism Resource Centre Singapore / Pathlight School student who created the denim #dinopouch that Ms HO Ching brought to The White House. Find out more about his fascination with dinosaurs: bit.ly/2aAs2ir

(Video: Illiyin Anuwar/TODAY)

Posted by TODAY on Thursday, August 4, 2016

And of course, Ching's choice of handbag brought a sense of pride to Pathlight.
"We were pleasantly surprised and honoured that she chose to bring this bag on her official visit. It gave such a great mileage for the artists on our Artist Development Programme and merchandise at The Art Faculty merchandise," Loy told the BBC. "Ms Ho Ching is known to be very down to earth and practical and the fact that she carries a less than S$20 pouch to such a world stage event shows she is really confident and authentic."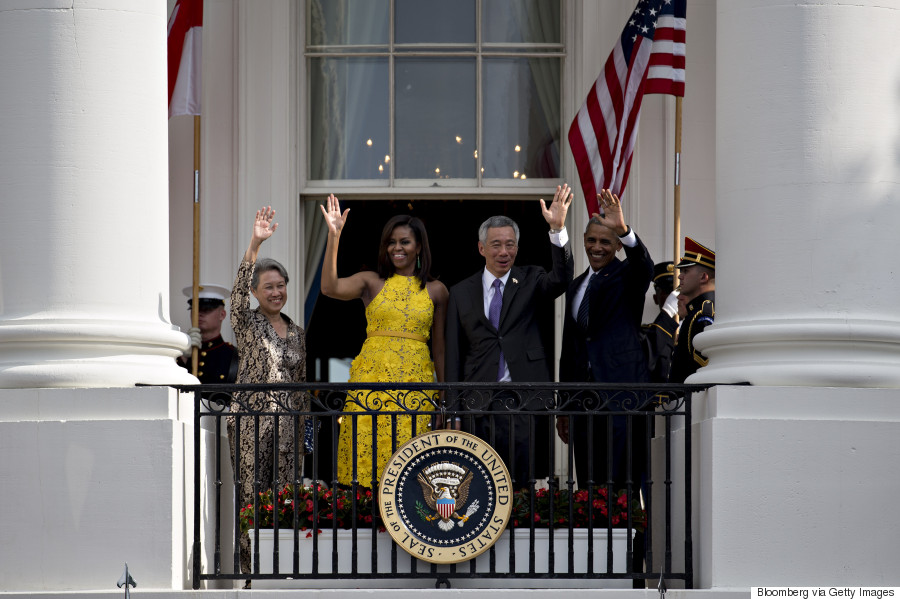 U.S. President Barack Obama, from right, Lee Hsien Loong, Singapore's prime minster, U.S. First Lady Michelle Obama and Ho Ching, wife of Lee Hsien Loong, wave from the Truman Balcony during an official arrival ceremony on the South Lawn of the White House in Washington on Aug. 2, 2016.
According to the Singapore Times, the prime minister's wife is an adviser to Pathlight's parent organization, the Autism Resource Centre, and is a patron of the Autism Association Signapore. She had picked up the dinosaur pouch at a concert and funfair held last week to raise funds for autism support services.
Follow Huffington Post Canada Style on Pinterest, Facebook and Twitter!