A roar came over the crowd at Rio de Janeiro's Maracanã stadium at the Olympic opening ceremony on Friday night.
But it wasn't for the Brazilian team — that would come later.
Instead, tens of thousands of people stood up and cheered for the Refugee Olympic Team.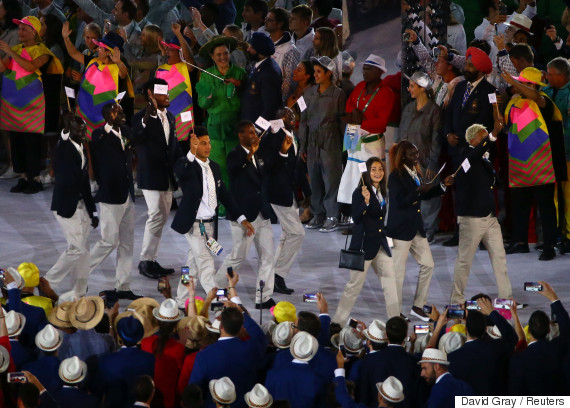 The Refugee Olympic Team arrives for the opening ceremony. (Photo: David Gray/Reuters)
The squad is made up of 10 athletes from around the world: five are from South Sudan, two from Syria, two from the Democratic Republic of the Congo and one from Ethiopia.
They are all competing under the Olympic flag in an effort to raise awareness of the global refugee crisis, the IOC said last month.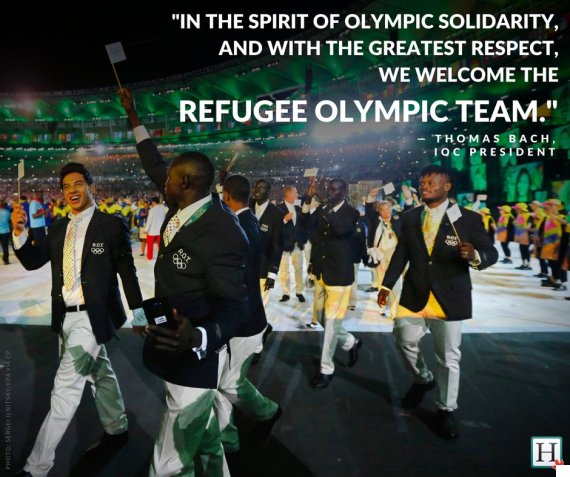 "These refugees have no home, no team, no flag, no national anthem," IOC President Thomas Bach said in a news release.
"These refugee athletes will show the world that despite the unimaginable tragedies that they have faced, anyone can contribute to society through their talent, skills and strength of the human spirit."
Almost time!! Opening ceremony march! #RefugeeOlympicTeam pic.twitter.com/HFMjJiqXPB

— Refugee Olympic Team (@RefugeesOlympic) August 6, 2016
The refugee team got the warmest welcome of the night at #rio2016 #olympics #RioHouse
Photo courtesy : @RYOTnews pic.twitter.com/brmHH7VuiL

— Omar Mansoor (@OmarMansoor) August 6, 2016
From helplessness to hope: huge #inspiration from the Refugee Olympic Team. #TeamRefugees #Rio2016 #OpeningCeremony pic.twitter.com/0mjyQPbt7B

— Chris Percival (@ChrisPercival_) August 5, 2016
Follow The Huffington Post Canada on Facebook, Twitter, and Instagram.
The UN Refugee Agency estimates that 65.3 million people have been forcibly displaced throughout the world. As many as 21.3 million are considered refugees.
It says that 10 million people are considered stateless.
Also on HuffPost
Rio Olympics 2016 Opening Ceremony