Now, this is how you start your weekend right.
The BC SPCA and Taxi Café teamed up to host a one-day Cups and Pups event on Friday. Essentially, it was a giant coffee date between adoptable dogs and Vancouverites.
Evidently, tons of people were willing to wait to have their morning cup next to a furry friend — a lineup outside the café stretched around the block and into an alley.
From the boardroom window: People are going crazy for puppies at a café. #Vancouver #DailyHiveVan #CupsAndPups pic.twitter.com/WZvPRFPUS4

— Ken Chan (@iamkennethchan) August 5, 2016
Which isn't surprising, really, because that face.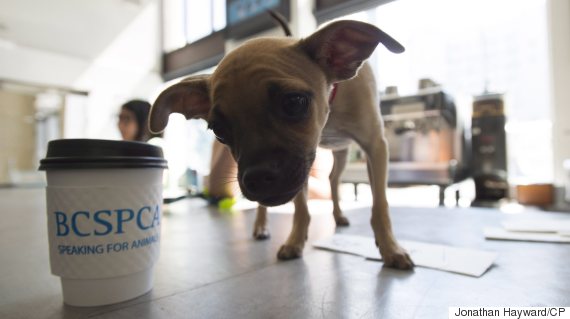 By 1 p.m., the BC SPCA tweeted that the event was completely full. Proceeds from the three-hour puppy bonanza went to the society.
Our Cups & Pups event is now at capacity and not accepting any further reservations. The dogs give woofs in thx to everyone who came out!

— BC SPCA / BCSPCA (@BC_SPCA) August 5, 2016
Here's hoping this isn't a one-time thing, eh?
Also on HuffPost