RIO DE JANEIRO — Canada's Olympic team marched into Maracana Stadium to loud cheers at the opening ceremony of the Rio Olympics.
Rosie MacLennan, Canada's only gold medallist from the 2012 London Olympics, wore a wide grin as she waved the Maple Leaf as the team's flag-bearer.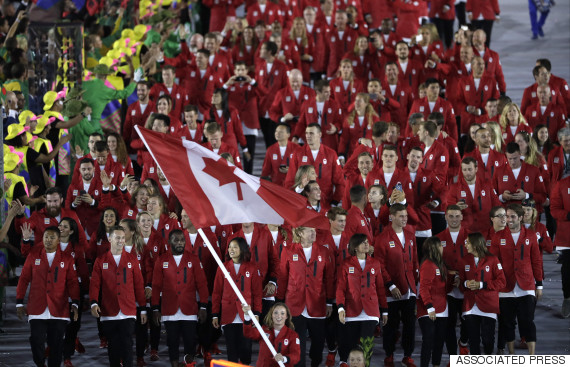 Rosie Maclennan carries Canada's flag during the opening ceremony for the 2016 Summer Olympics in Rio de Janeiro, Aug. 5. (Photo: Matt Slocum/AP)
Behind her, the team looked smart in red jackets emblazoned with giant white Maple Leafs on the back.
Designed by the high-end label Dsquared2 — Dean and Dan Caton — for Hudson's Bay, the uniforms were advertised as an "innovative mash-up of two diverse worlds: tailoring and sport."
Canada's team of 314 athletes, 186 women and 128 men, is gunning for a top-12 finish in the medal standings in Rio.
Governor General David Johnston, representing the federal government, stood clapping and dancing as the Canadians marched by.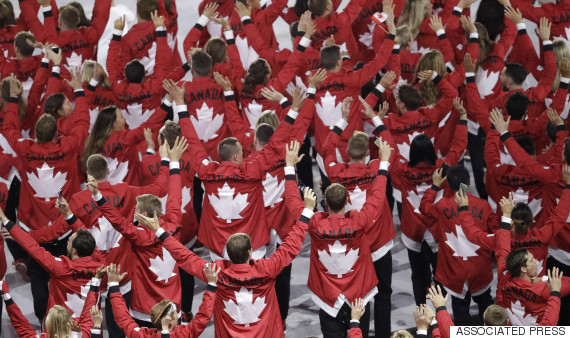 Team Canada wave as they walk into the stadium during the opening ceremony for the 2016 Summer Olympics. (Photo: Matthias Schrader/The Associated Press)
Prime Minister Justin Trudeau wished the Canadian team good luck in a statement.
"On behalf of all Canadians, I extend my heartfelt gratitude and appreciation to our athletes who have displayed such tremendous dedication and commitment," the Prime Minister wrote.
"They motivate us _ especially our young people _ to be more active in sport, whether it is in our own backyards, in local parks, or in sport venues from coast to coast to coast. We are very proud of each and every one of them, and confident that they will be excellent ambassadors of Canada's culture, athleticism, and values.
"We, Team Canada — 35 million people strong — will be watching and cheering on 314 Canadian athletes at the Rio 2016 Olympic Games."
Also on HuffPost
Rio Olympics 2016 Opening Ceremony