RIO DE JANEIRO — It was a pivotal moment for Canadian women's rugby. But the players decided to treat it like any other game. Same warmup. Same pre-game pep talks in the tunnel. Same sprint onto the pitch. Women's rugby made its Olympic debut on Saturday at a sun-soaked Deodoro Stadium, and the Canadians didn't want that moment to become overwhelming. In the end, it was Japan that was left reeling, after a thorough 45-0 thrashing at the hands of an all-business Canadian team. "We've been trying to normalize it as much as possible, and make it like any other tournament," said Ashley Steacy. "Trying to make it as normal as possible, this abnormal environment. "But it was so exciting to finally be here. We've been waiting for it for a long time."
Outcome Never In Doubt
History — finally — was written by the mighty legs of Ghislaine Landry, a 28-year-old from Toronto and one of the most prolific scorers in the game. Landry scored two tries — including one less than 30 seconds into the match — and booted three conversions to finish with 16 points. It was also written by Britt Benn, who pounced on a Japanese turnover to run almost the length of the field for a try. With a glance over her shoulder, and no Japanese player within striking distance, Benn jogged the final 20 metres. Bianca Farella added a pair of tries to help Canada take a 26-0 lead at halftime. Kayla Moleschi and Natasha Watcham-Roy also scored. Kelly Russell had two conversions. Canada's men's team didn't qualify for Rio. The Canadian women were set to play host Brazil later Saturday, then face Britain on Sunday. The quarter-finals are Sunday afternoon, and the medal games go Monday. During a brief stop in the interview area between games, the Canadians acknowledged the occasion and what it means for the future of the game. But they'll cherish it later, when the job's done. "We're definitely aware of it, we know we want as much exposure for this sport as possible, we want to inspire the next generation of girls to play this amazing sport," said Steacy. "But in the moment right now, we're focused on process and gameplan."
"But it was so exciting to finally be here. We've been waiting for it for a long time." — Ashley Steacy, Team Canada Rugby Player
The growth in the game has been massive since the IOC voted to include the sport — World Rugby reported the percentage of female players has risen from 10 per cent to more than 30. The Canadians are "absolutely" aware, said Landry, of what they can do for the future of the sport. "But it's not what we're thinking about in the moment," she said. "If we put on a good performance, that's going to kind of do leaps and bounds for the sport. Worried about the process and our game, and I think the rest will take care of itself." Steacy, a 29-year-old from Lethbridge, Alta., returned to action after her second serious knee injury in 10 months. Steacy first injured her knee in October, worked her way back, only to suffer an anterior cruciate ligament injury to her other knee in February.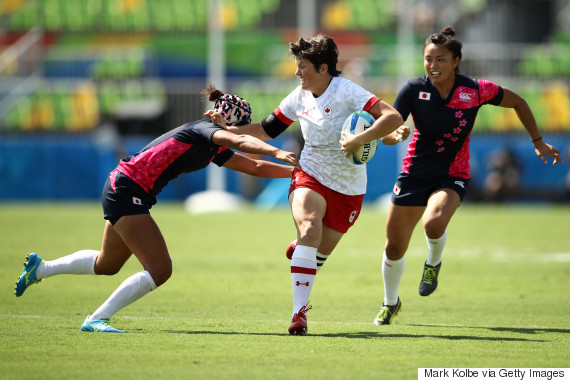 Canada's Brittany Benn is tackled during a rugby match against Japan. (Photo by Mark Kolbe/Getty Images)
"It was really nice to get my legs under me and be back with the team, had a first kickoff and just chased it right down, right to gameplan," Steacy said. "Felt really good and the girls were just electrifying on the field." The Canadian women have been among the world's best for several years. They captured gold at last summer's Pan American Games in Toronto, and finished third on the world circuit this season, finishing on a high note by beating Australia to win the Cup in Clermont-Ferrand, France.  They're seeded third in the Olympic field behind No. 1 Australia and No. 2 New Zealand. Britain was seeded fourth. Should the Canadian women win their pool, they would play the runner-up in Pool A in the quarter-finals. A runner-up finish would mean a Canadian quarter-final date with the Pool B runner-up. Temperatures reached 31 C at Deodoro Stadium, which was barely a quarter full for Canada's opener. A group of about a 100 Canadian fans waved flags and made their voices heard.  New Zealand and Australia also had lopsided wins, New Zealand beating Kenya 52-0 in Pool B and the Aussies routing Colombia 53-0 in Pool A. The crowd grew to about half-full for Britain's 29-3 in over host Brazil.   --- Follow @Ewingsports on Twitter
Also on HuffPost
Canadian Athletes To Watch At Rio Olympics 2016