Alexandre Schneider via Getty Images
SAO PAULO — Janine Beckie scored twice and Christine Sinclair added another as Canada dispatched a game-but-outmatched Zimbabwe side 3-1 in Olympic women's soccer play Saturday. The 93rd-ranked Africans finally had something to celebrate in the 86th minute when Mavis Chirandu scored after goalkeeper Sabrina D'Angelo was caught in no man's land racing out for a ball. The pro-Zimbabwe crowd partied like it was 1999. Marjory Nyaumwe shot just wide in stoppage time as the underdogs finished with a flourish. After the final whistle, the crowd of 30,295 chanted "Zimbabawe, Zimbabwe." The Canadians were all but ignored.
Canada Faces Tough Test Ahead
Still the win was never in doubt and all but assures Canada's path into the quarter-finals, with one game left in the pool stage — against No. 2 Germany on Tuesday in Brasilia. The 10th-ranked Canadians opened Wednesday with a 2-0 victory over No. 5 Australia. Beckie and Sinclair have combined for all five of Canada's goals at the tournament to date. Zimbabwe, making its Olympic debut, has now been outscored 9-2 in two games. The Mighty Warriors, who hold down day jobs away from football, were willing but limited and trailed 2-0 after 19 minutes and 3-0 at the half. Still they had the crowd solidly behind them, with the vocal Corinthians Arena fans cheering every pass or tackle. The Africans gave it their all. But where they saw just one road ahead, Canada saw a Tokyo subway map and repeatedly sliced open the Zimbabwe defence. Canada outshot Zimbabwe 18-3 (11-0 in shots on target) and had 63 per cent of possession in the first half. With the outcome never in doubt, the game slowed in the second half although the crowd kept at it, chanting Zimbabwe and cheering a yellow card for Canadian midfielder Jessie Fleming as if they'd caught her kicking her dog. Coach John Herdman rang in four changes, one enforced, with Canada playing on just two days rest. D'Angelo, defenders Rebecca Quinn and Josee Belanger and midfielder Sophie Schmidt came in for Stephanie Labbe, Shelina Zadorsky, Rhian Wilkinson and Desiree Scott.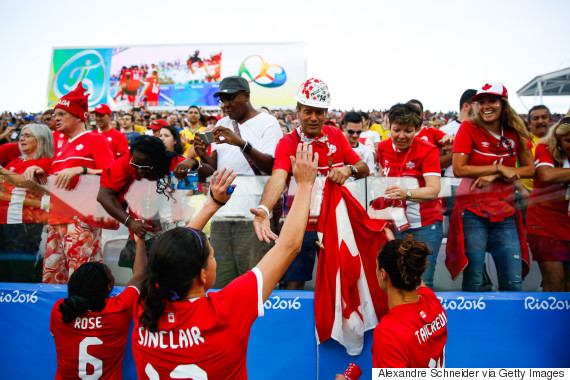 Members of the Canadian women's soccer team celebrate their win over Zimbabwe. (Photo by Alexandre Schneider/Getty Images)
It was a big day for D'Angelo. The 23-year-old from Welland, Ont., won her third cap in her second start in her first Olympics. She had little to do prior to the dying minutes. Zadorsky was suspended after being red-carded in Wednesday's win over Australia. Defensive partner Kadeisha Buchanan played on a yellow and drew another caution in the 58th minute for refusing to move back from a free kick, meaning she will have to sit out the Germany game. But her yellow cards will then be expunged, freeing her up for the more important knockout games that follow in the tournament. Buchanan likely went looking for the card. The game opened on a positive note for Zimbabwe, which strung a few passes together and stopped some Canadian attacks. But the field was soon tilting towards the African goal.
Christine Sinclair On Offensive Hot Streak
Canada took advantage of some poor defending in the seventh minute when Sinclair's cross found Beckie behind the defence on a play that looked offside. Goalkeeper Chido Szingirai made a fine save to deny Beckie but the Canadian striker got the rebound and banged it in for her second goal in as many matches here. After Diana Matheson hit the post at the end of a 15-pass Canadian attack, Sinclair put Canada ahead 2-0 via penalty in the 19th minute. Fleming started the play with a deft chip to Matheson who was bundled over by the Zimbabwe goalkeeper via a knee to the back. It marked Sinclair's second goal of the tournament, her 10th in Olympic play and the 164th of her international career. Beckie struck again in the 35th minute, acrobatically redirecting in a glorious Belanger cross for a 3-0 lead. A Matheson goal in the 42nd minute, triggered by a beautifully weighted pass from Melissa Tancredi, was correctly called back for offside. Sinclair, meanwhile, had a goal called back in the 78th minute for handball. The Mighty Warriors are an amateur team that had a hard road to the Olympics. Zimbabwe twice advanced in African qualifying on the away-goals rule, upsetting Cameroon to book their Rio ticket. The Mighty Warriors were docked points and goals when they could not afford to pay for a trip to play the Ivory Coast but stayed alive when the Ivorians withdrew after not being able to finance the return trip to Zimbabwe. Twelve members of the 18-woman roster play for club teams are affiliated with their work: the Flame Lily Queens are corrections officers while the Black Rhinos represent the army and the Blue Swallows Queens are the air force.  The African side, the first Zimbabwe soccer team to compete in a global championship, was beaten 6-1 by Germany on Wednesday.   Follow @NeilMDavidson on Twitter
Also on HuffPost
Canadian Athletes To Watch At Rio Olympics 2016