RIO DE JANEIRO — Canada defeated the United States 3-0 in the men's volleyball opener for both teams Sunday at the Rio Olympics.
The 12th-ranked Canadians converted their first match point for a 25-23, 25-17, 25-23 upset win over the No. 5 Americans.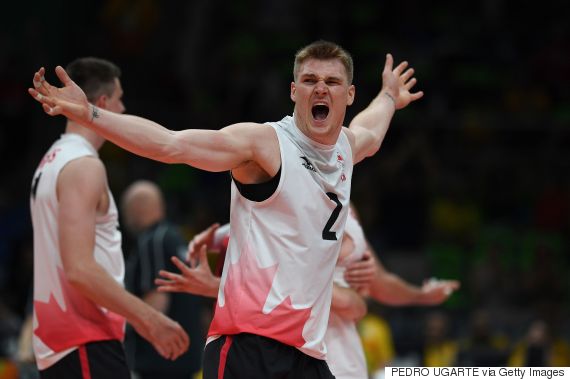 Canada's John Gordon Perrin reacts after winning the men's qualifying volleyball match between the USA and Canada at the Maracanazinho stadium in Rio de Janeiro on Sunday during the Rio 2016 Olympic Games. (Photo: Pedro Ugarte/AFP via Getty Images)
The United States made 10 service faults in the opening game.
Canada closed out the second set on a 10-2 run with Nick Hoag of Sherbrooke, Que., sealing it with an ace.
This is Canada's first appearance in this competition since the 1992 Barcelona Games.
Canada will continue preliminary round play Tuesday against top-ranked Brazil.
Also on HuffPost
Canadian Medallists at the 2016 Rio Olympic Games