RIO DE JANEIRO — Penny Oleksiak's nickname "Typical Pen" is also her Instagram handle, but her talent in the pool is anything but typical.
The 16-year-old Toronto teen won a silver medal in the women's 100-metre butterfly Sunday for both her and Canada's second medal in as many days at the Summer Games in Rio.
Oleksiak anchored the women's relay team to bronze the previous night. Her Olympic debut also included lowering her own world junior butterfly record in the heats and then the final to 56.46 seconds.
"The first few seconds after I touched the wall I didn't look back. I was just trying to catch my breath," Oleksiak said after the race.
"I wasn't even sure I'd even medalled until I looked up and saw the Canadian flags in the air around me. Getting to see that and getting to see that you medalled is just an amazing feeling.
"I saw my dad. He stood up and waved to me. He was literally the only person I saw in the crowd. Everything else was just blurred."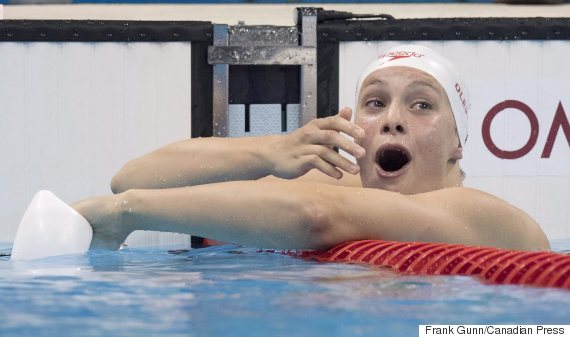 Canada's Penny Oleksiak reacts to her silver medal performance in the women's 100-metre butterfly at the 2016 Summer Olympics, on Sunday in Rio de Janeiro, Brazil. (Photo: Frank Gunn/Canadian Press)
Swimming in Lane 2, Oleksiak made the turn in third behind frontrunner Sarah Sjostrom of Sweden and Denmark's Jeannette Otteson.
The Canadian closed hard to touch the wall behind Sjostrom, whose time of 55.48 seconds was a world record. Dana Volmer of the U.S. took bronze in 56.63.
Marianne Limpert was the last Canadian woman to win a medal in the pool in 1996 with a silver in the 200 individual medley.
Toronto's Brittany MacLean finished fifth in the women's 400-metre freestyle final Sunday.
Santo Condorelli of Kenora, Ont., Calgary's Yuri Kisil, Markus Thormeyer of Tsawwassen, B.C., and Evan Van Moerkerke of Tillsonburg, Ont., were seventh in the men's 4 x 100 freestyle relay.
Rachel Nicol of Lethbridge, Alta., and Kylie Masse of Windsor, Ont., booked their berths in Monday's finals in the 100-metre breaststroke and backstroke respectively.
Masse posted the fifth-fastest qualifying time in semifinals, while Nicol was eighth to claim the final spot in the breaststroke final. Dominique Bouchard of North Bay, Ont., was 12th in backstroke and didn't advance.
Teen Swimmer An Unknown Quantity
Having never raced a world championship, Pan American Games or Commonwealth Games before, the Summer Games are essentially Oleksiak's first senior meet.
There is a freedom that comes with being an unknown quantity in your first Olympics.
Oleksiak raced unburdened of expectations Saturday, but admitted feeling nervous in her room a few hours prior to Sunday's final. She'd also had a short night of about five hours of sleep after the relay.
"I thought 'if I don't medal tonight I'm going to let down Canada,'" Oleksiak said. "But I think that Canada would have still had my back even if I didn't medal.
"I think about 10 minutes before the races I wasn't nervous because I had my coach's support and my teammates' support. They all just told me I have to be here to have a fun time because I still have the next Olympics to medal. It just took my nerves away.''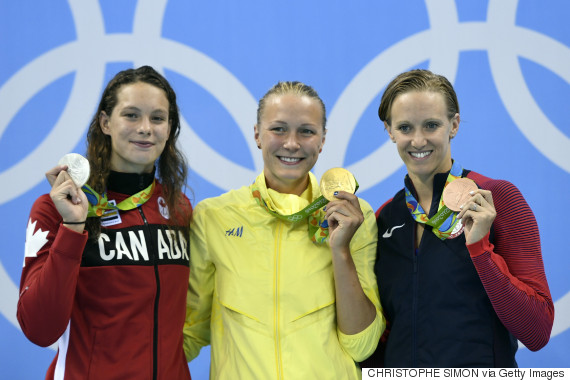 Sweden's Sarah Sjostrom (C) poses on the podium with silver medallist Canada's Penny Oleksiak (L) and bronze medallist USA's Dana Vollmer after she won the Women's 100m Butterfly Final. (CHRISTOPHE SIMON/AFP/Getty Images)
There being not much demand for a six-foot-two gymnast, Oleksiak made the right call switching to swimming at the age of nine. Her long limbs move a lot of water.
Oleksiak's father Richard was a multi-sport athlete and mother Alison a swimmer. Six-foot-seven brother Jamie is a Dallas Stars defenceman and sister Hayley a Northeastern University rower.
Her family was in the Olympic Aquatic Stadium stands Sunday night.
The youngest Oleksiak estimates she's grown a couple inches in just the last year. Training can be hard when muscles are catching up to a sprouting body.
But Oleksiak is genetically "gifted more than most people," her coach Ben Titley said after her breakout performance at April trials.
She's also one of Canada's busier swimmers in Rio with two relays and a pair of individual races on her plate.
Oleksiak swims the 200-metre freestyle relay and 100 freestyle heats Wednesday with the 100 free scheduled for Thursday.
She's not worried about running out of gas.
A Typical Teenage Life Outside Of The Pool
"I'm only 16 so I just don't get as much lactic acid," Oleksiak said.
"I for sure want to (medal) again, but I'm an Olympic medallist already and I can't complain if I don't get another medal. It's going to be an amazing time and I don't think people expect what's going to happen."
Oleksiak trains alongside older relay teammates Chantal Van Landeghem, Michelle Williams and Sandrine Mainville at the Pan Am Centre in Toronto.
"Having her around the other athletes who are very professional, very mature and nice girls, (they) go around to her house to help her with her homework at school for example," Titley said.
"If she's flunking, they'll grab her and say 'no, you're coming to our house to study today because if you're not studying, your mom's not going to let you train and then Ben will go nuts.'"
Oleksiak confirmed if her grades slip, Alison would put the brakes on training. Mainville helps her with French and Van Landeghem "basically everything because she's so smart," Oleksiak said.
Oleksiak leads a typical teenage life outside the pool "always on Instagram."
"My friends, I think probably a year and a half ago, started telling me I should start a YouTube channel called 'Typical Pen' because everything I do is so typical me I guess," she explained.
"Just clumsy or me eating donuts and stuff all the time."
Also on HuffPost:
Canadian Medallists at the 2016 Rio Olympic Games