On Sunday, the 31-year-old swimmer competed in the men's 4x100-metre freestyle relay in Rio. And his three-month-old son, Boomer, watched on from his mother Nicole Johnson's lap.
Johnson adorably held the baby boy in a red-and-white star-studded carrier featuring Phelps' personal logo.
But while Boomer's attire was certainly aww-worthy, it was his ginormous, patriotic noise-cancelling headphones that really captured the Internet's attention.
Following his dad's win, a photo of Boomer wearing the over-sized red, white and blue headphones made the rounds on Twitter, and fans couldn't even handle the cute.
Many also commented on Boomer's priceless expression.
Phelps and fiancé Johnson welcomed their first child back in May. The Olympic gold medalist made the announcement via Instagram and shared a sweet black-and-white photo of his growing family.
Since then, both Phelps and Johnson have shared adorable snaps of their baby boy and his always hilarious expressions.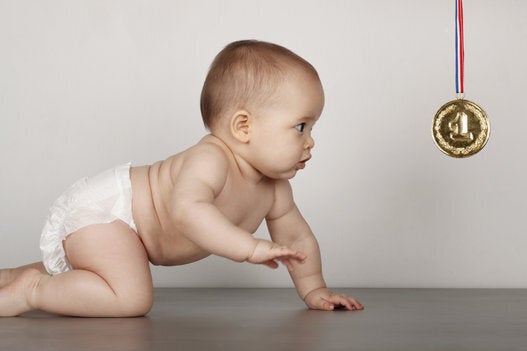 Baby Names Inspired By The Summer Olympics