Canada's women are a bonafide force to be reckoned with — just look at the country's Olympic medal count for proof.
On Tuesday, Roseline Filion and Meg Benfeito became the latest Canadians to secure a podium finish at the 2016 Summer Games.
They took home bronze for their performance in the women's synchronized diving 10-metre platform final.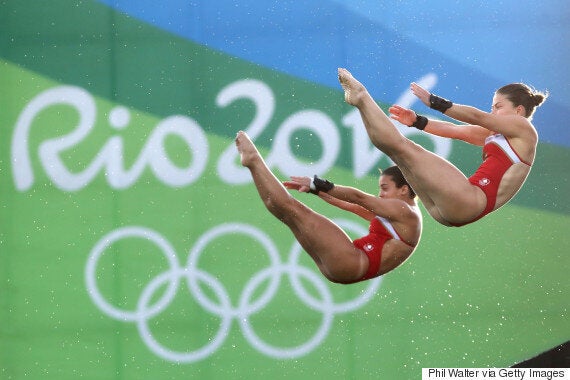 Canadian divers Meaghan Benfeito and Roseline Filion compete in the women's diving synchronised 10-metre platform final at Maria Lenk Aquatics Centre on Aug. 9, 2016 in Rio de Janeiro, Brazil. (Photo: Phil Walter/Getty Images)
Their win scored Canada its fifth medal in Rio de Janeiro — all of which have been won by women.
And before the Internet party poopers point out that it's only day four of the games, let's just take a moment to celebrate these athletes' accomplishments.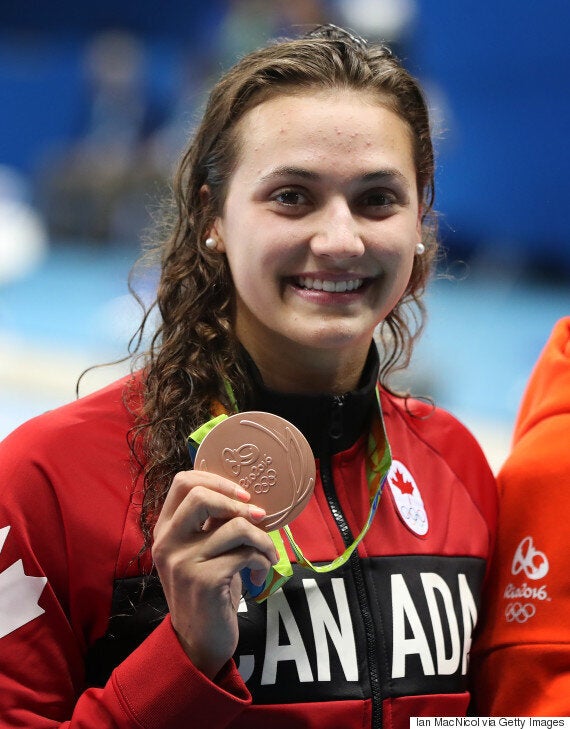 Canadian swimmer Kylie Masse wins third place in the women's 100-metre backstroke at the Rio 2016 Olympic Gameson Aug. 8, 2016. (Photo: Ian MacNicol/Getty Images)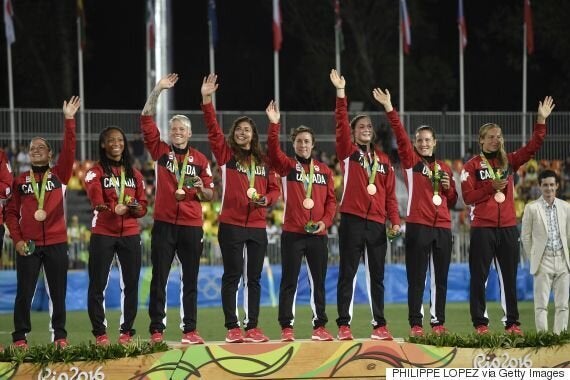 Canada's women's rugby sevens team celebrates their bronze win during a medal ceremony during the Rio 2016 Olympic Games at Deodoro Stadium in Rio de Janeiro on Aug. 8, 2016. (Photo : Philippe Lopez//AFP/Getty Images)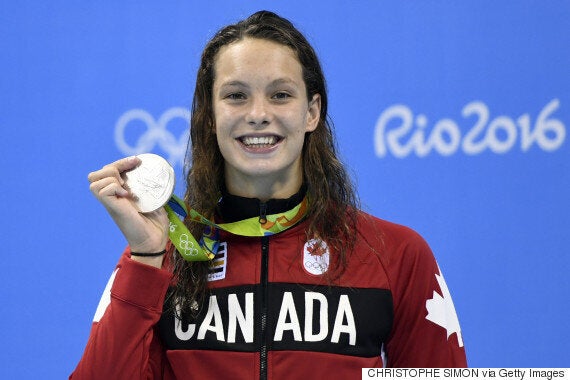 Canada's Penny Oleksiak celebrates her silver medal win in the women's 100-metre butterfly final in Rio de Janeiro on Aug. 7, 2016. (Photo: Christophe Simon/AFP/Getty Images)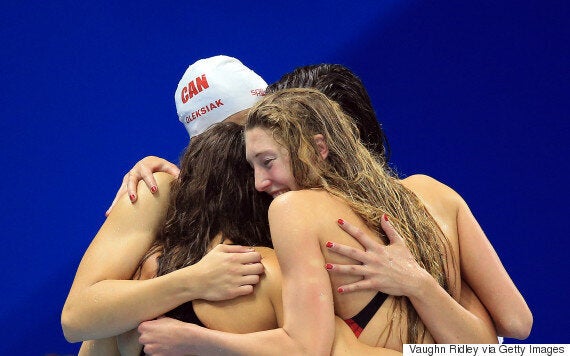 Canadian swimmers Sandrine Mainville, Penny Oleksiak, Chantel Van Landeghem and Taylor Ruck celebrate as they win Bronze in the Women's 4x100metre freestyle final on Aug. 6, 2016 in Rio de Janerio, Brazil. (Photo by Vaughn Ridley/Getty Images)
"What a freaking historic moment for us. Now I know what our Canadian women's soccer team felt like when they got bronze. It's just an ultimate superhero feeling. It's great," Team Canada women's rugby sevens captain Jen Kish told CBC News on Monday.
Oh, it's freaking historic, alright.
This year, Canada is represented by 314 athletes — 186 women and 128 men — in Rio.
(Graphic: Canadian Olympic Team)
That record obliterates the one previously set by the Canadian Olympic team when 163 women competed at the 1984 Los Angeles Summer Games.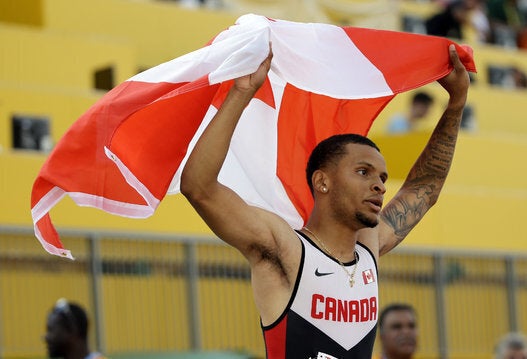 Canadian Athletes To Watch At Rio Olympics 2016