You shouldn't mess with Michael Phelps, whether in the pool or in, well, life.
Not only does the U.S. swimmer have 19 Olympic gold medals, but he can also affect a glare that would terrify any child.
Phelps was waiting in the holding room before the 200-metre butterfly semi-final Monday along with South African competitor Chad le Clos when cameras nabbed a shot of his menacing expression, according to WWLTV.
As le Clos shook out his legs and shadowboxed in front of him, the hooded Phelps sat with his headphones on, looking like a disaffected teen who might just light something on fire if provoked.
And le Clos may very well have been trying to stir him up. SB Nation points out that the two are established rivals.
Le Clos snatched the gold medal from Phelps in the 200-metre butterfly at the 2012 London Olympics, finishing just 0.05 seconds ahead of him. However, the two stayed friendly afterwards.
But after le Clos won gold in the 100-metre butterfly at the 2015 FINA World Championships, he didn't have anything nice to say about the U.S. champion, who wasn't competing.
"Michael Phelps has been talking about how slow the butterfly events have been recently. I just did a time he hasn't done in four years. So he can keep quiet now," he told SwimSwam.
The South African swimmer also took several opportunities Monday to stare right back at Phelps at the starting blocks and in the pool, according to SB Nation.
But the Internet didn't take too much notice of that. Instead, they were busy having fun with Phelps' face.
Le Clos told USA Today that while the two are competitive, he doesn't dislike him.
We're not sure if Phelps feels the same way. He reportedly told NBC after the semi-final that he had been thinking about "nothing" as he waited in the holding room, but that doesn't look like a very zen face to us.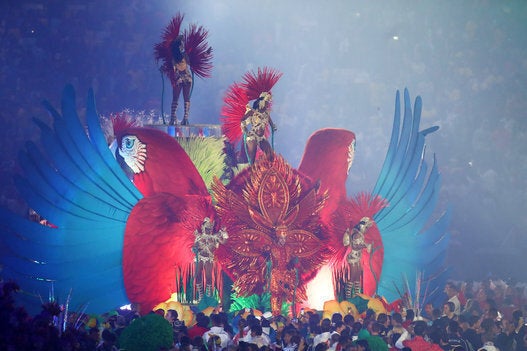 Mesmerizing Photos From Rio Olympics 2016