Conservatives are demanding to know why Canadian tax dollars were used to sponsor a forum they say is "being used to promote anti-Semitism."
Tory foreign affairs critic Peter Kent released a statement Tuesday after the National Post revealed that the World Social Forum, to be held in Montreal this week, was asked to pull the Canadian government's logo from its list of partners.
"We are deeply concerned by this Liberal Government's decision to waste Canadians' hard-earned tax dollars in a conference that promotes hate speech and intolerance," Kent said.
The gathering of activists and members of non-government organizations from around the world is considered to be a counterbalance to the annual World Economic Forum held in Davos, Switzerland.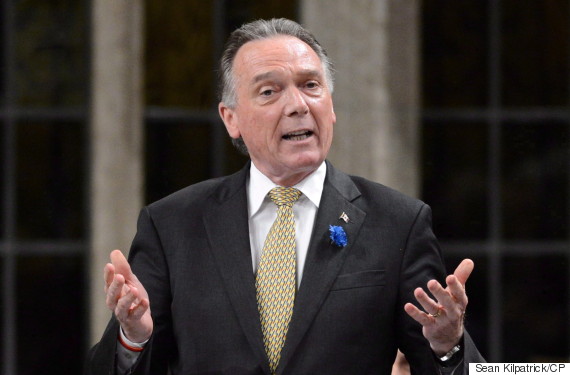 Former environment minister Peter Kent responds to a question during question period in the House of Commons on Parliament Hill in Ottawa on June 3, 2013. (Photo: Sean Kilpatrick/The Canadian Press)
The Post reports that Liberal MPs Anthony Housefather and Michael Levitt sounded the alarm over the forum's "heavy emphasis" on the Boycott, Divestment and Sanctions (BDS) movement against Israel, and a "blatantly anti-Semitic cartoon" on the event's website of a Jewish man with a large nose and Star of David on his hat.
The BDS movement promotes economic and cultural boycotts of Israel's goods and services over its treatment of Palestinians.
Housefather and Levitt released a joint statement Monday saying they are "disgusted" by the cartoon and "deeply concerned" about a number of the forum sessions dealing with BDS.
Kent later took to Twitter to offer his "kudos" to the Liberal backbenchers.
Kudos to two #LPC MPs catching misguided govt sponsorship of anti-semitic World Social Forumhttps://t.co/jURaqOUSSx

— Hon. Peter Kent (@KentThornhillMP) August 9, 2016
But the Tory critic still voiced his displeasure about the situation.
Conservatives want 'investigation'
"While the Government of Canada logo from the conference programming has been removed since this unacceptable sponsorship came to light, we urge the Liberals to launch an investigation to determine who authorized the inappropriate deployment of public funds," Kent said in the release.
He circled back to a Conservative motion the House of Commons adopted last February condemning the BDS movement for promoting the "demonization and delegitimization of the State of Israel."
"We are deeply concerned by this Liberal Government's decision to waste Canadians' hard-earned tax dollars in a conference that promotes hate speech and intolerance."
— Conservative MP Peter Kent
Though the Opposition motion was supported by most Liberal MPs — including Prime Minster Justin Trudeau — Kent painted a slightly different picture.
"Unfortunately, many Liberal MPs either voted against or abstained from voting on our motion," he said.
"Conservatives remain committed to condemning any and all attempts by Canadian organizations, groups or individuals to promote anti-Semitism both here at home and abroad."
The Huffington Post Canada has reached out to representatives from the World Social Forum for their response to Kent's criticism.
BDS debate continues
The Tories' anti-BDS motion passed easily by a vote of 229-51, with just three Liberal MPs voting against it — New Brunswick's René Arseneault, Yukon's Larry Bagnell, and Newfoundland and Labrador's Nick Whalen.
Forty-three Liberal MPs either abstained or were not in the House to vote.
Days before the vote, Foreign Affairs Minister Stephane Dion accused Tories of trying to drive a wedge between MPs on the matter of Israel.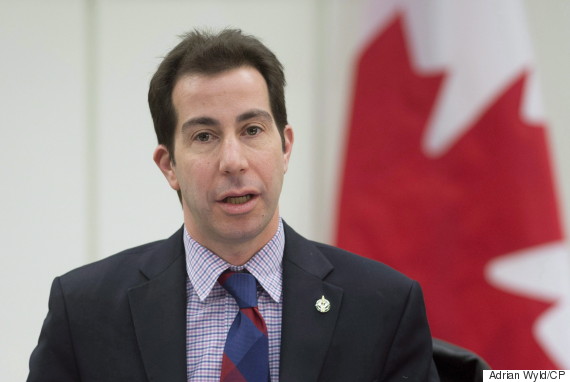 Anthony Housefather is seen before the Access to the Justice System committee convenes on April 13, 2016. (Photo: Adrian Wyld/CP)
Some Grit MPs later said they could not support the motion because they thought it would impede free speech and interfere in the rights of Canadians to peacefully protest.
New Democrats said they voted against the motion because of those concerns.
"This goes against the freedom of expression we hold so dear in our society," NDP Leader Thomas Mulcair told reporters at the time.
Greens blasted for BDS resolution
But it seems the debate around BDS is not going away. Last weekend, delegates at the Green Party of Canada's biennial convention passed a resolution in support of the movement, outraging many Jewish groups.
The Centre for Israel and Jewish Affairs said Greens were backing a movement that "seeks to censor and blacklist Israelis, is fundamentally discriminatory and utterly at odds with Canadian values."
Housefather also took to Twitter to express disappointment, saying it should be a "non-partisan stand" to reject BDS.
The Canadian H of C made clear that we reject #BDS. This should be a non-partisan stand. Sorry that @CanadianGreens don't agree. #cdnpoli

— Anthony Housefather (@AHousefather) August 7, 2016
With a file from The Canadian Press
Also on HuffPost