Canadian journalists covering the Summer Olympic Games in Rio de Janeiro haven't held back their complaints about the country's food and drinks.
Last week, Globe and Mail columnist Gary Mason showed just how long it takes to wait for a meal:
Maybe I'm not that hungry after all. Lineup for cafeteria at Olympic media centre is out the door #Rio2016 pic.twitter.com/FGL621DvS3

— Gary Mason (@garymasonglobe) August 3, 2016
And Postmedia's Cam Cole noted how difficult it is to take money out of an ATM:
One ATM to service a population of several thousand in Main Press Centre. Good job, good effort, #VISA #Rio2016

— Cam Cole (@rcamcole) August 1, 2016
You can insult the long lines and the lack of banking machines all you want, but National Post columnist Scott Stinson learned the hard way that shaming Brazilian coffee is going a step too far.
Stinson tweeted this on Sunday, lamenting the small size of a coffee cup at the Games:
I know everyone posted photos of the small coffee cups in Rio press centres already, but seriously. pic.twitter.com/JbD0CI1LZZ

— Scott Stinson (@scott_stinson) August 7, 2016
And that single tweet had locals pouncing.
Many pointed out that Brazilian coffee is simply stronger than what you'll find in North America:
@scott_stinson dude, if you drink a full Cup of Brazilian coffee you'll never sleep again in your life. Our coffee is not bland like yours

— Paulissima™ (@paulissima_) August 7, 2016
@scott_stinson Hello Scott. Here in Brazil we drink coffee in small cups for a logical reason.

— Luisa (@luisafilardi) August 8, 2016
@scott_stinson Drinking coffee in small cups is better because they don't get cold at the end.

— Luisa (@luisafilardi) August 8, 2016
@scott_stinson (that's because our coffee is way stronger than yours.)

— Pira Olímpica (@Keshi) August 8, 2016
Others joked at his (and North America's) expense:
@scott_stinson dude just grab a water glass, fills it with coffee and never sleep again, or just buy ur own watered coffee at Starbucks.

— Lucy Lopes (@lucylf1) August 9, 2016
@scott_stinson this contain cocaine. Is tradition here in Brazil put a little of cocaine on the coffee

— DanyBoy (@mafiasummers) August 8, 2016
And others seemed personally offended:
@scott_stinson stop thinking that the american way of doing things (like drinking coffee) is the best one. Thank you

— Ours (@OursChain) August 7, 2016
Stinson even became the subject of a BuzzFeed story: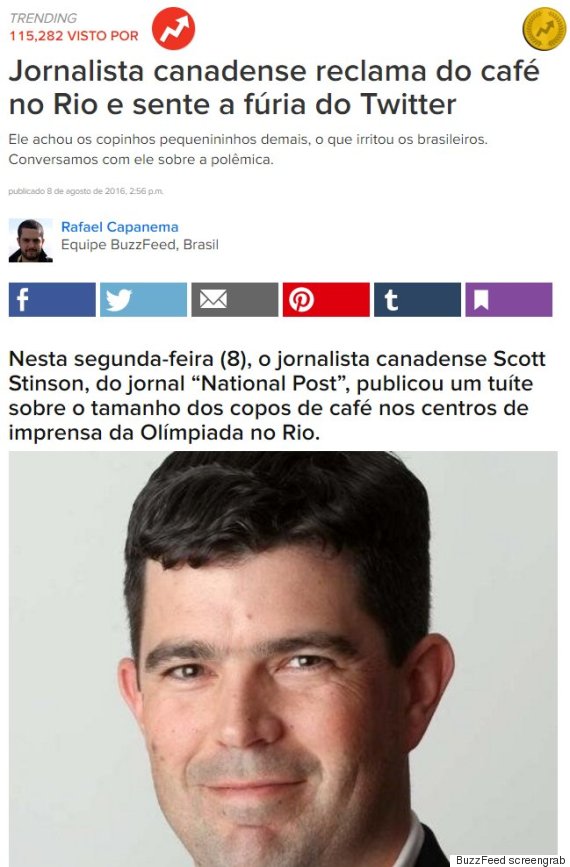 But at least he kept a good sense of humour about the whole thing:
@iD4RO @Scaachi on the upside, I know lots of Portuguese swears now.

— Scott Stinson (@scott_stinson) August 9, 2016
Follow The Huffington Post Canada on Facebook, Twitter, and Instagram
Also on HuffPost:
Mesmerizing Photos From Rio Olympics 2016