The U.S. women's soccer team are World Cup champions and Olympic gold medal winners, now looking to defend their title at the Summer Games in Rio.
So why in the world did the U.S. Soccer Federation (USSF) use a man to hype up one of their games?
The federation advertised a game against Colombia on Tuesday using a photo of American forward Christen Press ... and Clint Dempsey, a U.S. men's player whose team didn't even make the Olympics.
The U.S. women's team has outstanding players up and down the roster — people like midfielder Carli Lloyd, forward Alex Morgan, and defender Megan Rapinoe.
And yet, for some reason, the federation felt the need to include a man in its pre-game PR.
Now, Dempsey is an outstanding player in his own right. He's one of America's greatest, having helped to carry his team to the Round of 16 at the 2014 World Cup.
Twitter users couldn't help but notice the glaring inclusion of a man in the tweet:
First, U.S. trap shooting bronze medallist Corey Cogdell-Unrein was cited as the "wife of a Bears' lineman" in a tweet by the Chicago Tribune.
Then, after Hungarian swimmer Katinka Hosszu won a gold medal in the 400-metre individual relay, a camera showed her husband and a commentator said, "And there's the man responsible."
A poster like this isn't going to help the federation in the court of public opinion.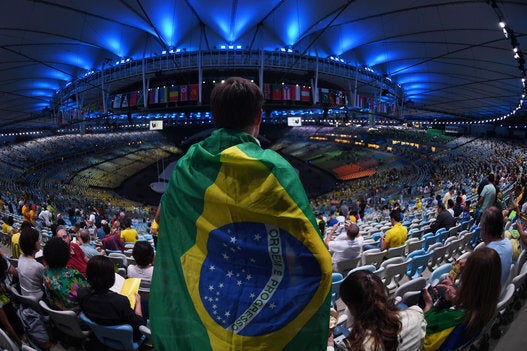 Rio Olympics 2016 Opening Ceremony