There's been much about Olympic tattoos. A flash of ink at the Rio Summer Games has become a sign of pride for many athletes.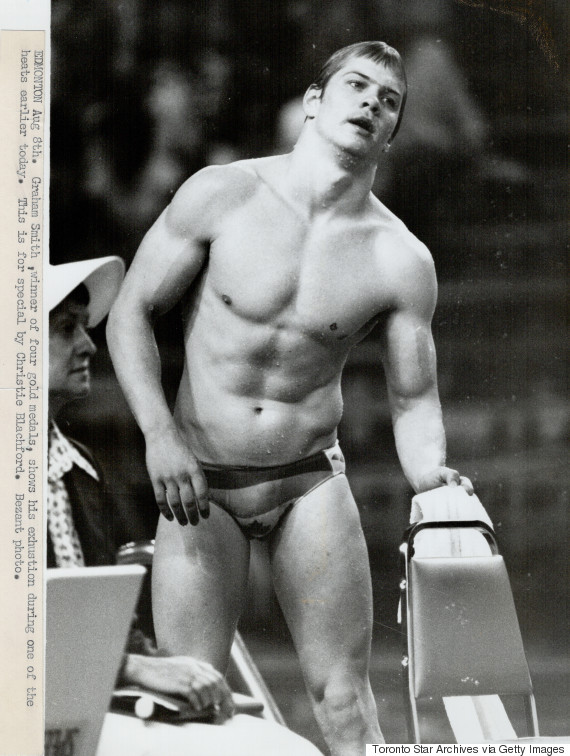 Canadian Olympian Graham Smith (Photo: Toronto Star Archives via Getty Images)
Tattoos have long been a tradition at the Games, and Canadians have played an important part in that history.
Chris Jacobs is believed to be the first American swimmer with a tattoo of the Olympic rings, according to The New York Times.
But he was inspired by Canadian breaststroker Victor Davis, who had a maple leaf tattoo on his chest. Davis had, in turn, been inspired by teammate Graham Smith, who's been credited as the first Canadian swimmer to bear a maple leaf tattoo.
Never falling out of style, these tattoos have people wanting them for totally legit reasons.
Me: I wanna get the Olympic tattoo so people think I'm an Olympian sister: u will not fool a single person

— Psycho Kiki (@Kiki_Freakii) August 10, 2016
If I ever got a tattoo I would 100% get the Olympic Rings just to throw everyone that met me from that point on a huge curve ball

— kykat (@kykat12) July 25, 2016
You can only get an Olympic Rings tattoo if you're an actual Olympian...right? Asking for a friend.

— Megan Boardman (@GoodMegan) August 8, 2016
Chris: "The only tattoo I would ever get is Olympic Rings"
Me:"Are you planning on competing?"
C:"There was a point where I thought I could"

— Raye (@Sweetbabyrayej) July 10, 2016
But tattoos could make a bigger splash at the next Summer Olympic Games in Tokyo.
The 2020 Games will have tattooed athletes flocking worldwide to a country where ink is considered immoral. Restrictions on tattoo artists and associations with gang culture have given them a cultural stigma in Japan.
Japanese Tattoos author Brian Ashcraft wrote in Kotaku that the economic value Tokyo Olympics could change public perception.
"When the Tokyo Olympics get underway, it won't only be tattooed athletes, but a huge increase in tourists, many of whom are also tattooed, that arrive for the games," Ashcroft wrote.
Only time will tell whether Tokyo treats tattooed Olympic visitors differently. Until then, these Olympic tattoos are proof that there's nothing unsavoury about putting ink on your skin.
Marcel Nguyen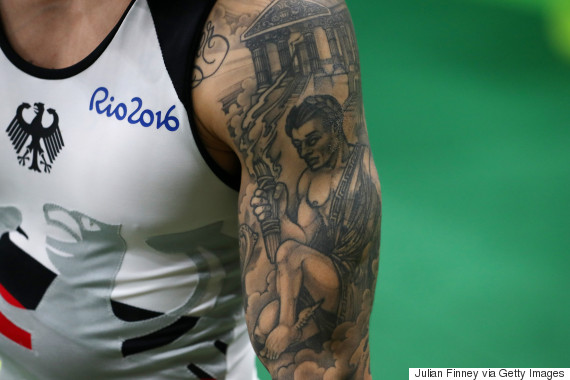 German gymnast Marcel Nguyen, who won silver at the London 2012 Olympics, bewildered many at Rio with his intricate sleeve ink.
THIS GUY HAS A TATTOO

OF HIMSELF

FULLY NAKED

HOLDING THE OLYMPIC TORCH IN OLYMPUS pic.twitter.com/07diOVc5fE

— Vik |-/ (@pitypartyatbest) August 6, 2016
Nguyen told NBC that his ink depicts Nike, a Greek goddess associated with victory.
It can't be a stretch to suggest that the wing-footed fellow is Hermes, a Greek messenger-god.
Lin Dan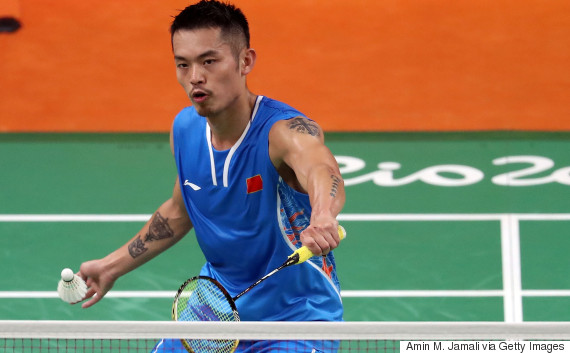 Considered the greatest living badminton player, Chinese athlete Lin Dan's arms tell of his rise to stardom.
A cross that symbolizes his Christian grandmother is inked on his left arm, according to marketing firm J. Walter Thompson. Beneath it are five gold stars, representing his Olympic gold victory and four other tournament wins. The phrase "until the end of the world" on his front arm is from the theme song to the film "Slam Dunk," his favourite anime.
Fabien Gilot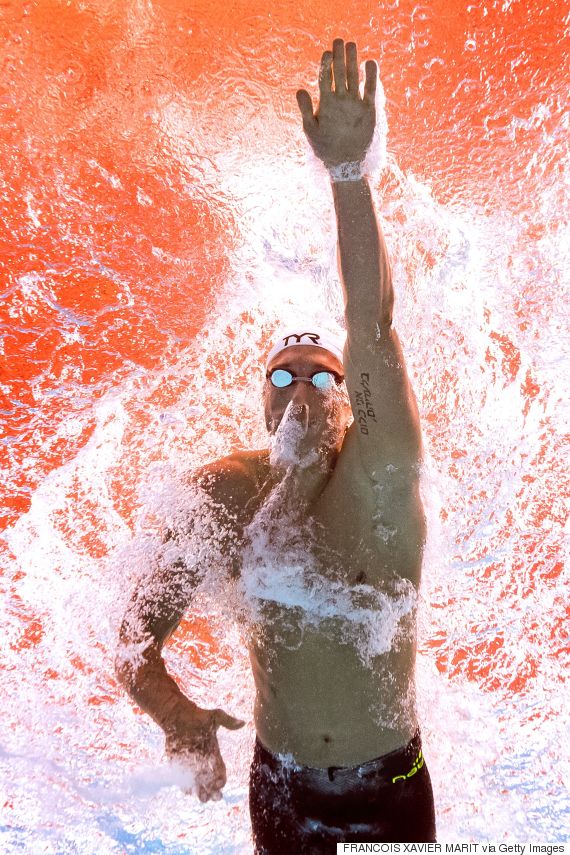 Grandson of a Holocaust survivor, French swimmer and silver medallist Fabien Gilot remembers his grandfather as an inspiration for his achievements.
In tribute, Gilot has a Hebrew tattoo on his inner arm that reads, "I am nothing without them."
Rafaela Silva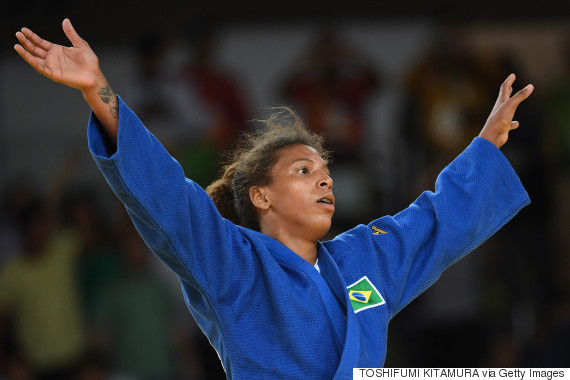 Brazil's hometown heroine and judoka Rafaela Silva has a tattoo that hints at her tumultuous origins.
The six rings inked on her arm are accompanied with a powerful statement in Portuguese: ""God knows how much I've suffered and what I've done to get here."
Brazilian gold medallist #RafaelaSilva's Olympic rings tattoo reads: "God alone knows what I suffered to get here." pic.twitter.com/0wLDBDpEAo

— devil tryna rush me (@cutmeoutinstars) August 10, 2016
The openly gay athlete grew up in Rio's Cidade de Deus favela, a neighbourhood known for poverty and violence.
In a New York Times interview, she recounts brawling with boys every day as a child. She almost quit judo after being disqualified from the 2012 London Summer Olympic Games because of racist social media posts.
"I thank everyone who cheered for me. The people who saw my suffering daily know I did not like to train. But I think no one has trained more than me in this Olympic cycle," Rafaela said in a story published by the IOC.
James Davies
If you saw a flash of knuckle tats reading "CUBBYBOI" while watching the opening ceremony, it's soccer player James Davies' fault.
Nice to see @cubbyboi getting on TV - #RioOlympics2016#Rio2016#OpeningCeremony#GreatBritain#TeamGB#Walespic.twitter.com/LGHCkbtClj

— Dr Rob Dobbs (@Dobbsy99) August 6, 2016
Scarlets' @cubbyboi James Davies likes his tattoos. What would brother @JonFoxDavies look like with inked up digits?https://t.co/hXyQsLcsjC

— BBC ScrumV (@BBCScrumV) December 4, 2015
The Team GB athlete had tattooed his nickname following a drunken night in Las Vegas, reported Wales Online.
Neymar da Silva Santos Júnior
The Brazil forward already has several tattoos, but he added one more ahead of his second turn at the Summer Olympics.
Neymar's new tattoo on his leg. A boy from the Favelas to one of the best strikers in the world...💭⚽️ pic.twitter.com/SQCGo2V8YD

— Purely Football (@PurelyFootball) January 14, 2016
Neymar's tattoo is meant to depict him as a boy in the favelas, dreaming of a house and becoming a soccer legend, his tattoo artists said on Instagram.
It's a dream apparently shared by newly transferred teammate Gabriel Jesus, who has a similar tattoo on his arm.
Gabriel Jesus gets almost the same tattoo that Neymar has on his leg. Boy with Brazil cap and the Jardim Peri favela pic.twitter.com/UARx3wooJk

— Sán (@Zizouology) July 16, 2016
Agustina Albertarrio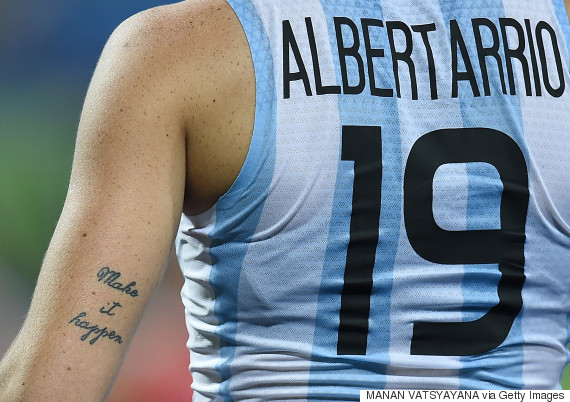 This Argentine soccer player's tat goes straight to the point.
Jake Kaminski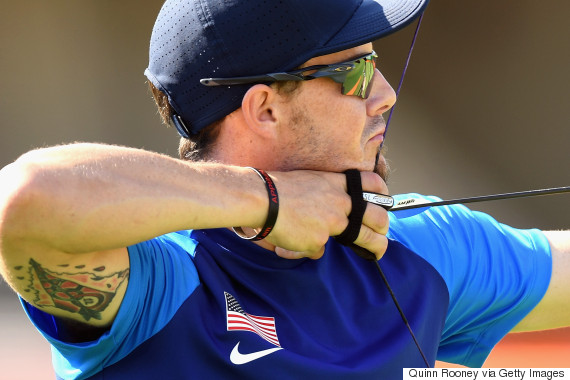 U.S. archer Jake Kaminski trusted an artist in his hometown of San Diego when he decided to ink up with an image of an arrow that looks like it's puncturing his skin.
"I'm not an artist; I'm not a designer," he told The Washington Post. "All I knew is I obviously wanted the rings, and I wanted them to be a part of me."
Honourable mentions
Ricky Fung
Ricky Fung is no Olympic athlete, but that didn't stop him from immortalizing a part of Rio on his skin.
That part just happens to be #Phelpsface.
Fung, who is a co-founder of Toronto tattoo studio Chronic Ink, decided to have U.S. swimmer Michael Phelps' death stare draw on his arm after laughing over it with staff member Livia Tsang, who had the honour of tatting her boss with the snarling likeness of the most lauded Olympian of all time.
Tsang, who had previously tatted Shawn Mendes, told Global the tattoo had some sincere respect behind it too.
"Aside from it being a funny photo, my boss, actually has a lot of admiration for Phelps' work ethic and dedication to his sport," Tsang said. "The photo obviously became satirized but for him it's more representational of perseverance and focus."
Nick Symmonds
The two-time gold medal-winning U.S. runner Nick Symmonds auctioned off the skin on his right arm on Ebay. The winning bid of $21,000 was made by phone company T-Mobile.
CEO John Legere, who made the bid, then held a contest online where participants could vote on what Symmonds' tattoo would look like. In true Olympic competitive fashion, the winning choice was a slightly vulgar jab at their competitor.
Votes are in and this is the poll winner for @NickSymmonds tattoo! First race is in China – will this translate?! 😂 pic.twitter.com/K93KL7X6ht

— John Legere (@JohnLegere) May 7, 2016
Symmonds' 2016 season unfortunately ended early when he suffered a torn ligament and a stress fracture in his left ankle, preventing him from competing in Olympic trials.
Follow Huffington Post Canada Style on Pinterest, Facebook and Twitter!
Also on HuffPost