A Kentucky judge brought multiple people to tears when she allowed an inmate to meet his one-month-old son for the first time.
Last Friday, Jefferson County judge Amber Wolf made an exception to her no-contact order between James Roeder, who had been charged with burglary, and his wife, his co-defendant, according to CBS News. She had given birth while their case was pending.
Wolf wrapped up her hearing for James Roeder and was about to start his wife Ashley's when she made her decision, according to WDRB.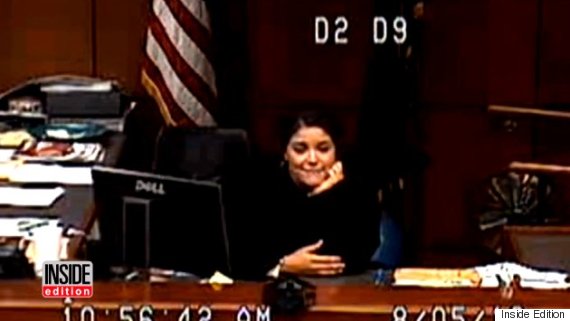 Judge Amber Wolf couldn't hold back a smile as she watched James Roeder hold his newborn.
The judge brought James back into the room, and outlined her terms to him.
"Roeder, I don't want you to say anything to me about your case at all, don't say anything, your lawyer is not present right now, but I understand that there is a chance that you're going to go back to Todd County and that your baby is a month old and you haven't met that baby yet, is that right?" Wolf said in courtroom video obtained by CBS News.
His wife, Ashley, then walked up and placed the baby into her husband's arms.
The new mother wiped her eyes as James looked down at his son. Footage shows the new dad rocking his baby back and forth.
Wolf was clearly touched.
"See his little shirt?" she said.
"It was probably one of the best things I've ever done. It made me feel good."
After handing back the baby, James wiped his eyes with his orange prison jumpsuit and Wolf asked someone to hand them issues. She then sent him out again.
"Thank you for letting me be a part of that," Wolf told Ashley.
The judge told WDRB that even she got teary over the gesture. She said that Roeder had wanted to meet his son and so she saw the perfect opportunity.
"It was touching," she added. "I think it was — not as a judge, but just as person — it was probably one of the best things I've ever done. It made me feel good."
This is the second time in the last couple of weeks that Wolf has gone viral for her actions.
She made an angry call to jail officials after a woman appeared in court with what looked like no pants, according to WLKY.
While she was actually wearing a T-shirt that seemed to cover up her shorts, Wolf was under the impression that she was pantsless.
"She's been in our jail for three days and reports to me the jail has refused to give her pants and feminine hygiene products," Wolf could be heard saying on courtroom video.
You can watch her random act of kindness in the video above.
Also on HuffPost