TORONTO — Three years after sparking a firestorm of controversy, a notorious video featuring Rob Ford smoking crack cocaine was made public on Thursday, a move that angered the late Toronto mayor's family and drew mixed reactions from the public.
The so-called "crack video" was released after the conclusion of a court case involving Ford's friend and driver Alexander (Sandro) Lisi, who faced an extortion charge related to efforts made to retrieve the clip.
Some people called publishing the video "tasteless" and shameful, while others said they respected that media outlets were simply doing their job. A further few said the video of the controversial politician, who died on March 22, 2016 from a rare form of cancer at age 46, was simply "sad."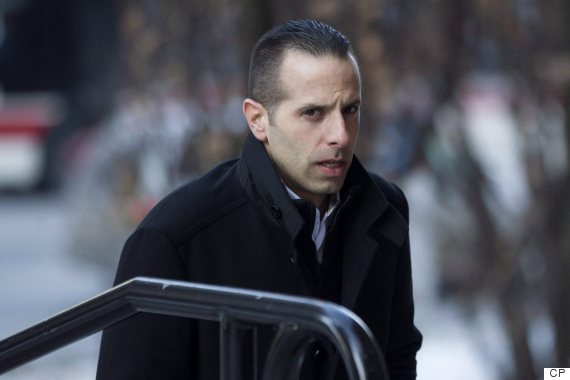 Alexander (Sandro) Lisi arrives at court in Toronto on March 6, 2015. (Photo: Chris Young/Canadian Press)
Ford's brother, however, said people should let the larger-than-life politician rest in peace.
"Rob had a disease like millions of other people have diseases in our country and he went to go get help, he admitted it," Doug Ford told local TV station CP24. "They just want to rehash it and trample all over Rob's grave."
The crack video, taken in a dimly lit room, shows Ford sitting on a chair, holding what appears to be a crack pipe while speaking with someone off camera. Derogatory comments about then-Liberal leader Justin Trudeau can be heard on the tape, though it is unclear at times what exactly Ford says.
The video first came to the public's attention in May 2013 when American news site Gawker and the Toronto Star reported seeing a clip in which Ford appears to be smoking crack and making racist and homophobic comments.
The media outlets said the video was being shopped around by men allegedly involved in the drug trade.
When asked about the video, Ford repeatedly denied any use of illegal drugs. But he eventually admitted in November 2013 that he had smoked crack cocaine in the past during one of his "drunken stupors."
On Thursday, a number of people expressed their distaste at the video being made public just a few months after Ford's death.
"The Rob Ford video that is going around is straight up disrespectful. Lack of compassion is sadly viewed as entertainment in this sick world," one person said on Twitter.
"Three years ago, this video would have been the impetus for so much. Now it's just plain sad to watch," tweeted another.
Release of clip spurs debate
Some, however, said they understood why news organizations published the video.
"I have no interest in watching/sharing the Rob Ford video but I fully respect that news media presenting it are doing their jobs," tweeted one person.
"Ford Nation" owes the media an apology. Journalists work hard to uncover the truth. For politicians misrepresenting is part of the job," wrote another.
The "crack" video was not the only clip that propelled Ford to international celebrity status. He was later captured on camera spewing profanities and making offensive comments.
The former mayor eventually took a leave of absence to seek help for substance abuse at the end of April 2014. He was diagnosed with cancer in September 2014 and withdrew from his bid for re-election as mayor, opting to run for city council instead.
Lisi, who remained Ford's friend throughout the former mayor's ups and downs in the public eye, was arrested in October 2013, after a large police investigation. He had been scheduled to stand trial on the extortion charge in September.
"Rob had a disease like millions of other people have diseases in our country and he went to go get help, he admitted it. They just want to rehash it and trample all over Rob's grave."
— Doug Ford
But a Crown lawyer said Thursday that a resolution had been reached with Lisi's lawyers on the matter in July, and asked a Toronto judge for the extortion charge to be withdrawn.
"Given the current frailties of the case...the interests of the public are served through this resolution," said Crown prosecutor John Patton, adding that the lack of co-operation from individuals Lisi was accused of extorting, as well as Ford's death had weakened the case.
As part of the resolution, Lisi has agreed to abide by certain conditions that include keeping the peace, maintaining good behaviour and not having contact with certain individuals involved in his efforts to retrieve the Ford "crack video."
"Mr. Lisi, with this I take it that we have reached the close of a rather tumultuous chapter in the civic life of this city," said Justice Ian MacDonnell as he officially withdrew Lisi's charge. "I'm sure you're glad to close the book in that respect."
Also on HuffPost