One of the CBC's Olympic announcers must have had his water swapped for a cup of whatever's in the green diving pool for him to mistake Michael Phelps for Ryan Lochte.
Announcer Elliotte Friedman was calling the highly anticipated race between Phelps and Lochte on Thursday when Canadian viewers noticed something amiss: Friedman mixed up the identities of the two champion U.S. swimmers.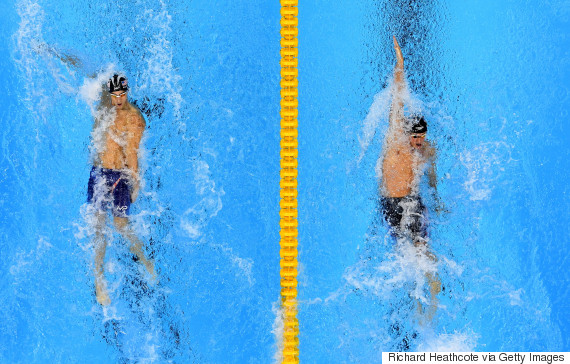 American swimmers Michael Phelps (left) and Ryan Lochte (right) compete in the second final of the men's 200-metre individual medley on Aug. 11 in Rio. (Photo: Richard Heathcote/Getty Images)
As Phelps broke away and roared through the last 50 metres, viewers around the world listened to commentary calling the race for the Baltimore Bullet—except in Canada.
But if you were a Canadian watching the event, Friedman's commentary offered a different outcome.
"Finally, he's going to do it! Ryan Lochte is going to beat Michael Phelps in this event in the Games! And Phelps might not even make the podium!" he said, calling the race for Lochte —before realizing his error.
Yes, Friedman was wrong. It was Phelps who clinched that 200-metre individual medley race in perhaps his last one against teammate Lochte, securing Olympic gold — his 22nd.
Lochte finished fifth and told reporters after the race he was "kind of bummed" about the results.
Friedman, a consummate professional, owned up to his slip on Twitter.
I'm sorry everyone. I blew it. No excuses

— Elliotte Friedman (@FriedgeHNIC) August 12, 2016
And he received a fittingly Canadian response in return.
Elliotte Friedman may be the only Canadian sports voice with enough pent-up goodwill to botch two gold medal calls and not affect his career

— ℳatt (@matttomic) August 12, 2016
@FriedgeHNIC Gretzky gave the puck away and Jordan missed many shots. Even the great ones fail. Chin up Friedge. You're still awesome

— Warren Fisher (@feedthefish79) August 12, 2016
To @FriedgeHNIC, hang in. Great at your job, even better person. Sometimes $#!+ just happens. Could happen to anyone. Onward & upward, pal.

— Bob McKenzie (@TSNBobMcKenzie) August 12, 2016
Also on HuffPost
Canadian Athletes To Watch At Rio Olympics 2016